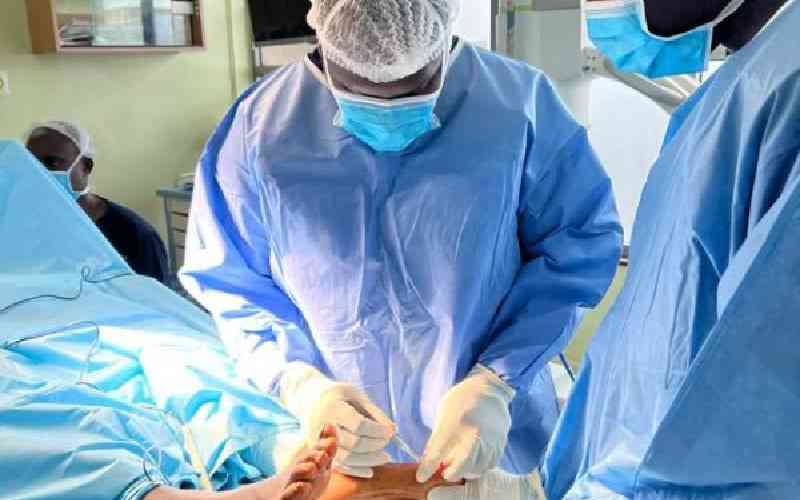 He knew he wanted to be a doctor since he was a child. Growing up, he drew great inspiration from, 'Gifted Hands', a book by renowned American neurosurgeon, Dr Ben Carson.
Dr Ezekiel Oburu attended Nairobi Primary, then Strathmore School and later Strathmore College to study computers before joining the University of Nairobi.
But he didn't pursue neurosurgery because he found so many other disciplines at the School of Medicine to choose from besides neurosurgery.
"At some point, I wanted to be a kidney specialist (nephrologist)," recalls Dr Edwin Oburu who ended up becoming an orthopaedic surgeon "after doing general surgery."
Orthopaedic surgery deals with joints, muscles, ligaments and muscular-skeletal diseases involving bones, joints, tendons. Among others, Dr Oburu manages patient conditions associated with arthritis, trauma and sports injuries.
Noting the scarcity of orthopaedic surgeons in Kenya, Dr Oburu decided to specialise in foot and ankle surgeries which take up 70-80 per cent of what he does with orthopaedic surgery taking 20-30 per cent.
To actualise his dream took time: He joined medical school in 1992 and studied for six years, graduating in 1998. There was internship at the Coast General Hospital in Mombasa, before doing general surgery for his master's degree and graduating in 2004 and six months to specialise in orthopaedics while working in various hospitals.
"I later specialised in foot and ankle and another six months specialising on shoulder surgery," he adds.
This wealth of knowledge took him to different places in the world, including Scotland where he earned a Fellowship of the Royal College of Surgeons Edinburgh in Orthopaedics and Trauma in 2011.
Another Fellowship in hip and knee reconstructions was in Adelaide, Australia, before returning home in 2012. Four years later, Dr Oburu received further training in foot and ankle surgery at the Institute of Foot And Ankle Reconstructive Surgery in Baltimore, US. under Dr Mark Myerson. Later in 2016, he was trained in arthroscopic and reconstructive shoulder surgery at Stoke on Trent in England.
All these gives him an edge in the highly competitive field of medicine.
"Some disciplines are relatively new and one needs to keep up with the changing times in the world of medicine," says Dr Oburu adding that specialization means acquiring new skills which were not available.
Dr Oburu lists key-hole surgery and the reduction in the time patients spend in the hospital as some of the changes in surgery
"We are discharging patients faster than before...a patient can have a knee replacement and can go home the next day and others prefer day surgery, where they come in and don't get admitted, we have the surgery done and they go home," he explains.
As a way of passing down knowledge, Dr Oburu teaches undergraduate and postgraduate students at the University of Nairobi.
Despite busy schedules, he also finds time for work-life balance; organising surgeries on a particular day (although this is difficult sometimes due to emergencies) and then maximising time with his family, devoting time to his faith.
To him, family improves the overall well-being of an individual besides making life worth living.
Dr Oburu also gets satisfaction from helping people, arguing money is not everything compared to doing a good job.
"There was a time in my practice when my work was not paying much but I said to myself even if I operate on patients who cannot pay I will still get my satisfaction, and it was a fulfilling moment for me," he notes.
He believes pride can bring anyone down, and that one should always remain humble as medicine is a noble profession which comes via divine intervention. Despite studying for it, medicine is first and foremost a service to humanity and which should be delivered with humility.
Dr Oburu remembers the one time he almost experienced a proud moment while working in a rural place.
"I asked myself, what am I doing here?.. and that was when I had a candid conversation with myself, like do you mean these people here do not deserve your services? And all I can say is all patients are the same, whether they can pay you or not."
Related Topics