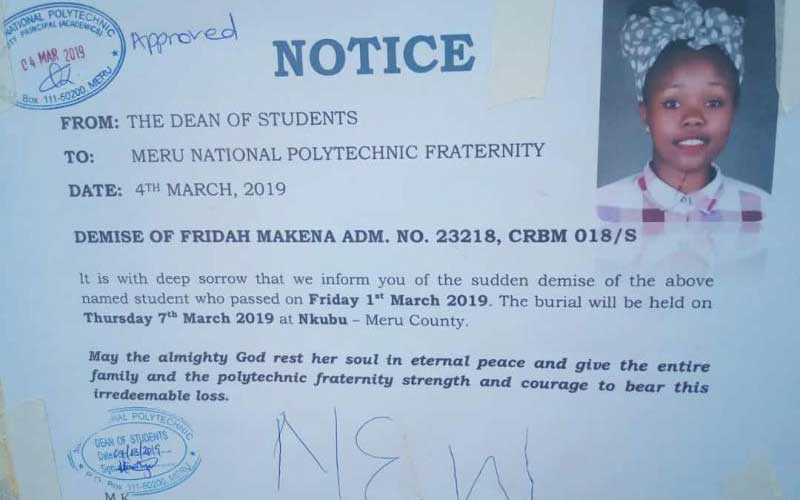 When she died last February, Fridah Makena, a Meru National Polytechnic student, set the internet ablaze.
But even today, questions still linger on whether she committed suicide or succumbed to long term complications from diabetes.
Ms Makena (pictured), hailed from Kabanda village in South Imenti, not far from Nkubu Township. Neighbours in the tea-growing village will dissuade anyone who seeks directions to her home, saying it is wrong to disturb her still tramautised family.
In the last hours of her life, Makena, 19, is said to have been shattered and inconsolable.
During those fraught last hours, the undeniably beautiful young woman despairingly sent out pleas for help disguised as goodbye messages to her friends.
The messages and social media posts revealed a shattered soul that was battling untold pain after a breakup with her Co-operative University boyfriend of many years.
"Suicide was the last thing I ever thought of, but I give up. All the best and please don't miss me," Makena wrote to one of her friends, as part of a longer emotionally charged message, which she concluded with a sad face emoticon.
Then finally she sent a male friend a photo of nearly 20 white pills in an unwrapped brown paper, some which had spilled over onto a bed sheet in her room.
Makena took a video of herself as she popped the white pills one by one, as she forced them down her throat with water.
Hours later, she was reported dead.
Whether she died immediately after popping the pills or after she was admitted to hospital, is another story only her relatives and doctors know.
According to her obituary, she was taken ill and admitted to Consolata Hospital Nkubu, where her condition worsened due to kidney and liver failure before she died.
A relative said her suicide may have been triggered by the heartbreak, but she had also been battling depression for some years after she was diagnosed with diabetes.
Related Topics