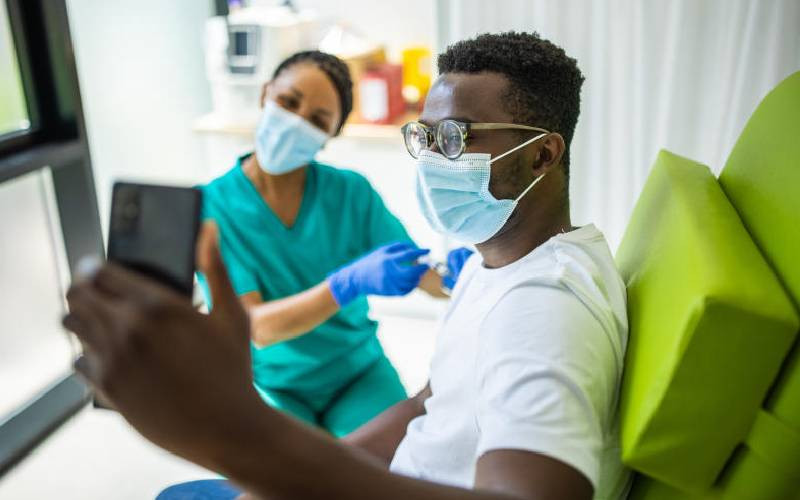 Low infections and fatality in Kenya have not put the country off the hook of the Covid-19 pandemic, scientists warn.
Lately, the country has been recording a positivity rate of less than five per cent, with about 20 cases every day, but scientists warn that the country must keep up surveillance and adherence to public containment measures to keep the disease in check.
Daniel Lang'at, the head of the Department of Disease Surveillance at the Ministry of Health, warned that even with the reduced infections and fatalities, the pandemic is not yet over.
"Until the very last case, people have to be cautious. Despite Kenya not recording an upsurge of the disease," Dr Lang'at said.
The experts' advice comes at a time the general population in Kenya has extremely relaxed the prevention measures, even as the World Health Organisation (WHO) reviewed guidelines to avert the pandemic, following spread of the disease, and a new strain of the virus.
In the new guidelines updated on January 13, WHO has asked States to revamp mask-wearing, irrespective of the local epidemiological situation.
The new guidelines suggest 10 days isolation from the date of symptoms, for symptomatic patients, a revision from earlier guidelines where patients were discharged 10 days after symptom onset, including three days after recovery.Asymptomatic patients will undergo five days of isolation, as compared to 10 days previously, with patients discharged from isolation early if they test negative on an antigen-based rapid test.
"Masks are recommended following a recent exposure to Covid-19 when someone has or suspects they have Covid-19 when someone is at high risk of severe Covid-19, and for anyone in a crowded, enclosed, or poorly ventilated space," reads a section of WHO guidelines.
Dr Lang'at said Kenya will adhere to the new WHO guidelines, including scaling up vaccination, wearing of facemasks, and community surveillance.
Asymptomatic patients, he said, will be isolated for 10 days, while symptomatic ones will be isolated for five days, as opposed to the previous 10 days.
Kenya lifted Covid-19 restrictions in March 2022, which included halting face mask-wearing, and quarantine for individuals confirmed positive.
Presentation of Covid-19 negative test results by air passengers was also lifted by the then Health CS Mutahi Kagwe. However, Mr Kagwe maintained that Kenyans were to continue adhering to public health preventive measures, namely handwashing and social distancing.
"We are trying to understand, and adopt new Covid-19 guidelines as stipulated by WHO, to our context," said Dr Lang'at.
The official said surveillance in the country is ongoing. "Surveillance will continue, even beyond the declaration of containment beyond the pandemic".
Prof Omu Anzala, a virologist in the department of medical microbiology, College of Health Sciences, University of Nairobi said there is a need to keep surveillance, to know the type of strain circulating in the country.
"Surveillance is important in informing the next generation of jabs administered to the population, in line with circulating strain," said Anzala.
At least four strains of the Covid-19 virus are circulating in Kenya, namely Beta, Alpha, Delta, and Omicron.
Globally, Kraken dubbed XBB.1.5 is the newly discovered strain of Omicron Covid-19 strain circulating globally, according to documentation by WHO.
The variant is a combination of Omicron BA.2, and Delta.
WHO technical lead, Maria Van Kerkhove said the strain has the potential of causing a major wave because preliminary investigations have found out that it is the most transmissible variant, and has immunity escape ability.
The virus was first detected in the USA in October and has spread to various states in Europe, and the USA, according to WHO.
In the African continent, the variant has been reported in South Africa.
China has also enhanced surveillance as new infections spread, though scientists are yet to confirm the circulating strain.
Prof Matilu Mwau, an infectious disease specialist, and Kenya Medical Research Institute (Kemri) maintained that the XBB.1.5 subvariant appears to be more aggressive.
The variant has been documented to account for 27.6 per cent of Covid-19 cases.
"The new variant is making people anxious. Yes, we should worry that they can get to us, and knock people down, especially, those who have not been vaccinated," said Mwau.
Kemri laboratories have been conducting surveillance, but the variant has not been detected.
The positivity rate for the country according to Mwau has remained manageable.
"We are testing for Covid-19 and checking to see variants we have. We are observing a trend where Covid-19 comes with peaks, linked to either new variants, like weather patterns," added Mwau.
According to the Covid-19 situation report for WHO Africa Region, as documented by the Center for Epidemiological Modelling and Analysis (CEMA) dated January 12, 2023, Africa has reported a total of 8,924, 623 cases and 174, 060 deaths, since the pandemic was reported in 2020.
In the report, Kenya has recorded 343, 599 cases, third in Africa, and 5,688 reported deaths, placing it fourth, in the African region.
The cumulative county per 10,000 population of reported cases and deaths are 67 (18th) and 1.1 (21st) respectively. The weekly ratio of reported cases over the last 2 weeks is 2.5 (2nd). The weekly ratio of reported deaths cannot be calculated, as no new deaths have been reported in one of the last 2 weeks.
South Africa leads with a total of 4,050,288 cases, Ethiopia is the second with 498,733 cases while Kenya has recorded 342,599 cases.
Zambia and Botswana are also among the countries with more Covid-19 infections, at 335,641, and 328,190 respectively.
In terms of fatalities, South Africa leads in the continent with a total of 102,568 deaths, Ethiopia has recorded 7,572, Algeria 6,881, Kenya 5,688, Zimbabwe 4,082, with Namibia documenting 4,028.
Anzala said there is a need to carry out reminders for the public to adhere to set guidelines including wearing facemasks in crowded places like on buses and washing hands with soap and water.
"Indeed, we might not be seeing many diseases, but the diseases are still there. Covid-19 is still spreading.
All that needs to be done is reminders from time to time because the natural tendency of human beings is to always go back to where they were. Do not wait for anything. Get hold of necessary precautions, to ensure that you do not get infected with Covid-19," he advised.
Mwau, added that public health measures to prevent infections should be followed, including wearing facemasks, cleaning hands with soap and water, and picking the Covid-19 jab.
"We should normalise wearing masks in crowds when we think we might be exposed," said the researcher, adding that there are scientific records that those vaccinated reduce risks of being killed and disease severity.
As per the ministry's data, an estimated 24 million jabs have been administered.
Related Topics