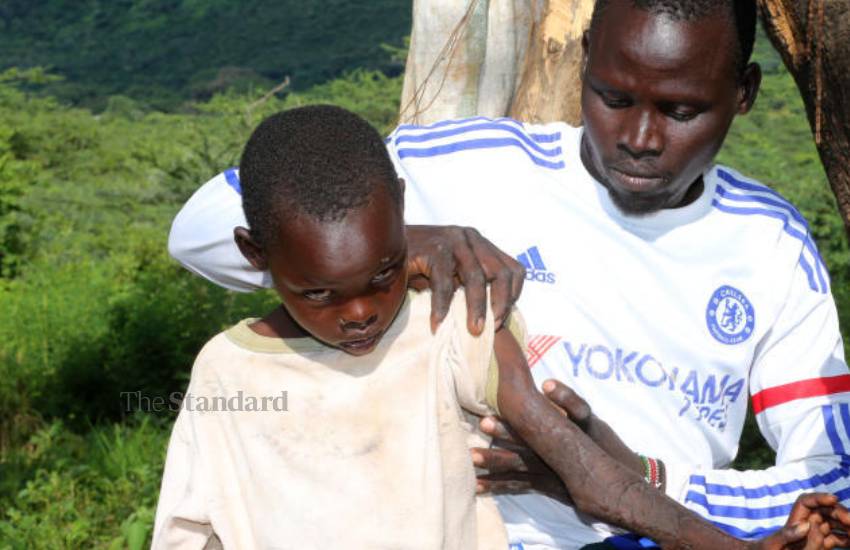 When a cobra wound its way into her bed and bit her wrist, it took Chebet Lang'at two hours from Emios village in Baringo to Marigat Hospital, 50km away.
Her father Patrick Kigen tied her arm with a piece of cloth, then went searching to kill the snake. Chebet's wrist was swelling, fast. The venom had spread, paralysing her arm by the time they got to Marigat. "If I took her for medication on time, she would be better," Kigen says of his eight-year-old daughter.
For Jackson Kiplagat, daughters Scolla and Chepchirchir were bitten by a black mamba, the former on the nose and the latter arm. The June 18, 2015 incident left Scolla dead and Chrechirchir paralysed.
Kiplagat had tied Chepchirchir's arm, but did not know what to do with Scolla. "I placed herbs, but I watched her body swell, and within few minutes, she was no more." Chepchirchir survived, but got renal failure, cortical blindness, and limb deformity.
Snakebite, which was declared a neglected tropical disease by the World Health Organisation in 2018, has left tens of Baringo residents dead, and hundreds maimed.
When bitten, some people suck the venom, tie victims with rope and cut supply of blood causes complications. When these methods fail, victims are taken to hospital, a lot of the time when it is too late.
To mitigate cases of snakebite, the Baringo County Department of Health, Médecins Sans Frontières (MSF) and Kenya Snakebite Research and Intervention Centre (KESRIC) have trained over 230 health workers on administering anti-venom, safe treatment and management of snake bites in Tiaty, Mogotio, Eldama Ravine, Baringo Central, Baringo North and Marigat.
Cecilia Wairimu, a KESRIC nurse, says snakes common in Baringo are black mamba, whose venom affects nervous systems; the puff adder, which causes amputations; and carpet viper that affects clotting of blood and cobras- tissue damage or nerve damage.
David Cherop, the Baringo County Chief Officer for preventive and promotive health, says about 200 community health volunteers who act as a link between community and hospitals, also benefited, considering that "initially health officials would offer no help to those bitten by snakes, even with availability of drugs, as they lacked skills." With training, lives have bees saved.
Locals are given knowledge on different types of snakes and first aid. They are taught how to prevent breeding of snakes and when not to tie a wound area.
Last year only 11 cases of snake bites were documented from March to September. Ten were from Baringo South and one from Barwessa in Baringo North.
Kenya Medical Supplies Agency supplies anti-venom when requisition is done, but besides delay in seeking medical attention, traditional beliefs hinder rescue. "Some believe it is a curse that should be treated by herbalists," says Cherop.
The anti-venom on Kenyan stocks are from India. Their side effects range from hypotension, rash tachycardia, blood pressure, drop, cough, sweating, abdominal pain, and vomiting.
Wairimu says collection of venom and studying snakes will enable them to produce locally available anti-venom.
Related Topics