Snakes, snakes everywhere but where's the anti-venom?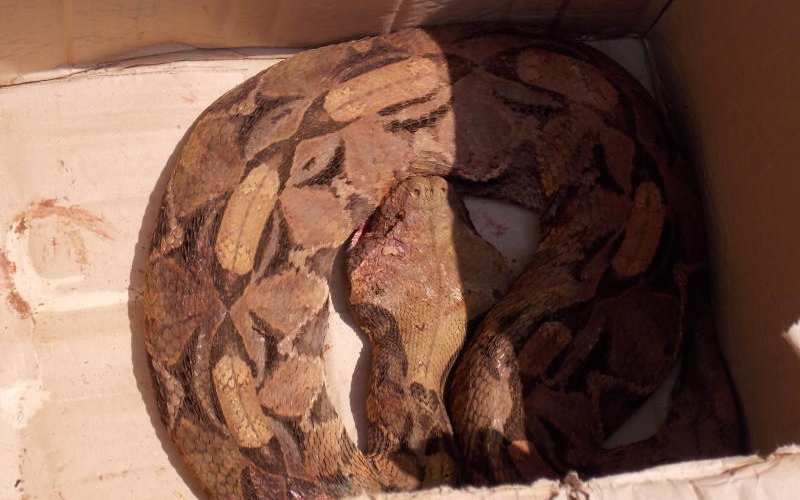 Thirty-four-year-old Esther Kang'ali sits pensively, listening to the discourse around her.
To many mothers, the topic would be chilling and cause nightmares. But Esther is determined to learn.
Esther is the latest victimto local snakes which led to her leg being amputated a year ago. The mother of four is one of the anti-snakebite campaigners in her community.
"I had gone to the shamba (farm) to harvest green grams when a snake bit me on the right leg. I don't recall what happened after that," she says.
Esther's mother, Anna Kang'ali, offers some insight as she recounts how the tragedy unfolded on December 19, 2019.
A caller told her that her daughter was vomiting and convulsing after being bitten by a snake. "I ran to the farm like a mad woman. I found blood dripping down her right leg and the snake was still there right next to her."
The snake, a puff-adder, is one of the most feared and is known in Kikamba as kimbuva.
Esther and her mother narrated the story at a meeting ornanised recently by the Kenya Snakebite Research and Intervention Centre (K-SRIC).
The group is educating residents of Nguni village in Mwingi, Kitui County about the impact of snakebites and how best to treat such cases.
Nurse Cecilia Ngari believes the fear of the puff-adder is unwarranted. "We organise these sensitisation meetings to teach people that snakebites indeed can be treated with the right approach," Ngari says.
Esther's treatment was delayed because Nguni Health Centre did not have any antivenom. She had to be carried on a motorcycle ambulance to Mwingi District Hospital, more than 33 kilometres away.
By the time she arrived, her leg could not be saved. She now entirely depends on her ageing mother to cater for her daily needs and that of her children.
Esther is a victim of a skewed and seriously wanting snakebite intervention system in Kenya. The anti-venom used to treat her was imported from Spain, and made from venom extracted from Asian snakes, especially in India.
Because the venom composition from snakes in Asia adversely varies from snakes found in Kenya, it makes the antivenom ineffective in treating some snakebites locally.
Sleepless nights
It's a challenge that gives Kenya's lead snakebite researcher, Dr George Omondi, sleepless nights. He has dedicated nearly a decade of his professional career attempting to develop snake antivenom locally.
At K-SRIC in Karen, Nairobi, where he works, groups of scientists and researchers use more than 50 different types of snake species to try and develop the crucial antidote.
"We collect these snakes from all over Kenya," Omondi says. "Their venom varies depending on their location and getting to understand how each venom reacts is crucial to identifying an antivenom that works for local snakebites."
Once venom has been extracted from the snakes in the lab, the poisonous liquid is freeze-dried at -20 degrees Celsius and converted into powder to be stored for prolonged periods of time without losing the venom viability.
"The powder is then mixed with an adjuvant (an ingredient used in vaccines to help create a stronger response in people receiving the vaccine) before the antivenom is injected in small doses on animals to monitor response," Omondi says.
Often, animals used for the research have a genetic composition nearly similar to that of human beings.
They include baboons, cattle, horses, pigs, rabbits and camels. K-SRIC partners with the Kenya Agricultural and Livestock Research Institute to keep 24 cattle used for testing the antivenom development.
Currently, snake antivenom prices in the country range from Sh4,000 to Sh25,000, depending on the kind of snake and the number of vials needed for treatment.
Most snakebites in Kenya occur in rural areas where many cannot afford such treatment. This is the predicament that befell 70-year-old Mwaniki Mulatia from Mwingi.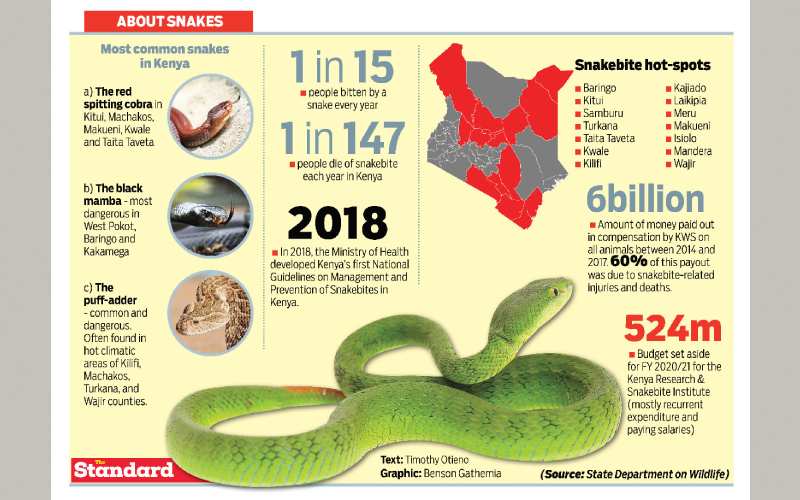 Bitten twice
He lost his second son after he was bitten twice by a snake while sleeping. Mulatia was unable pay for the seven vials needed to treat his son who died after 13 hours in hospital.
Although the death occurred more than 35 years ago, Mulatia still lives with the terror and fright of the day a snake robbed him of his beloved child.
"It has been a struggle for me ever since," he says. "I don't like snakes. Whenever I see one, I really fear. These creatures have caused me a lot of trauma, pain and misery. I don't like them at all!"
But the fear of these slithering serpents is not absolute. At the heart of Kerio Valley in Baringo County, Walter Kigen is arguably the most famous man of Kaptara village in Baringo South constituency.
He has been a snake handler for close to three decades. His reputation spreads as far as Kabarnet town where a local shopkeeper tells us: "Huyo mzee ni hatari! Hakuna nyoka anaogopa. (This old man is dangerous! He does not fear any snake.)"
Mzee Kigen had just caught a dangerous black mamba which had been terrorising children who were grazing cattle. "I caught this one (snake) using a rope and a long stick," Kigen says.
Black mambas are common in Kerio Valley. The Marigat District Hospital recorded 64 snakebite deaths in 2020, a majority of the fatalities caused by black mambas.
Kigen's started snaring snakes in 1968 while working for conservationist Dr Richard Leakey and the National Museums of Kenya. He was trained as a snake handler by the National Museums of Kenya and would capture and rescue wild snakes to be used for tourism purposes.
Decades after retiring, he now helps his community live better with the reptiles. "I don't encourage the killing of snakes. They (villagers) call me to rescue snakes since they can be used for research," he says.
Researchers in Kenya have decried little support from the government. They say there is no budget for research in the field of snakebites. Omondi and his team depend on foreign donors to fund their research.