Home
/
Health & Science
Indian Covid-19 variant 'transmissible, deadly, can dodge vaccines'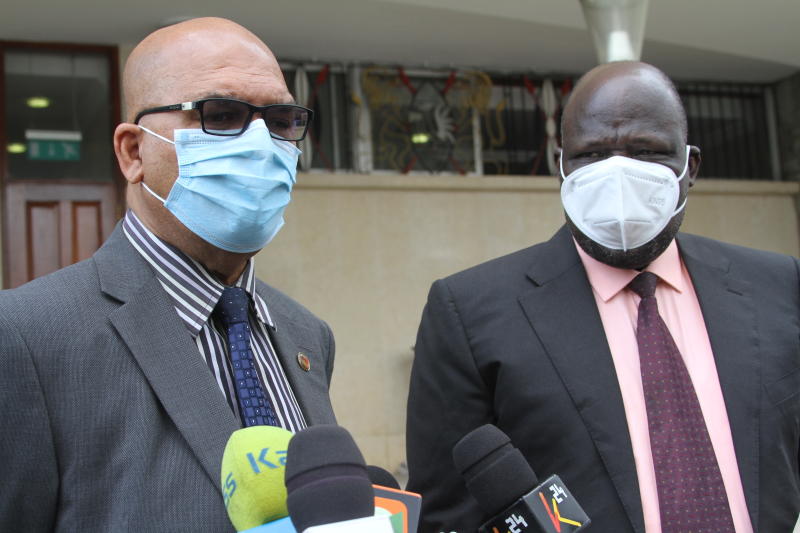 Kenya became the second country in East Africa after Uganda to confirm the deadly Indian Covid-19 variant responsible for a spike in infections and fatalities in India.
Acting Director-General for Health Patrick Amoth said the Indian variant was detected among five Indian nationals attached to a firm in Kisumu County. The five had returned from India last Thursday in a bid to beat the May 1 flight ban imposed by the government.
"We have gone ahead, together with the Kisumu health team, to do contact tracing," said Dr Amoth.
Uganda was the first African country to confirm the variant from a passenger who had returned from India.
South Africa, which is currently battling another variant, also confirmed 14 cases of the Indian strain on Wednesday after 14 crew members of a ship in Durban tested positive.
Experts say variants occur due to the changing nature of viruses, with a new variant having one or two mutations that are differentiated from the predominant virus variant already circulating.
Fast-spreading coronavirus variants, like the Indian, UK, South Africa and Brazil ones, have ignited global concerns on whether existing vaccines will protect people against a constantly mutating virus, but experts say vaccines can be tweaked to match the new variants.
"When a virus gets into your body, it produces different versions of the virus, some of them will die while others survive," said Julius Oyugi, a virologist, adding that the tweaked vaccines need test runs to take care of "demographics like age and race since people respond to vaccines differently."
He added: "Once you get vaccinated, your body produces immunity which puts pressure on the virus in that particular region the vaccine is targeting. As such, the virus mutates to a new virus," explained Prof Oyugi, adding that a new variant requires a different vaccine.
He said a second vaccine is normally given as a booster to make the body to produce more "B-cells that produce antibodies because you now have more memory B-cells than when you have one shot of the vaccine."
The latest Covid-19 strain is the Indian variant also known as B.1.617 now wreaking havoc in the Asian country and which is said to have spread to more than 17 countries.
The World Health Organisation has described B.1.617 as "a variant of interest", meaning, it is easily transmissible, deadly and/or able to dodge vaccine protections.
Health experts have warned that the genetic changes the Indian variant has undergone might make it more contagious, or current vaccines may not offer full protection against it.
WHO has said its preliminary modelling based on other variants that have also been noted include the South Africa variant, also known as B.1.351, that has two mutations.
The other is the Brazilian variant (P.1) and the UK variant (B.1.1.7).
Late last month, WHO designated variants initially detected in Southeast England, South Africa and in travellers from Brazil arriving in Japan as "variants of concern" because of their increased transmissibility and/or virulence, which worsens an epidemic and makes it more difficult to control.
The global health body also listed seven variants as "variants of interest" that are currently under surveillance because of potentially problematic characteristics.
The UK, South Africa, Brazil and India variants have undergone changes to their spike protein. Notably, virologists say the South Africa and Brazil variants have more potentially important spike protein changes.
WHO says most mutations will not have "a direct benefit to the virus or other public health impacts". However, some can alter how it spreads or interacts with the immune system.
Fast-spreading coronavirus variants have ignited global concerns on whether existing vaccines can protect the world from a virus that is constantly mutating, and as more variants are likely to continue to emerge, experts say vaccines can be tweaked to better match them if need be.
For example, a single dose of the Pfizer/BioNTech vaccine may not generate a sufficient immune response to protect against dominant new variants except in people who have previously been infected with Covid-19, according to a study by UK researchers published in the journal Science.
Related Topics