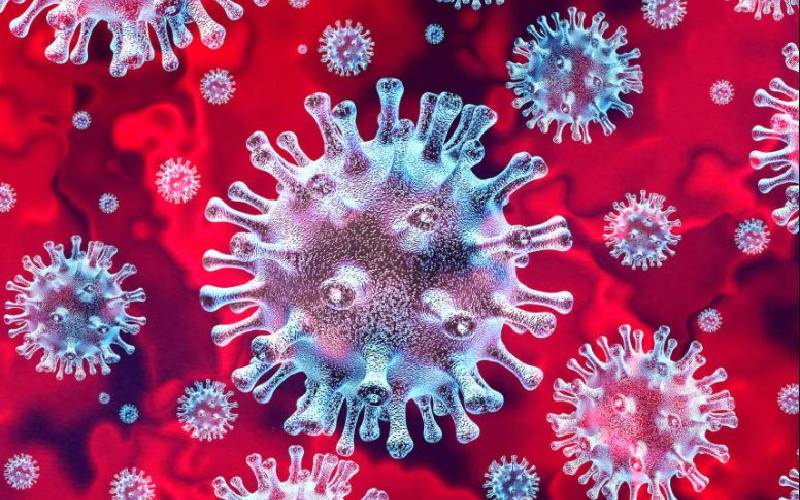 The government on Wednesday, May 5, 2021 announced the detection of the Indian variant of Covid-19 in the country following tests on workers at a sugar firm in Kisumu.
The Ministry of Health Acting Director General Patrick Amoth said 18 Indian travellers who arrived in the country via Jomo Kenyatta International Airport tested positive based on antigen tests done.
The 18 passengers will have to undergo a polymerase chain reaction (PCR) test to confirm the results.
The variant detected in over 1,200 sequences has been confirmed in at least 17 other countries, with Uganda and Kenya being among the countries in East Africa that have reported the variant.
In Kisumu, health officials confirmed eight cases of Covid-19 of Indian variant from samples collected at Kibos Sugar Factory.
The gene sequencing that was carried out a week ago at Kenya Medical Research Institute (Kemri) detected the B.1.617 variant dubbed a 'double mutant', a dominant strain that is spreading quickly in India.
Kisumu Health Executive Boaz Nyunya said there were 150 samples tested three weeks ago at the factory, of which 100 tested positive while eight were confirmed to have the Indian variant.
He revealed that most of those who tested positive were of Indian origin and had recently travelled from their home country. Health personnel placed them in isolation and they are recovering well.
However, he said, of those tested, one has since succumbed to Covid-19: "We cannot confirm if the death recorded was as a result of the Indian variant," Nyunya said.
He explained that those exposed to the patients are in quarantine as medics observe their progress.
So why does Covid-19 mutate?
All viruses make copies of themselves to survive
There are thousands of Covid-19 variants across the world
Some changes can make the virus more infectious
The mutations are led by changes in the spike protein that attaches itself to cells, making the virus better at infecting cells and spreading
Virus mutations can overwhelm vaccinations or natural immunity through past infections
The UK variant (B.1.1.7) appears to be mutating again
There is no clear evidence the India variant (B.1.167) is responsible for the current surge in cases in India
The India, Brazil and South Africa variants may help the virus evade antibodies that fight off infection or bypass some immunity
Vaccines can still work against the mutations, but scientists think they will be slightly less effective than against the earlier versions of the coronavirus
The AstraZeneca team believes their vaccine protects people from the UK variant but offers less protection against the South African variant. However, it should still protect against severe illness
Some of the variants:
B.1.1.7(UK variant)
This variant was first identified in the US in December 2020 and later detected in the UK. It has been verified in 128 countries and unverified in 11 countries.
P.1 (Brazil variant)
This variant was first detected in the United States in January 2021 after it was initially identified in travellers from Brazil who were tested during routine screening at an airport in Japan. The variant has been verified in 45 countries and yet to be verified in 9 other countries.
B.1.351 (South Africa variant)
The B.1.351 variant was initially detected in South Africa in December 2020. It has been verified in 69 countries and yet to be verified in other 17 countries.
B.1.427 and B.1.429 (California variant)
The two variants were first detected and identified in California in February 2021. At least 45 US states and several other countries around the world have verified the two variants.
B.1.617 (India variant)
The variant was first identified in Maharashtra, India in March 2021. Kenya and Uganda are the latest countries to join the list of other 17 countries where the variants have been reported.