Home
/
Health & Science
Counties lack fuel for ambulances to ferry coronavirus patients, samples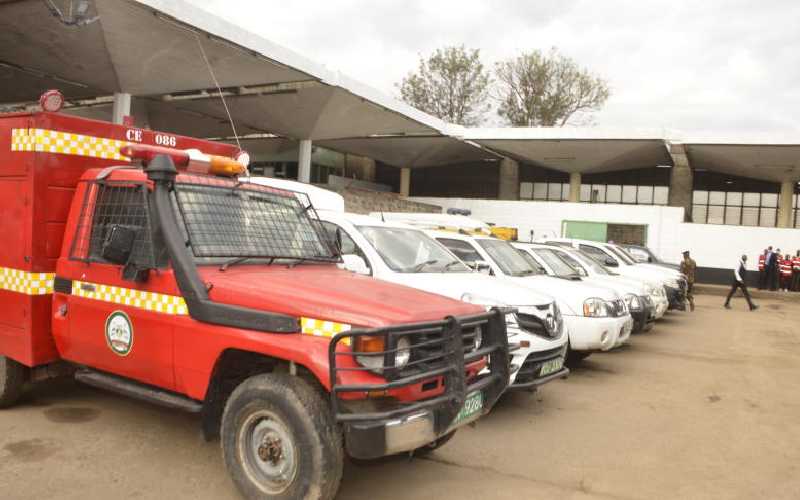 The government has said lack of fuel for ambulances, shortage of testing kits and reagents has affected timely response to Covid-19 and surveillance.
According to Ministry of Health report on the Covid-19 daily situation report of October 31, lack of fuel is a hindrance to rapid response, timely evacuation of positive cases, contact tracing and referral of victims under home-based care to hospitals.
Kisumu, Migori and Busia counties are listed among those that lack fuel for their ambulances despite recording a spike in infections.
"Rapid Response Teams in Kisumu, Migori and Busia are experiencing shortage of fuel for utility vehicles which is affecting timely contact tracing and referral of cases from home-based care to treatment centers," reads a section of a report by the ministry.
The ambulances are also used for sample collection.
According to the report it takes up to seven hours to have positive cases transported to treatment centres and samples to testing laboratories, an issue that could further worsen community spread of the virus. "Busia county ambulance often lacks fuel thereby affecting timely evacuation of positive cases, contact tracing and sample collection," adds the statement.
Delays release of results
The laboratory-testing machine at Kenya Medical Research Institute (Kemri) in Alupe, Busia, broke down on October 26, and was partially repaired hence reducing its testing capacity from 400 to 50 samples per day.
The county is also faced with shortage of sampling kits, an issue that is affecting testing of the public for Covid-19.
Kemri Centre for Disease Control in Kisumu is also not receiving samples from Busia and neighbouring counties due to shortage of re-agents.
The laboratory has been testing samples from Nakuru, Kisii, Nyamira, Narok, Nandi, Laikipia, Bomet, Kericho, Western and Nyanza counties.
Nakuru County has to take samples to International Livestock Research Institute in Nairobi.
However, transportation of samples to Nairobi delays release of results, with those collected on Wednesday last week yet to be released.
Kisumu County also lacks specimen collection kits, with only a few sub-counties having sampling kits.
Further, persistent healthcare workers strikes have been listed as a hindrance in the fight against the pandemic.
Nairobi leading
Director of Public Health Francis Kuria advised counties to present the challenges they face during the forthcoming summit. "The cases being reported are largely out of surveillance and in case of a hitch, counties should share, as health is a devolved function," said Dr Kuria.
According to the report, Nairobi so far is leading with 26,168 Covid-19 cases followed by Mombasa with 4,459, Kiambu 3,445, Nakuru 2,836 cases, Uasin Gishu 1,692 and Machakos 1,657. Busia so far has recorded 1,552 coronavirus cases, Kisumu 1,215, while Migori has 530.
Nairobi and Mombasa counties have the highest attack rates at 595.1 and 369 per 100,000 population compared to the national average of 116.
In the report, Busia has 135 imported cases, with local transmission at 1,407.
Kisumu has 1,197 cases of local transmission with a one imported case.
At least 509 cases in Migori are local transmission with 21 cases imported. On November 1, Kisumu and Busia counties were also among the top ten counties in the country with positive cases. Out of 685 positive cases, Busia had 95 cases while Kisumu 17.
Busia County cases were reported in Teso (45), Matayos (34) Butula (7), Nambale (6), Samia (2) and Teso 1(1).
The Kisumu cases were from Muhoroni and Kisumu Central with eight cases each and Kisumu East one.
Mombasa was ranked highest with 203 cases, followed by Nairobi with 202, Busia had 95, Nakuru 18, Bungoma and Kiambu recorded 18 while Kisumu had17 cases. On October 31, Kisumu recorded 19 positive cases, Busia had 14 and Migori one positive case.
All the 19 cases reported in Kisumu were from Kisumu Central while the one case in Migori County was from Awendo.
Of the 55,193 positive Covid-19 cases, 12,291 cases are pending contact listing. Of the 6,366 contacts under follow-up 6,338 (100 per cent were followed up).
"All alerts were responded to and contact tracing continued on all affected counties," reads the report.
More support
Council of Governors Chairman Wycliffe Oparanya admitted that counties are overwhelmed by surge of coronavirus cases. Mr Oparanya said isolation wards in most counties are almost full and called for more support from the national government.
"The disease has hit counties hard, and it is overwhelming, isolation wards are overflowing and there is bound to be a gap in meeting what is to be done," said the governor.
He said the Wednesday Summit to be held in Mombasa is timely and some of the issues facing the counties will be shared for solutions.
The Kakamega governor added: "In a normal circumstance, a county cannot lack fuel to help in contact tracing and surveillance. This simply means there is a challenge, that require support from the national government."
Related Topics