Home
/
Health & Science
The tragic story of patients dumped at KNH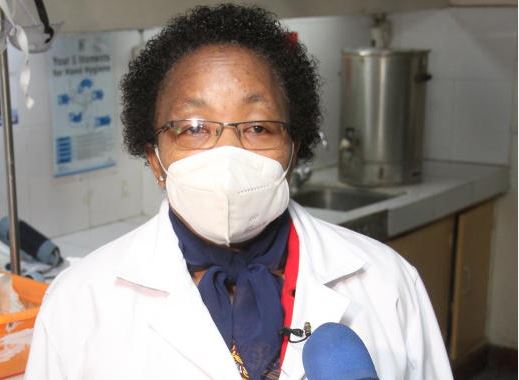 On February 1 last year, Veronica Juma was rushed to the Kenyatta National Hospital (KNH) after having a convulsion near Nyayo National Stadium.
It is not clear how Juma, a cerebral palsy patient, found her way into the country from Tanzania.
According to Emma Karatai (pictured), a social worker at Kenyatta National Hospital, Juma is among physically and mentally challenged children trafficked into the country then used by cartels to beg in the streets.
"One week after she was admitted, two men came here. Claiming to be the maternal uncle and maternal cousin. When Juma saw them she was very uncomfortable she kept pointing at them, agitated by their presence. You could see the fear in her eyes."
Suspicious look
Juma's bed is the first one on the left side of the ward. She lights up when she sees Ms Karatai, then immediately looks down when she notices the cameras and strange faces.
Karatai tries to talk to her for a few seconds before she warms up to her. Karatai hands her a pen and paper, which she grabs and scribbles something.
"She's very intelligent, if she were taken to a special school she could've been able to communicate or even write. I am trying to get her a wheelchair as we try to take her home," Karatai adds.
The social worker says her efforts to reach the Tanzanian High Commission have proved futile.
"I have called and emailed the Tanzanian High Commission but I have not gotten a response. But I was able to reach a chief in Tanzania from her village and he assured me that he knows her family. Juma's mother passed away but the grandmother is alive, so we are planning to take her there. Funds are the issue."
Karatai says when the young girl was admitted she had scars all over her body. They also checked if she was sexually assaulted, but the results were not clear.
On the same floor, there's another abandoned patient going by the name James Mweke. According to staff, Mweke was brought to the hospital on August 1 this year by unknown people. He had collapsed in Mlango Kubwa in Nairobi. The doctors said he had lost his memory.
In such cases, they always get the patient's fingerprints then take them to The National Registration Bureau to get their identity. However, for Mweke, there were no matches. A possibility that he never registered for a National Identity card.
Confident patient
Dressed in a green gown, with a red sweater Mweke stands in front of the cameras ready for the interview.
"I am James Mweke, a 33-year-old man from Sultan Hamud. I have not been there in years. My mother Angelica Katumbi and sisters, Mueni, Robina, and Mbithe are still there," he says with confidence.
Explaining what he was doing for a living while in Nairobi, he smiles showing a gap in his teeth that he got after falling into a ditch due to heavy drinking.
"I started selling vegetables near The University of Nairobi before going to Mlango Kubwa to sell alcohol."
Mweke says he doesn't have friends in the city just acquaintances whom he knows by their nicknames.
Since his identity is not yet determined, the hospital plans to keep him there for a while.
In the same ward, another abandoned man is introduced to the Standard team.
He claims his name is Pius. According to the staff, he was brought on October 14 after he had collapsed in Mathare. Pius is dressed in a white shirt with black denim jeans, he keeps pulling it up because it has no belt. Inquiring why he's not in a gown like other patients, one of the nurses says that he is very stubborn, he'd refused to wear the gowns and decided to walk around naked until they brought him clothes. He's tried to escape several times.
Pius walks around the ward hands in his pockets shouting how he's going to be very rich and take care of his daughter. Standing in front of the cameras he asks whether he's going to be seen on television and newspaper. After being assured he becomes very excited. But from the conversation, it's obvious he still needs mental care.
"I studied at Kenyatta University. I studied to become a teacher and a doctor plus all the courses," he says laughing.
"I have a daughter she's called Princess. She is very beautiful. But the mother is in the village. I can't stay with a woman in Nairobi, she nags a lot so the best thing is to keep her in the village to shut her up." He laughs again.
After the interview, he asks whether the nurses will bring him a new T-shirt since the one he has does not fit his expensive lifestyle. He then walks down the ward greeting everyone he meets on the way.
The social workers are still waiting for his fingerprints results from the National Bureau of Registration.
A floor below is Level 7 ward. Here, we find 22-year-old Daisy Nafula Nekesa. Nekesa was brought to the hospital by a Good Samaritan after she'd collapsed in Nairobi CBD on July 3. The nurses say it took time before she warmed up to them.
After weeks she could talk but only when spoken to. The results from the National Bureau of Registration confirmed her name as well as her parents'. The father is Michael Wekesa Onyango, while the mother's name is Conceptor Nanjala.
Nekesa's bed is at the far end of the ward beside a window. Wearing a floral mavin hat, she pulls her knees close to her chest while covered in a blue bedsheet. She relaxes a bit but her body language is a clear indication her privacy is invaded.
During the interview, she gives her responses in a low tone. She remembers everything about her life. Her name, parents' names, her home in Ruiru, the fact that she dropped out in Form Two and how she worked as a house help in different homes.
She can also recall how the night before she was brought to KNH a homeless man beat her up until she lost consciousness. For some reason, she doesn't want to go back home.
"I can't go back to my parent's house. They chased me away." She whispers while blankly staring at the wall. "I can't give reasons but, I just can't go back, it's traumatic very traumatic. I can't go through that again," she whispers with tears falling down her cheeks.
Phone numbers
The social workers have been in touch with her village chief who was supposed to give them her parent's phone numbers. They said Nekesa will see a therapist before the meeting with her parents is scheduled.
Kandie Keluwon, Assistant Chief Medical Social Worker at KNH says currently they have 16 abandoned patients with six below the ages of 18 while 12 are adults.
"We always try to reach the families of these patients. But those who we cannot trace their fingerprints at The National Bureau of Registration we keep them here. One patient has been here for three years. Before him, we had one who had been here for seven years."
Kandie says it's always easier to find a home for children and older people, but it's always difficult for middle-aged patients. It's also difficult to find homes for children with special needs.
Related Topics