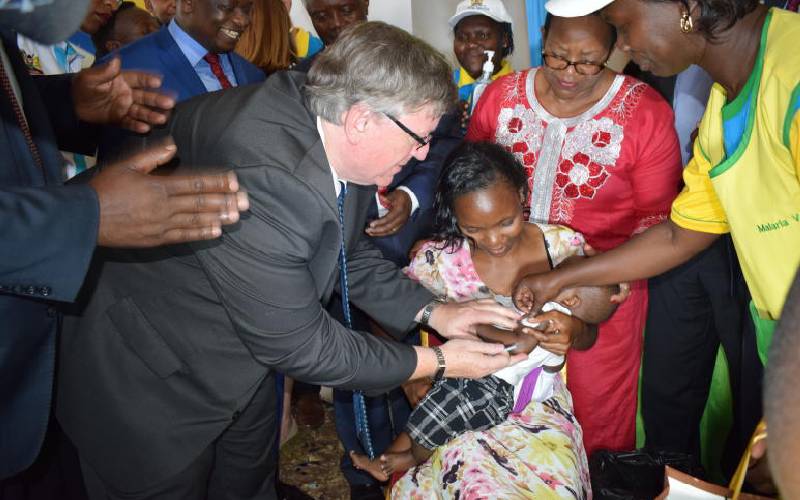 Kenya has recorded an 11 per cent increase in malaria deaths over the last eight years, a new report shows.
The increase is despite a 31 per cent global reduction in malaria deaths, according to the World Malaria Report 2019 released by the World Health Organisation (WHO).
The report estimates that there were 405,000 deaths from malaria globally in 2018, compared to 416,000 in 2017 and 585,000 in 2010.
Even so, this global reduction was not reflected in the Kenyan context as the data has shown deaths have increased by 11 per cent between 2010 and 2018.
According to the Kenya National Bureau of Statistics (KNBS) there were 17,553 deaths from malaria with 7.9 million hospital visits the same year.
The report estimates that up to 13,200 people died of malaria in 2018 in Kenya.
Number of deaths
Compared to 2010, where the number stood at 11,800, it means in 2018 there were 1,400 more deaths as a result of malaria.
Since 2015, the deaths have been increasing by 100, the report indicated.
The report indicates that Kenya has not submitted the official deaths on malaria for 2017, and 2018, hence the estimates.
An analysis by The Standard of the trend since 2010 shows malaria deaths have been increasing with the surge in population.
For example, in 2010 with an estimated population of 42 million, there were 4.6 million cases and 11,800 deaths.
In 2015, with an estimated country population of 47.8 million, there were 5.7 million cases and 12,900 deaths.
The number of cases went up in 2018 to 5.9 million against an estimated population of 51 million with 13,200 deaths.
The report shows there were 2,673,730 Long Lasting Insecticide Nets (LLIN) distributed in 2018 compared to 15,621,773 in 2017.
In 2016, the number of treated nets distributed were 2,005,796.
Though the report notes that WHO African region countries, Kenya among them, accounted for 94 per cent of all malaria deaths in 2018, Nigeria is the country which led.
"Nigeria accounted for almost 24 per cent of all global malaria deaths, followed by the Democratic Republic of Congo (11 per cent), the United Republic of Tanzania (five per cent) and Angola, Mozambique and Niger (four per cent each)," reads the report.
The report notes that in 2018, only WHO African region and the WHO South East Region showed reductions in malaria deaths, from 533,000 in 2010 to 380,00 in 2018.
"Despite these gains, malaria mortality reduction rate has slowed since 2016," reads the report.