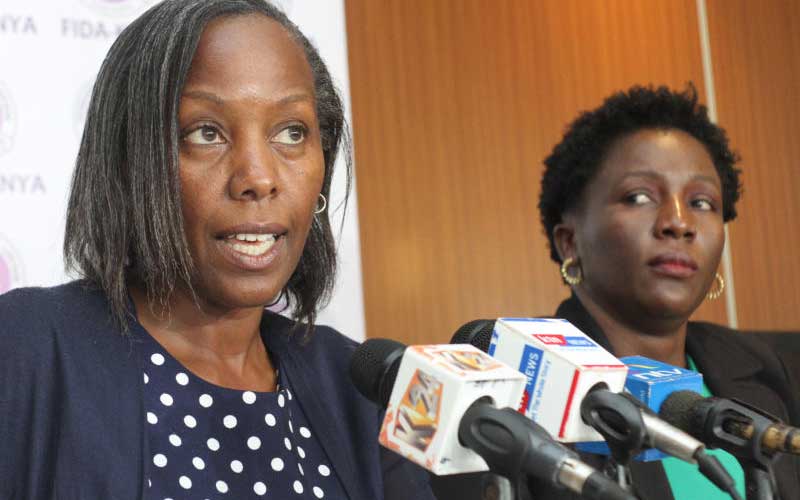 As reality of the High Court ruling on safe abortion guidelines sinks in, government and civil society organisations seem to be reading from different scripts on the verdict. The next battlefield is on training of health professionals, equipping public health facilities and ensuring service provision is non-discriminately. Government finds itself in a tight spot with civil society organisations that supported the case digging in on one side and religious organisations expected to drive the push from the opposite. A day after the ruling, a consortium of organisations led by the Centre for Reproductive Rights (CRR) and FIDA argued that it is not only incumbent upon the Ministry of Health to reinstate the guidelines withdrawn in 2013 on training of health professionals to offer abortion services but also to offer facilities that would aid in offering the services.
SEE ALSO: Claims of abortion, rape, rock police unit
Protracted court battle
"We ask the Ministry of Health to immediately reinstate training of all nurses, clinical officers, midwives and doctors on provision of safe and legal abortion services in accordance with the Constitution; and also to avail in all facilities trained health professionals, essential medicines and equipment for safe and legal abortion in accordance with the Constitution," said Evelyn Opondo, the regional director of CRR. The five-judge bench led by Justice Aggrey Muchelule reinstated the guidelines after a protracted court battle in which a 14-year-old girl, JMM from Nyamira County, lost her life due to complications arising from an unsafe abortion after she was defiled. In its ruling the court pointed out that the ministry's actions to withdraw the guidelines threatened the right to health, non-discrimination, consumer rights, right to information and right to scientific progress of women and girls of reproductive age. "The directive banning training of health professionals on abortion and the memo withdrawing standards and guidelines on abortion are unlawful, illegal, arbitrary, null and void," ruled the court.
SEE ALSO: Gikuyu Supreme Council of Elders say no to abortion bill
The court duly pronounced itself on the issue of defilement and rape with the rights organisation supporting the ruling by stating that a woman who undergoes rape cannot be in the right mental state to carry a pregnancy. They said government must bear the burden in its budget, all round from training health professionals to providing necessary facilities and drugs. Christine Alai, a legal expert with Physicians for Human Rights said, "On costs, the government will have to bear the burden because abortion is not a stand-alone issue but part and parcel of maternity and occurs in the process of maternal care." The organisations also renew their call on the need for comprehensive sexuality education (CSE) in schools, arguing that the court had pronounced itself on the matter. "Information is critical in sexual, reproductive and maternal health and key to prevention of situations that may lead to abortion, hence the need for it to be rolled out in the curriculum," added Lydia Muthiani, an attorney with Women's Link Worldwide. Jade Maina of Trust for Indigenous Culture And Health (TICAH) said that all the healthcare professionals need to be trained by the ministry to offer safe abortion services as per the Constitution. Maina said, "If only doctors would be allowed to offer the services. Then again, that would be discriminatory because most Kenyans never even get to interact with a doctor when they visit public health facilities."
SEE ALSO: I took tea leaves to abort my baby, Nyamira woman tells court
Muthiani added that Section Six of the Health Act 2017 identifies health professionals as midwives, health workers, clinical officers and nurses. But the Ministry of Health retorted that the sentiments by civil society organisation on inclusion of abortion services as a package in free maternity care are not policy and only it (the ministry) can give policy direction. "Activists are not policy makers; they can only give proposals but the ministry will give a position, not from one party, but after considering all interested parties," said Dr Joel Gondi who heads the Reproductive, Maternal Health Unit in the ministry. Looking at the numbers, the reality is further than the celebration by the petitioners who view this as a win for Kenyan women towards reproductive health and rights.
Vital facilities
A report by the ministry which the court relied upon, shows that public health facilities were offering post-abortion care despite the fact that they were not offering safe abortion services; which means abortions were happening elsewhere despite the ban. The report, Incidence and Complications of Unsafe Abortion in Kenya: Key Findings of a National, noted that 158,000 women received post abortion care in 2012. Over 37 per cent of these were severe complications. What would it take to realise the court orders if all these women sought abortion services from public health facilities? First of all, not all public health facilities have doctors or clinical officers, which leaves the nurses as the first point of contact. Kenya has a shortage of nurses who form the backbone of the health system alongside other health cadres like clinical officers and medical officers.