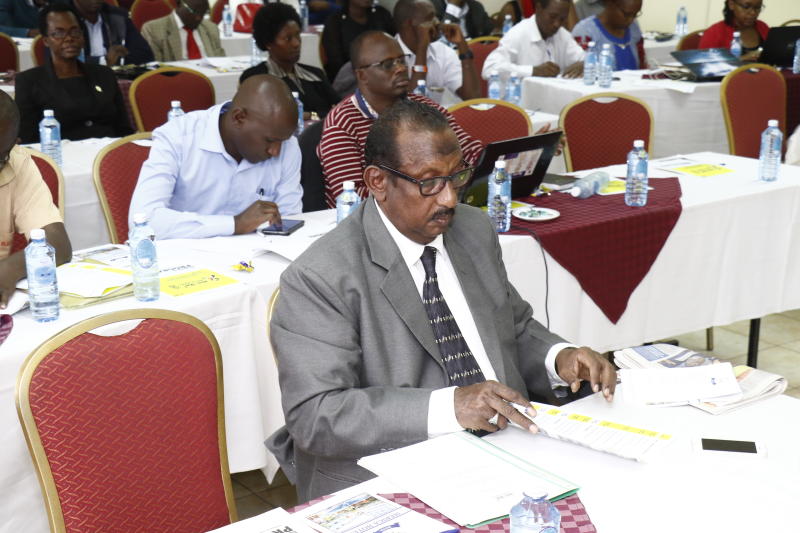 A report has shown how allocation of funds to tackle HIV/Aids in counties is still low, with experts warning that the situation is hindering the achievement of universal healthcare.
The report, released in April by the National Aids Control Council (NACC), indicated that most counties allocated meager resources while some did not allocate any amount for HIV/Aids treatment and prevention in the 2018/19 financial year.
The report showed that total allocation by counties during the financial year 2018/19 amounted to Sh210.4 million, with only five counties allocating more than Sh10 million.
While six counties allocated between Sh5 million and Sh10 million, 20 counties allocated between Sh1 million and Sh4 million. Nine counties did not allocate any amount.
Kilifi allocated Sh59.3 million, the highest budgetary allocation for HIV/Aids, while Garrissa, Isiolo, Nyeri, Kwale, Siaya, Mandera, Embu and Murang'a did not allocate any amount.
Other counties with high allocations include Wajir, allocating Sh5.5 million, West Pokot (Sh10 million), Homa Bay (Sh25 million), Narok Sh14.5 million and Trans-Nzoia Sh8 million.
While stakeholders noted that there was significant reduction in HIV-related deaths between 2013 and last year, with figures dropping from 58,465 to 28,214, they noted that some counties were yet to allocate any funding, and that the sector was dependent on donor funding.
Little or lack of allocation for HIV/Aids treatment, the experts noted, will hamper the delivery of universal healthcare in counties.
In the report, the stakeholders recommended that there was need to mainstream HIV response by establishing Aids Control Units in all departments as well as working towards establishing an HIV kitty backed up by an HIV Bill.
Counties, the report noted, should budget for HIV response to be anchored within the HIV and Aids Bill
While unveiling the reports in Nakuru, NACC Reverend Canon Rosemary Mbogo, member of the board and the secretary of the Anglican Church, said there was need for treatment of HIV to be embedded in the universal healthcare to boost access to drugs in areas where coverage was still low.
Antiretroviral coverage in some counties including Narok, Taita Taveta, Kwale, Kajiado, Turkana, Marsabit Samburu, Lamu, Tranzoia among others is still low.
In these counties, only 50 per cent of those living with HIV can access drugs. "Most of the funding in fight against HIV mainly comes from donors and there is need for Government to embed it in the universal health coverage in a move to boost the fight," she added
NACC statistics show prevalence rates declined from 5.9 per cent in 2015 to 4.6 per cent last year. Thirty counties have prevalence rate between 2 per cent and 4.9 per cent, while only 10 counties have prevalence rate of less than 2 per cent.
Counties with high prevalence rates and which also record more than 1,000 HIV-related deaths per year include Nakuru, Siaya, Nairobi, Homa Bay and Migori.
Related Topics