Home
/
Health & Science
Seven-hour historic surgery to re-attach teenager's penis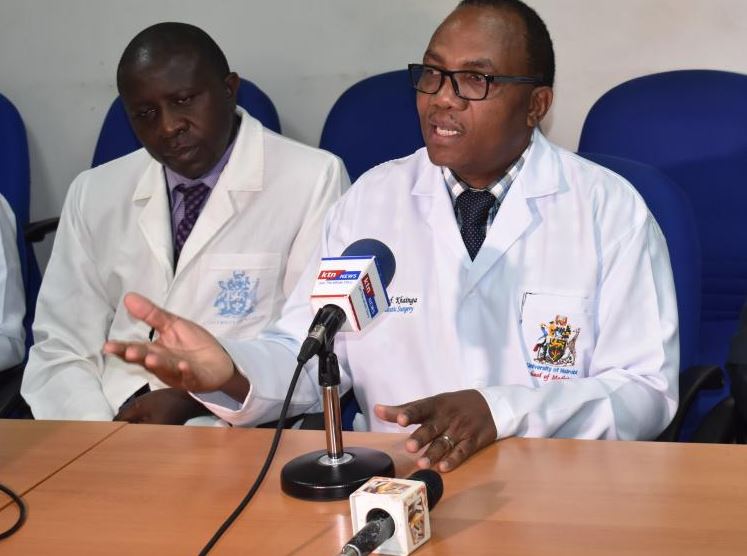 It took doctors seven hours to reconnect a boy's penis that had been chopped off last December.
The surgery was as delicate as the organ is, and required 15 specialists working through the bloody wound, trying to re-connect the veins and nerves.
Stanely Khainga from Kenyatta National Hospital (KNH) Department of Surgery, who led the team, explained the severity of the injury the boy had, saying the penis had been chopped off from the base, with a kitchen knife.
The incident happened on the night of December 18, last year, in Embu County, where the boy, 16, is said to have been attacked by unknown assailants at their home.
He was taken to a nearby health centre, where the organ was stored in a freezer. The boy was later taken to KNH.
Only a stump had been left after the penis was chopped off. Blood vessels and urethra were exposed.
Prof Khainga said upon examination when the boy arrived at KNH a day after the attack, a team was quickly assembled to conduct the life-changing surgery.
This started with debridement of the penis and the stump, which basically meant removing any foreign objects that might have attached themselves to the wound.
Then the neurovascular structures and urethra were identified, tagged and prepared for re-attachment.
Since at the time the boy could not pass urine naturally, the urology team did urethral catheterisation – to redirect urine – before the actual reconstruction kicked off.
The surgery involved repairing two veins, two nerves and one artery. This was key in ensuring there was blood flow to the reattached part, said Khainga. "If you do not give it blood supply, the organ will die," he said.
Khainga said the main outcome of the surgery was to have the penis achieve total function, which are urination, sexual gratification, improved self-body image and reproduction.
For this to happen, the surgical doctors had to ensure they reconstructed the penis to near normal, with adequate aesthetic appearance, including length. "The patient currently erects and the length is good," said Khainga.
Due for discharge
The boy, identified just as AM, will be due for discharge from KNH in two weeks.
The hospital's acting Chief Executive Officer Thomas Mutie said such a surgery increased faith in local specialists. He hinted that soon, before the year ends, KNH would expand and start performing liver transplants.
"Imagine if such a surgery was to be performed abroad, the organ would not even reach there when still viable," he said.
One of the biggest challenges, Khainga explained, was the insufficient skin.
While the surgery can be said to have been a success because the boy was young, Khainga said such a procedure would still be possible even if the patient was much older.
Ajujo Martin and Were Andrew are some of the resident doctors at KNH who took part in the landmark surgery. The doctors are pursuing further studies at the University of Nairobi.
Related Topics