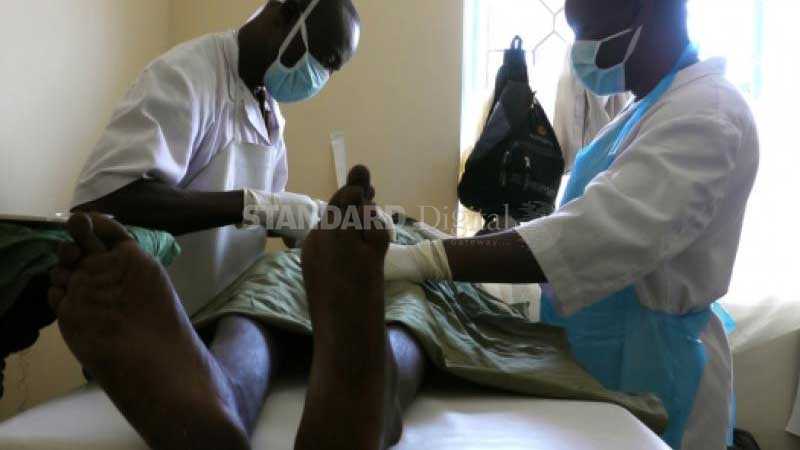 Human error is the single largest cause of serious injuries to boys in the ongoing HIV-related male circumcision programme in Kenya.
Data presented last week at a scientific conference in Boston, US, shows five boys aged 10-15 to have had their genitals permanently damaged through wrong use of circumcision tools in the last four years.
Presented by Paul Musingila of the US Centres for Disease Control and Prevention Kenya, of 25 serious events reported in male circumcision between 2014 and 2017 a quarter of them were caused by health providers who did not comply with technical procedures.
Penile deformities
Because of this, the study says five boys suffered permanent penile deformities.
The study also involving the National Aids and STD Control Programme, WHO Kenya, JHPIEGO and USAID-Kenya says the children suffered damage because of inappropriate use of forceps. Another boy aged 15 was infected with tetanus following the medical circumcision but recovered after what Musingila said was a prolonged hospital stay.
Since 2008, donors introduced a large voluntary medical male circumcision (VMMC) programme in Kenya on the strength that it would help reduce HIV infections by up to 60 per cent.
With assistance from the US President's Emergency Plan for AIDS Relief (PEPFAR) Kenya in 2014 set up a system for reporting any serious adverse event as a result of male circumcision.
Such events include death, tetanus infection, penile amputation or a three or more days of hospitalisation that should be reported to WHO within 30 days after the cut.
The presentation at the four-day virus conference, which ended on Wednesday says during the study period 661,653 men were circumcised.
The reporting system, the study concluded had revealed cases of serious adverse events associated with staff non-compliance as well as other underlying medical conditions.
Other adverse events associated with circumcision but not necessarily staff negligence, the study shows include deaths of a 15 year-old, an infant and three newborns.
An additional 18 cases raging from penile glans injury in a newborn while using the Mogen clamp technology to severe bleeding and tetanus after the use of the PrePex devise were reported.
Kenya presented more than 25 papers at the conference, most of them lobbying for enhanced biomedical HIV technologies for the country.
Many of the papers indicated a high demand for the recently introduced daily HIV prevention pill Truvada as well as self-testing kits.
A study presented by Kristen Little of Population Services International, says two thirds - 67 per cent of 822 study respondents picked from Mombasa and Nairobi prefer the blood-based test kits to the mouth fluid device called oral-fluid kit.
"We found strong preferences for the blood-based kit over the oral-fluid tests, based on the higher sensitivity and faster time-to-results," says the study.
Respondents were also willing to pay significantly more for the blood-based test. Despite these preferences, the research shows the oral-fluid kits are the most commonly distributed self-test product in sub-Saharan Africa. www.rocketscience.co.ke
Related Topics