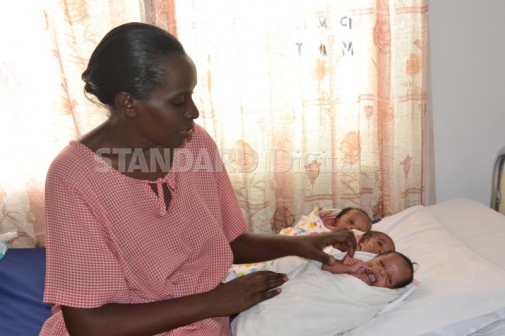 Triplets born prematurely and their mother have been detained by a Mombasa hospital over a Sh2 million medical bill.
Nancy Masara, 37, said the cost of the medical bill went up because her babies were born prematurely in July and kept in the incubator for a month.
The babies Patience, Esther and Samuel are currently at Pandya Hospital in Mombasa as their peasant parents are unable to raise the money.
Yesterday, the nurse in charge at the hospital confirmed that the triplets weighing 1.1, 1.6 and 1.7 kilogrammes will be released once the bill is settled.
"Masara has been in our hospital since June and at the moment the hospital cannot discharge her and the babies until she clears her bill," said the nurse, Victoria Mshai.
Caesarean section
She said the bill shot up because Masara delivered through caesarean section and that the premature babies were kept in an incubator for over a month.
What was supposed to bring joy to Masara and her husband, Abel Mariera, who have waited for 14 years to get a baby, has now turned into a sad experience.
"I have been praying for over 10 years for God to bless me with a baby. Now that He has blessed me with three – one boy and two girls –, it looks funny that I cannot leave the hospital to enjoy motherhood," said Masara.
She thanked her husband whom she says has been very supportive in their marriage, during her pregnancy and after giving birth.
Masara also said she had been visiting the Pandya Hospital for clinics and was paying Sh10,000 every month for four months.
"I had a small business, but after scanning, the doctor advised me to take a rest and avoid doing any kind of work for the sake of my health and the babies. I was delighted to learn that I was carrying triplets and could not wait to hold them in my hands," Masara said.
The family is now appealing to well-wishers to help them clear the bill.
[email protected]
Related Topics