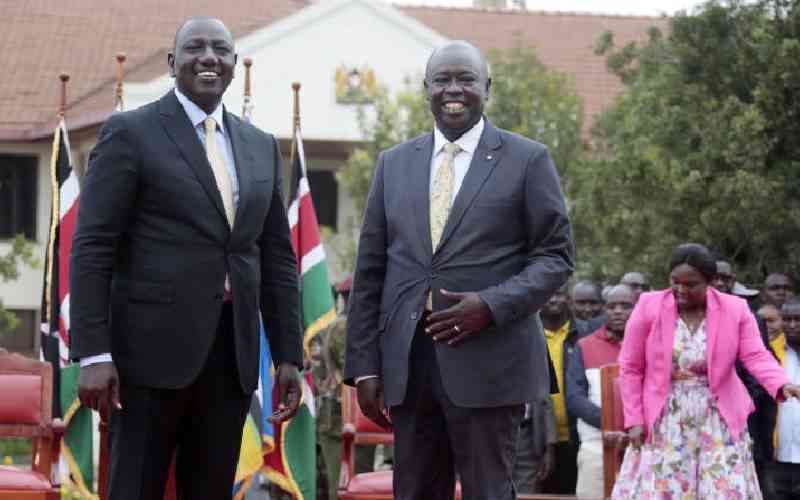 Although he finally left the independence party Kanu at the twilight of his political career, John Joseph Kamotho remains one of the most shrewd Secretary Generals that the party had during its heydays.
Sometimes in the late 1990s, Kamotho is remembered to have scowled to the nascent opposition that Kanu would rule for the next 100 years and many had then laughed him off as a deluded sycophant.
After the August 9 elections, Kanu appears to still be firmly in the saddle with President-elect William Ruto having been a Cabinet Minister in the last Kanu government under former President Daniel Moi.
While Ruto had a chequered publicly known past in Kanu, for Rigathi it was more strategic. As a university student in the 1980s, he must have been required to purchase the Sh20 Kanu membership card, which he had to renew annually by affixing a Sh5 stamp which had the Kanu cockerel symbol.
Later on, Gachagua dabbled in student union leadership that had by then been forced to go into district unions whose patron would be the respective Kanu chairman.His wife Dorcas has confessed in a past Standard interview that she was in some of the student delegations that Gachagua organised for Mt Kenya district unions.
"They thought they would scare us from political leadership on the basis of having worked for Kanu but that was the government then and everyone was in Kanu," Gachagua has defended his stint working for Kanu in an interview early in the year.
In 2002, he had left the provincial administration (now the National Government Administration Office-Ngao) on secondment to be the political assistant to Kanu presidential candidate Uhuru Kenyatta. Like the man who will be his boss, Gachagua built his profile during the last 10 years of the Kanu government.
Born in 1965 in Hiriga village in Mathira to Nahason Gachagua Reriani and his second wife Martha, his step mother was Lydia Nyaguthii Gachagua.
The first term Mathira MP had his lucky break when he was recruited as a District Officer Cadet in 1990.
He had completed his Bachelor of Arts (Political Science and Literature) at the University of Nairobi in 1988 when he was recruited into government before some political links helped him get into the then powerful provincial administration.
As District Officer in Limuru and Kiambaa in Kiambu and at Kinamba in Laikipia, many must have noted the firm stand of the rising administrator at a time when then Central Province was firmly in opposition.
But the rise had no doubt been helped by the right connections at the right time.
What some would call a lucky streak and Gachagua would definitely call divine intervention.
Shortly after he had completed his mandatory Administration and Paramilitary training as a DO, a man he had worked with during his university student days had been appointed Head of Public Service and Secretary to the Cabinet.
That had been Prof Philip Mbithi who was previously University of Nairobi vice chancellor and who had come in to replace Joseph Arap Leting who had a short stint at OP.
Then another miracle happened. Gachagua's long serving MP Davidson Ngubuini Kuguru had also landed at Office of the President as cabinet minister for National Heritage.
Gachagua's mother Martha Kirigo had been a long standing campaigner for Kuguru in his Mathira constituency then esteemed for having some of the most violent campaigns in Mt Kenya alongside Tigania in Meru and Kangema in Murang'a.
Kuguru alongside Tetu MP Nahason Kanyi Waithaka, James Kabingu Muregi (Ndaragwa) and Francis Ole Kaparo had joined cabinet in a reorganisation of government after resignations by Health Minister Mwai Kibaki and is allies including Research Science and Technology's George Muhoho on Christmas 1991 as beef from the 1988 demotion of the former vice president.
The combination of two well placed patrons at OP worked wonders for Gachagua.
By 1993, he was working as one of the Personal Assistants to Prof Philip Mbithi at Harambee House in Nairobi.
"Political power is good. I remember the pool of professors who worked for President Moi who had only been a primary school teacher before joining politics," he recalled in the interview.
But via the Kenya Broadcasting Corporation Lunchtime News of February 29, 1996, Prof Mbithi was abruptly dropped as Head of Public Service in President Moi's signature fashion and replaced by Phares Kuindwa.
Gachagua recalled that the pool of officers who worked directly under Prof Mbithi like himself were immediately served transfer letters to provincial administration outposts in hardship areas like North Eastern, Marsabit and Turkana "until I got a chance to plead with the president."
He went on to serve in Laikipia, Kakamega and Limuru but has always denied that at any one time he served in Molo, which bore the brunt of 1992 tribal skirmishes.
One of the enduring images of Gachagua, who as DO was known as Godffrey Gachagua, was when he and anti-riot policemen stopped a Ford Asili delegation touring Limuru led by former Butere MP Martin Shikuku and area MP George Nyanja.
A veteran and outspoken opposition leader popularly known as "The People's Watchman," Shikuku confronted the youthful DO telling him that president Moi had decreed that the opposition be allowed to visit the country freely.
But the firm administrator didn't budge prompting Shikuku to inform him that they would report him when they next met Moi.
"Enda useme (Do as you wish)," was the prompt response by the firm DO.
Many Rigathi allies believe his tough as nails profile in the provincial administration gave a shine to his career and prompted his secondment in 2002 to become political assistant to Uhuru.
He stayed on Uhuru's employment even after his failed bid and after picking the mantle of Leader of Opposition in parliament.
Gachagua had previously remained largely in the shadow of his late brother Nderitu Gachagua, a flamboyant quantity surveyor who was elected Nyeri's first governor died in office on February 24, 2017.
Related Topics