Silas Nyanchwani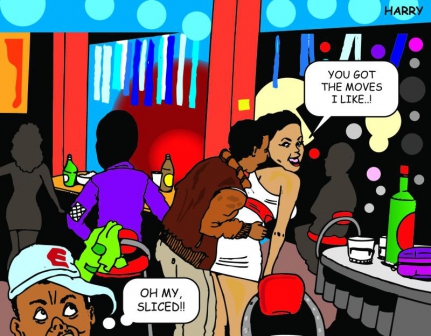 Last week in this space, I wondered why women in the company of men play silly games in bars. As I said, I derive some inexplicable pleasure from robbing a man of cherished treasure, but quickly, I feel disappointed knowing that when the time comes, she will do the same to me. I know because I have been there.
A few months ago, while in a club in town, I saw this beautiful, light-skinned lady seated across the table. She was in the company of a man in a striped shirt on a Saturday night. I knew the man was either an accountant or auditor. No sane man wears official gear to a night club on Saturday. For some reason, the lady had her eyes trained on our table.
It could be the many drinks on our table compared to their single packet of Del Monte juice. Or her man was simply boring. At some point, our eyes locked and lingered on for the magical three seconds. I looked at the man who was fiddling with his phone and back at the lady and telepathically we agreed that he was doing a poor job of entertaining her. When time for dancing came, she took to the floor and I took that as the cue to join her and get the number.
The small dance floor was crowded as soon as more Jamaican music was played. Since I can't dance, I angled myself closer to her and we danced a bit and, as expected, she did not resist whispering her number into my ears as her man fiddled with his phone.
We met the following Wednesday. She came dressed in a short, tight skirt that left little to the imagination. It was 6pm so I thought coffee would suffice, but she was inexplicably hungry. She ordered 'chips masala' and a cold drink, but she barely touched the chips, saying it was badly prepared.
We had an awkward conversation, both of us painfully aware that I had stolen her from her boyfriend, whom she did not even for once mention. We went to a bar afterwards, had so many drinks but to my anxiety and my wallet status, she was not getting drunk. As the alcohol eased the tension between us, she opened up about her world. She worked as a front office (read receptionist) in a leading city hotel. She did not lie, since I did pass by the hotel and true, she was there.
READ MORE
We went home afterwards with minimal resistance. Well, in Nairobi, that is not a sign of luck. It could be that she is scheming to take you to the cleaners. And they use different strategies. Once beaten, the second time, you tend to be overly shy. Besides, one night stands are common in Nairobi. At home, she did not give in to my demands. I left her alone. She had a potential to be a good girlfriend, despite her scary level of exposure, openness and a carefree attitude to life, yet so young, not quite 25.
The following weekend we went out. Maybe I was boring, for I saw her exchange a number with another man, surreptitiously. Angered, we broke up. I never heard from her again.
A few weeks later though, in the wee hours of the night at a club, I saw her vigorously giving some man a lap dance. It was not the man she gave a number the other night. When she saw me, she acknowledged my presence but totally ignored me, like I was an electric pole. See what I am talking about?
@nyanchwani