Home
/
Just what goes through the mind of those who strip women naked on the streets?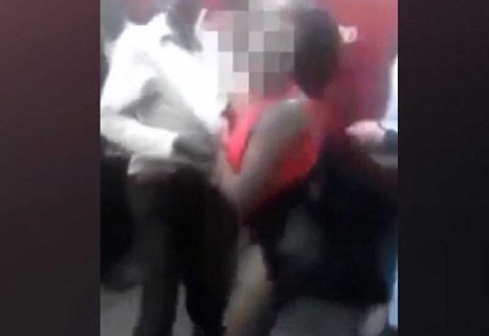 The busy matatu terminus right opposite the National Archives is a busy place. One can hear incessant honking, rivalling the blaring music from nearby stalls. "It's not the first time this has happened," says a stage manager who refuses to be named."Not a month passes by before some woman is forced to either run or is undressed," he adds, claiming that it happens impulsively.
He says it isn't just along Tom Mboya that women get stripped. "It used to happen in Thika where I worked before. The only difference is someone recorded it," he says. He is joined by four other men. One is a driver, judging by his maroon uniform, two are touts. One man is in civilian clothing and carries an exercise book. He must be a stage manager.
"It's something we have to do over and over again to stop women from dressing skimpily. I can't allow my wife or sister to leave the house semi-nude. I live in Githurai and even last week, another woman was stripped naked because she was in a see-through skirt," says the man with the notebook.
"The woman we undressed here wasn't even wearing panties. She was also too drunk. We all know she is a prostitute, and she should keep it professional," he says, adding that no man undresses women in bars or Koinange. "They are at work and no one can interfere with them."
All the men nod in agreement and I ask if they have deliberately formed a vigilante group that watches on 'indecently dressed women.' "Kwani sisi hatuna kazi? Hatuwezi kaa hapa kungoja kuangalia wanawake. These things usually just happen so fast. One person starts and all passers-by join in," says the driver.
And what if one day your sister or a woman close to you is stripped naked? "That can't happen. My sister or wife will know how to dress," says the man with the notebook.
Erick Njoka, the Maendeleo ya Wanaume chair while commenting on this issues said his organisation has drafted a decency bill which will be forwarded to the Attorney General. "The bill calls for banning of micro-miniskirts or any clothes that expose a woman's panties or private parts. Men will also be banned from sagging trousers because they arouse women."
He says the bill is about protecting and respecting other people and the public, "The public space is not your bedroom or your house, we must learn not to invade other people's privacy."
Disclaimer!!! The article was published by our sister publication : The Nairobian in 2014
When was the last time you wrote someone a letter on paper?
Related Topics