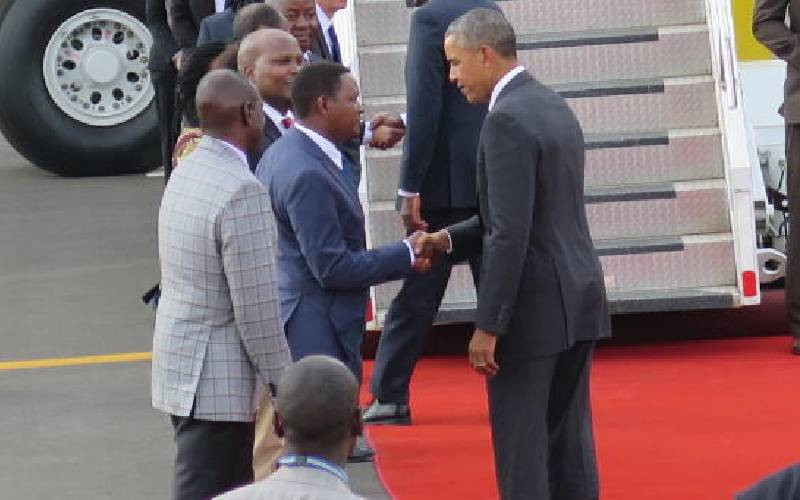 Anyone expecting Mutua to hide when US President Barack Obama visited Kenya in 2015 after describing him as an unintelligent, ignorant and immature junior senator from Illinois was shocked to see the new Machakos Governor worming his way to the rope-line of leaders who wanted to shake hands with the US President and exchange pleasantries.
As government spokesman, Mutua was forced to eat humble pie at a press conference he called to congratulate Obama after his election as US President in November 2008, just two years after he dismissed him for criticising the Mwai Kibaki administration.
Humble pie, however, does not add pounds to Mutua's political waistline. A veritable master of shortcuts, Mutua has dabbled in journalism, enterprise, film and book authorship with mixed results.
Raised from a humble background in Kibera and Riruta Satellite settlements, Mutua attended Dagoretti and Jamhuri High Schools in the city before missionaries who had met him as their church translator whisked him off to the United States to study communications at Whitworth College and Eastern Washington. He obtained a doctoral degree at the age of 33 from University of Western Sydney in Australia before taking up a teaching job at Zayed University in Dubai in the United Arab Emirates.
His travel column, 'Msafiri', which was published in the Daily Nation presented him as the right fit for Kibaki's administration, which was struggling to present a positive international image.
He emerged as a favourite ahead of radical journalists like Salim Lone and communication scholar Absalom Mutere to become the first government spokesman. His dry-eyed and sometimes high-pitched defence of the government won him admiration and derision in equal measure, but was more importantly a launch pad for his entry into politics. Once the office of government spokesman had been established, Mutua became an important player in the dramatic and sometimes confrontational politics that characterised the Kibaki years. And he marked his territory in lion-like fashion.
He quickly switched political alliances and successfully ran for the governorship of Machakos County. His performance in office was characterised by media attention through the launch of ambulances, the parading of tractors and building cheap roads whose quality was sometimes considered suspect.
His publicised attempts to attract investors to Machakos County in the areas of manufacturing, sports, and the arts did not go as he had planned. He also established a public park, which featured as a highlight of the citation for the 'Best Governor in Africa' awarded by a Nigerian organisation in August 2021.
Mutua, who considers himself something of an investor, has established a hotel in Machakos, but told a television interview: "I started my own company at the age of 19… then left the country. When I came back, I started Cobra Squad, where the first series earned me Sh25 million and the next film earned me Sh11 million."
His claim to silver screen fame is in the Dubai film, And the Desert Smiled, as well as the crime television series, Cobra Squad, which was the butt of unkind jokes owing to its production quality. While working his day job as government spin-doctor, Mutua also wrote a book in six months and self-published it in the expectation that it would rake in millions in sales. It is out of print and has no online footprint.
Reviewing the book, How to Get Rich in Africa and Other Secrets of Survival, US-based Kenyan literary critic Evan Mwangi wrote: "My first instinct was to throw the book in a trash can together with my used paper towels or return it to the bookstore without claiming my money back." Mwangi noted that the book had two string points to recommend it: its title and the cover design.
Three years into his first term as governor, Mutua launched his own political party, Maendeleo Chap Chap, whose name plays on his slogan to speed up development. He was re-elected on the party in 2017, and immediately set his sights on the presidency.
As election approached, Mutua abandoned his quest for the presidency and supported Raila Odinga's Azimio la Umoja – but only for a while. He abandoned ship and pitched tent at William Ruto's Kenya Kwanza Alliance. He was named nominee for Cabinet Secretary for Diaspora and Foreign Affairs.
Related Topics