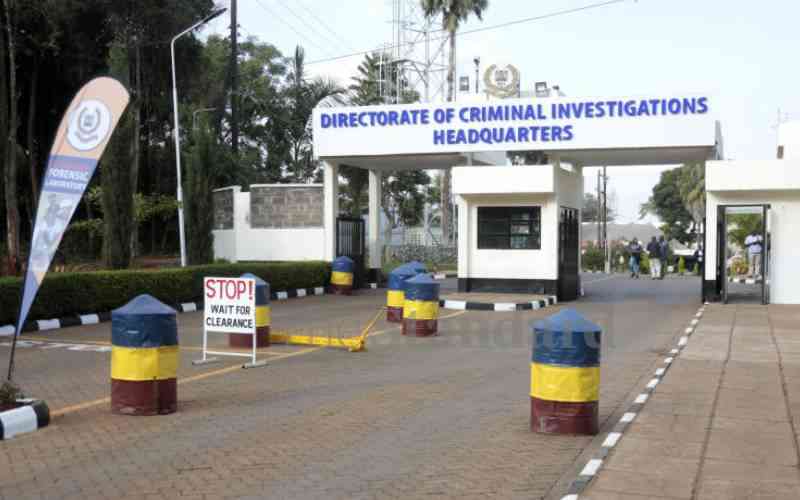 Officers who served in the disbanded DCI Special Service Unit, and who were sent on compulsory leave in October have now been recalled to work.
The over 50 officers, who do not include the 12 currently facing investigations have all been transferred to different police stations.
Former SSU boss Pius Gitari, has been moved to Mandera and named the new county DCI boss.
Alfred Njoka, who served as the SSU deputy boss has been moved to Western Region.
He will report to the Regional DCI boss for redeployment. Some of the junior officers have been moved to far-flung stations, an indication that the new regime was keen to dismantle the network of officers who served in the unit.
SSU, was disbanded by acting Inspector General of Police Noor Gabow on October 16.
Investigations by the National Police Service Internal affairs unit linked some officers to the disappearance of two Indian nationals and a taxi driver.
The Indian nationals were in the country to join the campaign team of now President William Ruto when they vanished in suspicious circumstances together with their taxi driver.
Mohammed Zaid Sami Kidwai, Zulfiqra Ahmed Khan and Kenyan Nichodemus Mwania Mwange went missing on the night of July 23.
They were last seen alive when they left a night club in Westlands and were reportedly heading home.
A report of missing person was filed at Langata police station a day later.
Investigations by the IAU have since established that some DCI officers from the disbanded elite unit Special Service Unit were involved in the abduction of the three.
DCI boss Mohammed Amin has executed three major transfers of junior and senior DCI officers since he took over from DCI George Kinoti who resigned in October.
Amin has also disbanded some of the elite DCI units that were crafted by Kinoti.
Related Topics