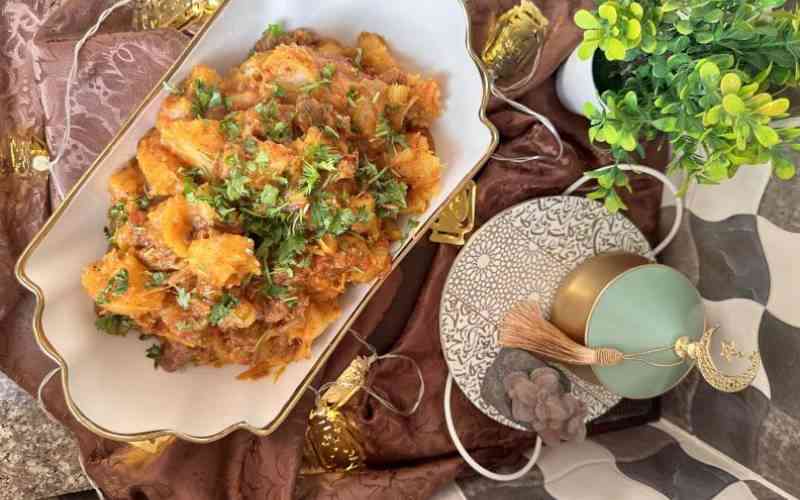 Today we make curried cassava in beef (muhogo wa rojo na nyama). Cassava is a staple here at the coast and we love to cook it in coconut.
Today, however, we will cook it with a spicy tomato base enhanced by the tartness of raw mangoes.
Ingredients:
1kg cassava, cubed
750g T-bone steak
Salt to taste
1 litre water
3 tablespoons vegetable oil
1 onion, diced
1 teaspoon ginger mince
1 teaspoon garlic mince
1 capsicum, diced
1 teaspoon sunrise curry powder
1 teaspoon black pepper
2 beef Royco cubes
2 tomatoes, diced
1 raw mango, sliced
140g tomato paste
Fresh coriander
Method:
In a pressure cooker pour in the water then add the meat, cassava and salt. Cover and cook for about 20 minutes until the meat and cassava are soft. Set aside.
In a pot over medium heat drizzle the oil and add the onions. Sauté the onions until slightly golden.
Add the garlic, ginger mince, and capsicum and mix, then add the curry powder, black pepper, and Royco cubes and further mix.
Add the diced tomatoes, mix well, and cover until the tomatoes soften. Add the diced mango and tomato paste and mix until the oil bubbles.
Add the boiled beef and cassava and stir, then garnish with coriander. Enjoy!
Related Topics