Home
/
Health
Why your back hurts and what to do about it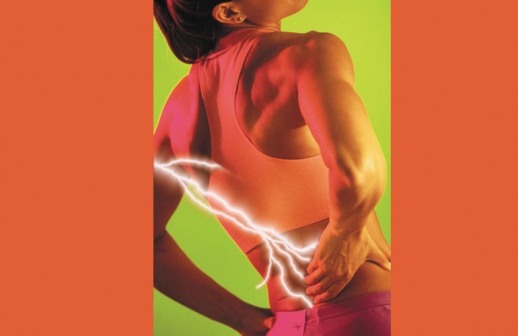 Have you asked yourself why you sometimes feel that excruciating burning pain on the lower back that does not want to go away? Sometime it's not easy to figure out the root cause of the problem without the help of a physician or therapist but the pain is usually as a result of muscular or joint imbalance.
To be on the safe side, get clearance from your doctor just to make sure that there are no damaged vertebrae or torn muscles before you start any physical activities. Some of the most common causes of back pain are:
A. Lifting heavy loads This simply means you are carrying too much weight. In most women, it goes further especially if they are dealing with large and heavy breasts. A big bust can pull the trunk forward if the back muscles are weak. The side effect is that more stress is placed on these muscles and more pain is experienced.
Doing enough cardio for about 45 minutes to an hour three to four times a week plus eating healthy will work well for you. You can jog, run, swim, do aerobics or dance but the most important thing to remember is that the key is to shed off some pounds.
Try doing exercises that will work, firm and tone your torso, especially the chest area. Exercise like lying chest press workouts, press ups, rowing will work well especially under the guidance of your fitness expert.
B. Imbalanced posture This kind of posture shows there is a very big difference in flexibility and strength between the upper body and lower body, or that there is no correct body alignment especially while seated or between the left side and the right side of the body. Either of these postures can cause complications such as muscular tightness, soreness or just an uncomfortable feeling in your back.
C. Poor back support
This means the chair you sit on does not support your back fully or your back and abdominal muscles are too weak and are not working well. Back and ab muscles are the centre control points in your body and are the ones that make your core area strong. They are designed to hold the truck upright and if one them is weak, you will definitely feel the effect.
Some of the good and effective ways to reduce and heal your back is to do exercises like yoga and pilates as often as possible. These types of exercises use low impact methods and breathing techniques that are good whether you want to improve your posture, flexibility, core strength and mobility.
The risk of hurting your back further is slim to none. It is also a good idea to include swimming and stability exercises in your regular workout. Use stability, medicine ball or bosu ball (half ball) for a few exercises.
Swimming not only strengthens your back but works your whole body because you use your core more to stay afloat as you work out the rest of the body. The problem muscles and joints in the back are stretched and strengthened evenly, balancing out typical imbalances in the process.
Healing takes place when you are resting so take enough time out. Maintain your healed back by continuing with regular stretching.
Related Topics