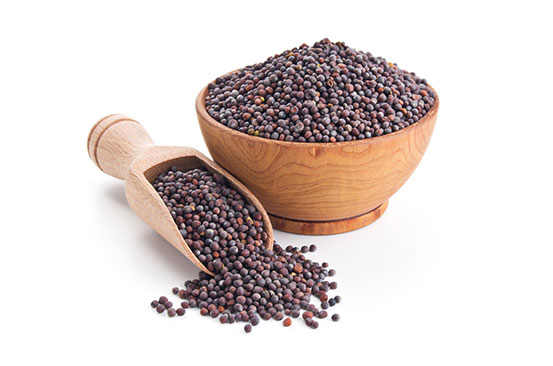 The mustard we are most familiar with is yellow, and comes in both powder and sauce form. Mustard sauce is a tangy spicy condiment that is most popular as a combo with ketchup on a hotdog. However, mustard plants have over 40 different varieties with the three being popular for culinary use being white, brown and black.
The black mustard seed is tiny and dark brown (not black) with a slightly reddish shade to some seeds. Most pungent of the three, black mustard is a common ingredient in Indian cooking on its own or blended with other spices to make a masala spice. To get the full taste and flavour, they are kept whole, fried or toasted before adding to dishes like stir fries along with other aromatic ingredients.
Beside culinary use, black mustard seed and oil from the seed to make medicine. Oil is used for painful joints and muscles as well as arthritis.
Store your mustard seeds in an airtight container and they can keep for up to a year. Black mustard is available at major supermarkets, Indian shops that sell spices and health product shops.