Apricot and raspberry scones
Food By
Ed Baines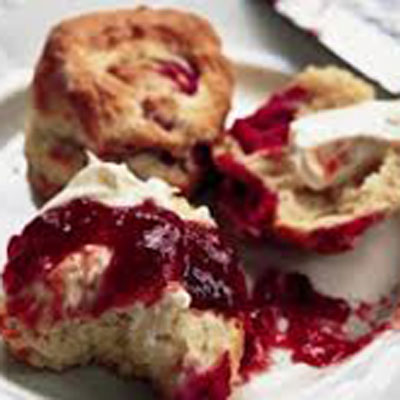 MAKES 10-12
50g dried apricots
225ml milk
500g self-raising flour plus extra for dusting
30g baking powder
85g butter, cut into small cubes, plus extra for greasing
85g sugar
50g raspberries
1 egg, beaten
DIRECTIONS
• Preheat the oven to 200 degree centigrade/400 degree Fahrenheit mark 6.
• Put the dried apricots in the milk and allow to soak. Sift the flour and baking powder into a large bowl. Add the sugar and butter and mix it with your hands. Slowly add the apricots and milk until it comes together to form a dough. Gently work the dough until smooth, making sure not to overwork it.
• On a floured surface, roll out the dough to 4cm thick. Scatter the raspberries over half the dough, fold over the other half and then carefully roll it out again so the fruit is in the middle. Lightly flour a round cutter and stamp out circles. Glaze with the beaten egg.
• Grease in a baking tray and dust with flour. • Put the dough circles on a baking tray and bake in the middle of the oven for 20 minutes until golden brown.
The writer is a World famous TV chef, food expert, author and restaurateur. For more recipes, watch him on BBC Lifestyle courtesy of DSTV Kenya.
Photos: www.goodtoknow.co.uk