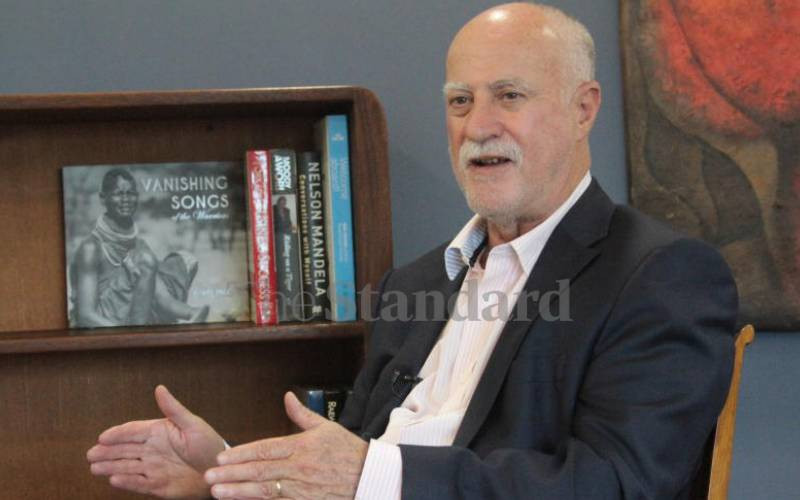 It was a year of revolving doors at corporate Kenya's corner offices as companies hunted for the right talent to steer them through a turbulent 2022.
The C-suite changes came as firms battled rising costs and a lull business environment amid piling up pressure from shareholders and investors for management to deliver.
Below we review some of the notable executive shake-ups that defined 2022.
Michael Joseph ends long call at Safaricom
Michael Joseph, who's described himself as a hard-to-please boss, stepped down as the Safaricom board chairman. His exit gave way to boardroom veteran and power dealer John Ngumi who is the former ICDC and Kenya Pipeline Company chairman.
Joseph had been a central figure in the growth of the company since its inception and has always been a lurking shadow.
He was the founding chief executive of what is now a Sh1.2 trillion corporate behemoth and the region's most profitable company. Joseph steered the telco to grow from a subscriber base of about 18,000 back in 2000 to over 17 million at the time of his retirement in 2010.
He relinquished the top post to Peter Ndegwa, whose appointment took effect on April 1, 2020, having held the role in an interim capacity following the death of his successor, Bob Collymore in 2019.
Joseph is credited with the launch of the pioneering mobile money platform M-Pesa and taking the telco public in June 2008 via an initial public offering that raised Sh50 billion for the government.
Exit Oigara, enter Russo
The country's second-largest lender by assets KCB Group in May this year tapped the then-managing director of its subsidiary National Bank of Kenya (NBK) Paul Russo as its new chief executive.
This followed the expiry of the term of long-serving KCB chief executive Joshua Oigara who had made a name as one of corporate Kenya's youngest executives and rivalry with Equity Bank.
Mr Russo is a human resources management professional who turned around NBK which KCB acquired in 2019.
In previous roles, Russo served as receiver manager for Chase Bank of Kenya, after it collapsed and before it was taken over by SBM Bank of Mauritius. He also previously worked for Barclays and PwC in HR management.
KCB's growth under Oigara included acquisitions in Tanzania and Rwanda, tripling the balance sheet, and more than doubling annual pretax profit. KCB also operates in South Sudan, Uganda and Burundi.
After a brief hiatus, Oigara makes a grand return
Stanbic Bank Kenya, a subsidiary of South Africa's Standard Bank Group, tapped the former KCB Group honcho Oigara as its new chief executive.
The 47-year-old Oigara replaced retiring long-serving Zimbabwean national Charles Mudiwa who exited the lender after a career spanning two-decades effective December 31, 2022.
Awori quits ABSA for greener pastures
Former Absa Bank Kenya chief executive Jeremy Awori quit for a similar position at pan-African lender Ecobank Transnational Incorporated Group.
Awori replaced Ecobank's former group chief executive and veteran banker Ade Ayeyemi.
Wakiaga leaves KAM for Tony Blair's firm role
The Kenya Association of Manufacturers (KAM) former long-serving chief executive Officer Phyllis Wakiaga exited her role after nine years.
Wakiaga was replaced by Anthony Mwangi who previously worked at Tullow Oil, Kenya Airways and Bolt in various capacities.
Rebecca Miano quits KENGEN for cabinet
Rebecca Miano, the iron lady of Kenya's energy sector, was appointed Cabinet Secretary for East African Community (EAC), Arid and Semi-Arid Lands, and Regional Development.
Mrs Miano became the first woman managing director and chief executive of the State-owned KenGen in November 2017 after holding the position in an acting capacity following the exit of Albert Mugo when he clocked the retirement age of 60.
After her exit, the KenGen board of directors appointed Abraham Serem as the new managing director in an acting capacity. Until his appointment, Serem had been the KenGen human resources general manager.
Radier hangs tourism boots
Kenya Tourism Board (KTB) former long-serving chief executive quit her role after serving for six years.
Dr Radier according to the state agency oversaw key programmes including the evaluation and listing of the Magical Kenya Signature Experience, leveraging partnerships and digital marketing.
KTB chairperson Joanne Mwangi-Yelbert termed Dr Radier's tenure a successful one having seen through a strong destination brand with global recognition. The board tapped John Chirchir, who has been serving as the digital marketing manager at the agency in an acting capacity.
KDIC taps Chepkwony as Mohamud hangs his boots
As the Kenya Deposit Insurance Corporation (KDIC) chief executive, Mohamud Ahmed Mohamud's mission had been to ensure zero bank failures.
During his tenure, KDIC, which insures customer deposits, has come out strongly to promote risk management and financial stability in the lending sector.
Recently, the KDIC Board of Directors appointed Hellen Chepkwony as its acting chief executive Officer after the long-serving boss Mohamud hung his boots.
Chepkwony, currently a manager with the Central Bank of Kenya (CBK), takes over from Mohamud who is set to exit the corporation in early 2023, pending the recruitment of a substantive office holder.
Muli seeks to bring light to troubled Kenya Power
Bedevilled electricity distributor, Kenya Power appointed Geoffrey Muli as acting managing director, replacing Rosemary Oduor who has acted in that capacity since August 2021.
A long-serving insider, Muli is betting on new electricity sales, reorganising debt, and diversification to turn around the firm.
Mwarania exits state reinsurer Kenya RE
Jadiah Mwarania ended his long stint at Kenya Reinsurance Corporation (Kenya Re) as its managing director.
The board of Kenya Re appointed Michael Mbeshi, the reinsurer's current general manager of property and administration, to take charge of Kenya Re in an interim capacity.
Mbeshi has been with Kenya Re for over 25 years, rising through the ranks to the position of Managing Director.
Mwarania courted controversy when he was sacked but then reinstated by the Kenya Re board after a bitter court fight.
Tom Gitogo to Britam's rescue
Insurer Britam appointed former CIC Insurance boss Tom Gitogo as the new managing director, marking a return to the firm he once served as finance director.
Mr Gitogo took over from acting managing Charles Njuguna on September 1. Mr Njuguna, the finance director, took over from Tavaziva Madzinga in April, following his exit after just 10 months in office.
EX-Safaricom executive switches call to MTN
MTN Uganda appointed Sylvia Mulinge - until then the head of consumer business at Safaricom- as its new chief executive effective September 1.
The move marked Ms Mulinge's successful jump to the chief executive's post after her appointment to lead Vodacom Tanzania in 2018 was thwarted by Tanzanian authorities who refused to issue her with a work permit.
Deloitte bets on first woman CEO for regional success
'Big Four' audit and consulting firm Deloitte East Africa appointed Anne Muraya as its new chief executive effective June 1, 2022.
Muraya became the first woman chief executive at the firm, where she will oversee operations in offices in Kenya, Tanzania and Uganda, Ethiopia, South Sudan, Rwanda, Burundi, and Somalia.
JAVA goes for Kenyan to brew better times
Java House picked Priscilla Gathungu as its first Kenyan chief executive to replace Derrick Van Houten who took over in March last year.
Ms Gathungu previously held multiple leadership roles in the group. She served as the human resources director for six years, commercial director for one and a half years, and divisional managing director over the last two years.
MAINA takes over as I&M Bank's regional boss
I&M Group elevated Kihara Maina to the position of regional chief executive following the end of his six-year tenure as the chief executive officer of I&M Bank Kenya.His appointment takes effect at the start of 2023.
RBA appoints insider as new CEO
The Retirement Benefits Authority's Board appointed Charles Machira as the chief executive.
He replaced the late Nzomo Mutuku whose term ended in June. Mr Mutuku had been with the Authority for 22 years and has served as chief executive since March 2017.
Gulf African Bank gets new CEO
Anuj Mediaratta was picked as the new Chief Executive Offices of Gulf African Bank with immediate effect following the retirement of Abdalla Abdulkhalik.
Anuj Mediaratta is an accomplished banker with over 25 years of experience. Before he was appointed chief executive, Mediaratta was the lender's deputy chief executive and head of banking.
Consolidated Bank taps ex-KCB boss to stop troubles
Troubled Consolidated Bank of Kenya picked former KCB Bank Kenya director for mortgage business Sam Muturi as the new chief executive effective Friday last week. Mr Muturi took over the struggling State-lender from Japheth Kisilu, who had been appointed to the position in an acting capacity.
Related Topics