Home
/
Achieving Woman
Yoga helped me heal from childhood trauma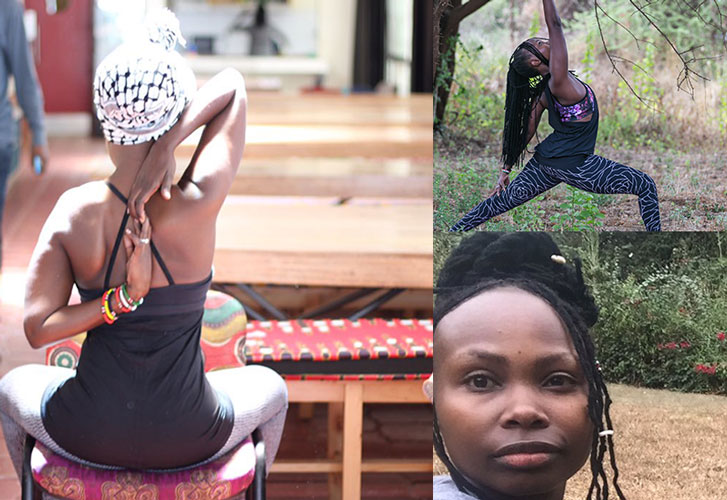 After a difficult childhood, Catherine Njeri, 33, says she struggled with anger issues. She speaks about how taking up yoga helped her confront her pain and find healing.
When Catherine Njeri was introduced to yoga in 2007, she had no idea the discipline would change her life trajectory and lead to a healing she never thought she needed or that was even possible.
"I met a woman named Paige Elenson in 2007. At the time, I was working as an acrobat for Sarakasi Trust. It was after the 2007 election and Sarakasi was involved in visiting IDP camps to help with the healing process. Paige came in to teach yoga while I came with fellow acrobats under the banner of Sarakasi. We travelled all over Kenya and what I remember about the experience was that when we would do acrobatics, the people we visited wouldn't join us or participate. They would just watch us. However, when Paige would do yoga, everyone would join in and participate in one big circle. The mood would just change. I was intrigued," explains Njeri.
But it was not until 2009 when Paige come back to Kenya and co-founded Africa Yoga Project (AYP), that Njeri decided to join and train as a teacher. AYP facilitated the first yoga teacher training in Kenya and now employs local youth to teach it full-time in their own communities.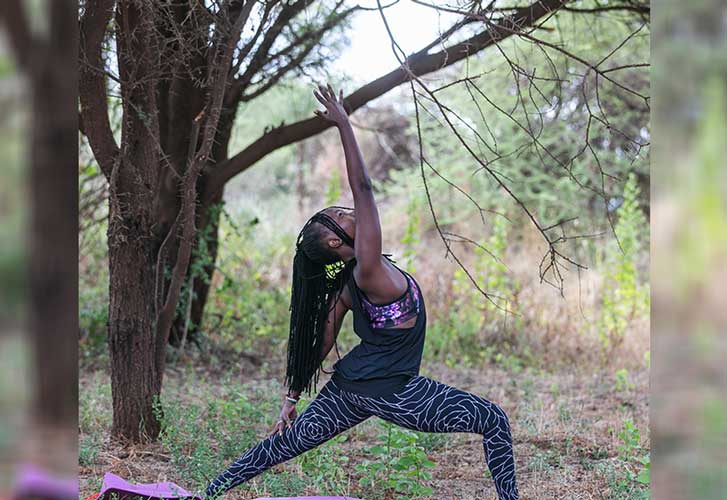 Going professional
Njeri is now a certified Africa Yoga Project and Baptiste yoga teacher, having completed level 1, 2 and 3 Baptiste yoga teachers training and FIT (Faculty in Training).
Njeri explains that Baptiste yoga (named after its founder Baron Baptiste) incorporates three practices and techniques. "The first is asani (physical posture), here we use a designed sequence called Journey Into Power (JIP) which although physically demanding gives you access to vitality, power and freedom," she says.
"The second technique uses meditation which gives access to being present and being awake in your own thoughts, body and life in general," she says. "In the third, we focus on inquiry. This helps create space for discovery and new possibilities. It helps one to not only be fit but it helps in self-evaluation and reflection, healing and finding your own truth."
Following her training, she can now lead training with Baptiste Institute. She is also a full-time Director of Training at Africa Yoga Project and also teaches at a pop-up yoga studio at Prestige Plaza on Ngong Road, she says.
Njeri acknowledges that there are many misconceptions about yoga especially in Kenya.
"There are those who think it is a weird Indian religion, while others believe it is all about sitting down and doing nothing else but burning incense for hours. However, Baptise yoga is not about forcing participants to bend and chant. Baptise yoga, in fact, helps you get rid of excess baggage that weighs down minds and bodies," she says.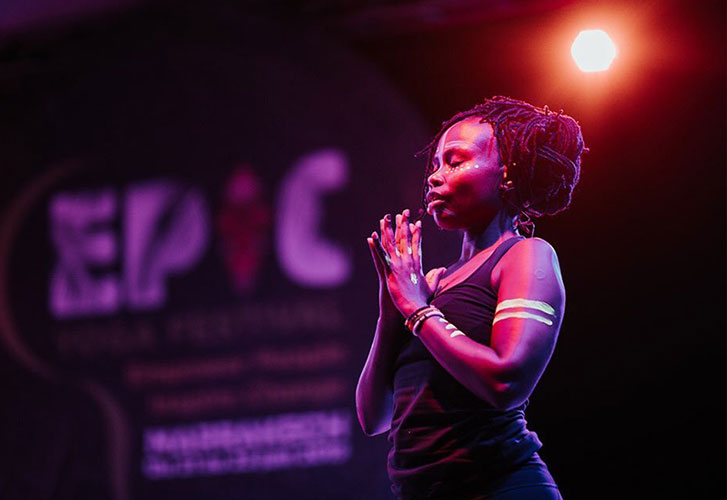 She says yoga helped her heal from her childhood trauma and to find purpose as an instructor. "It really saved my life. I grew up in a toxic environment. I grew up in Kariobangi. My mother had me when she was 17, she was a single mother and an alcoholic. When she was sober, she was a wonderful and loving mother but when drunk, she was verbally and physical abusive, plus she would be gone for days. Being the eldest born in a family of five children, the responsibility for my siblings fell on my shoulders. Sometimes we would sleep hungry," Njeri narrates.
"As a result, I was an angry child who would act up. I was that child parents told their children not to hang out with. No one bothered to find out why I was the way I was, children do not just act out there is always a reason," she explains.
Finding hope
Njeri says she remembers feeling so hopeless about her future. "I knew I could not afford college or university and I did not have a job. Where I grew up, the role models were robbers and so if you were a girl and you wanted a good life then your dream was to marry a robber. I did not want that for myself, but I never knew what was next. By a stroke of luck, I started doing acrobatics and soon found my way to Sarakasi Trust, and in doing that, I found yoga."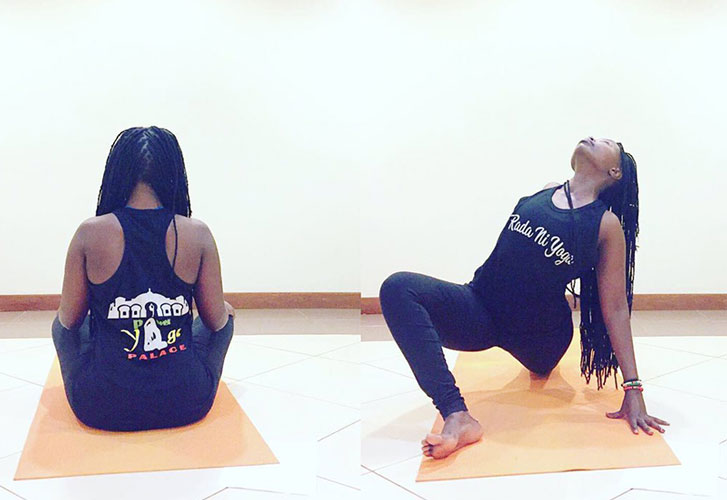 Njeri believes taking up yoga forced her to confront her pain and anger. "I felt that life owed me for what I had suffered growing up. However, through self-evaluation, I realised that no one was going to save me that I had to look down inside me and do the work and help myself grow. I also put myself in my mother's shoes and that made forgiveness easier," she says.
"We now have a wonderful relationship and she does not take alcohol anymore. Also, I was able to see that even though my childhood was not ideal, being the eldest, I was forced to be responsible and hardworking very early on. I have learnt to be empathetic to others because of my childhood," Njeri says.
"I really love what I do. I love creating world class leaders through yoga. My job enables me to meet and interact with children who come from a poor background like me -- problem children like I was. I understand them, I know why they act like they do and I am at a position where I can help from a perspective of personal experience," Njeri says.
Everyone has an app idea, what's yours?
Related Topics