Lucy Robi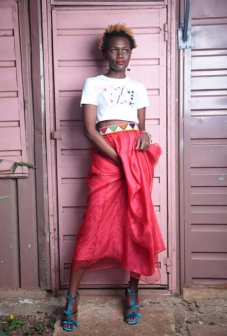 ALSO READ: Eight ways to start living on the minimalistic side of life
?
What inspired you to start your blog?
I used to wear practically whatever tickled my fancy, including rainbow stockings I still do, just not the rainbow stockings. When I was in campus, especially my first two years, I was quite the experimental dresser. I eventually started my blog as a way to pass time but the first inspiration was always that, I never saw myself in any of the blogs that I loved to read. After a while, I decided that I had too much to say that couldn't fit in a blog post so I started my YouTube channel. My blog is most importantly about inspiring people to dress in what they are comfortable in. I love restyling items that are already in my closet and showing my readers the different ways you can wear an item, with just a little imagination
How would you describe your own style?
My style is comfortable chic, which means if am not comfortable in it, I will not wear it. That's it, it doesn't matter if it's trendy or not, for me, the first thing is comfort. This is reflected not only in how I dress, but also, my makeup that is very basic.
Where do you tend to buy your clothes?
I shop in second hand markets a whole lot, my fave one being Gikomba.
Gikomba because the things you'll find there are amazing (with a little patience of course), and cheap since that unlimited bank account is not here, yet. I have recently started shopping online, and once in a while, Mr Price.
ALSO READ: #FridayFashionInspo: Style Pantry, 43, is the true definition of 'Black don't crack'
What are your current fashion obsessions?
I'm love the athleisure trend, so sneakers. Love me some ankle boots as well. Chunky heels. A good black leather jacket. A matte maroon lippy. A statement neckpiece. A great pair of blue boyfriends jeans, a little bit distressed. A graphic tee, with some fun writing on it. Finally, a compact sling bag.
What is your closet like?
My closet has maybe 20 items that I wear on repeat, with the others just taking up space. Lots of graphic tees and sweatshirts, many blue denims in different washes, and just one black one. More heels than sense, and a couple of outerwear pieces.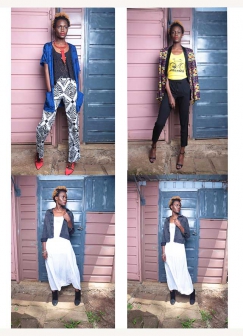 Do you have any fashion rules when putting together an outfit?
My first rule is, not more than two statement pieces in any outfit. I've broken it myself every once in a while but I think it helps to reel in an outfit. Second rule is , dress for the occasion, always.
ALSO READ: #FashionTips: How to dress in a chiffon top
What is the biggest tip to anyone wanting to start a fashion blog?
Just start. Seriously, that's it.
You'll learn things along the way, you'll fail, but at least you're already on the journey and are better than the people waiting to have all the information before they begin.
Today, go on Wordpress, register a free blog and start blogging if it's something you want to do.
Liz's Blog: www.lizmadowo.co.ke