The Mirror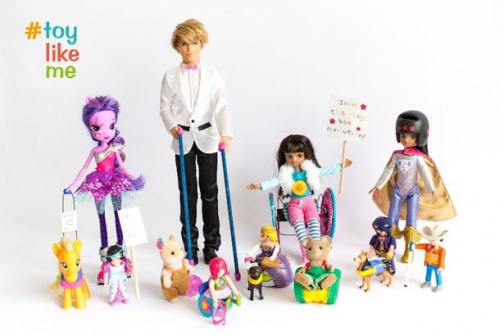 Mum adapts dolls to have disabilities so that ALL children can have toys that are 'just like them'
Thanks to Rebecca Atkinson many iconic and instantly recognisable toys are getting an important make-over.
#ToyLikeMe has adapted popular toys to better reflect disability and diversity
Many of us had a toy we still remember, even as jaded adults.
Our feats of imagination as kids meant these toys weren't just inanimate objects - they were able to talk, dance, roar, pose and, if needs be, battle to the death.
But as wonderful and enriching having a well-loved toy can be they do come with a potential down side.
Six per cent of the UK's children are registered disabled and, until last year, no toys out there acknowledged or represented this fact.
Thanks to the efforts of Rebecca Atkinson, that is hopefully on the wane.
#ToyLikeMe was set up after the mum and journalist, who is partially deaf, noticed none of her children's toys reflected disability - something which as a child herself, she found disheartening.
How it began
Speaking to the Metro , Rebecca explains:
"As someone who had grown up wearing hearing aids, I remembered firsthand how it felt to be a child who never saw themselves represented by the mainstream and what that can do to a child with a disability's self esteem."
Also working on the campaign with her is Karen Newell, whose son has a visual impairment and deaf.
The ladies set up the Facebook page and Twitter account, using the #ToyLikeMe hashtag to call on the industry to better represent 150 million disabled kids worldwide.
Now, as a thanks to those who have supported their crowdfunding, they've created a line of Tinkerbelle Fairy dolls wearing hot pink cochlear implants as a thank you to donors.
But that's not where it stops.
The toys we know and love, but a little bit different
The friends have making over a host of iconic and instantly-recognisable toys: Playmobil people in wheelchairs, Ken dolls with walking aids, My Little Ponies acting as guides for visually impaired toys.
The spectrum of disability and diversity is represented in their creations, and Rebecca and Karen now want to grow their organisation.