John Muturi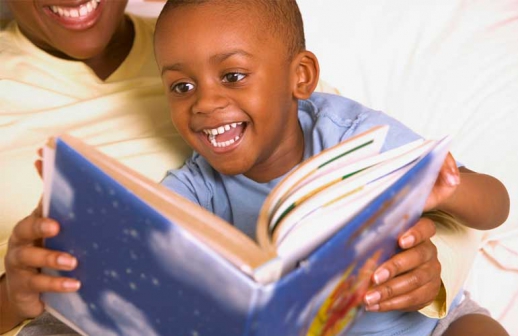 Experts believe that the best way to encourage your child to be a happy reader is for you to share books with her. Research shows that children who read with their parents are better at reading, writing, speaking and listening when they enter school.
Parents can show children that reading is a special activity that can be shared with someone they care about, not just something they do at nursery or preschool. You are often the best person to pick up on the things your child is interested in, so you can begin to make connections between the books and your child's own life.
Children learn to talk because they hear language all around them. And they learn to read because they've been involved in sharing stories, in warm and relaxing situations.
You don't need a big library full of books to keep your child interested, because children love to revisit old favorites. This doesn't mean they're not progressing, because they notice new things about the book each time you read it. They will also begin to recognize the look of familiar words and phrases, which helps to develop their own reading skills.
Playing word games also develops reading skills, and you can do this once children become interested in letters and the way words are formed - usually around the age of three.
You can look for things that begin with a particular letter, or words that begin with the same letter as a child's name and draw their attention to the print that's around them. There are signs in the supermarket, labels on tins or packets; and, within the home, shopping lists and birthday cards that you can involve them in reading and writing.
Whatever you're doing, make it fun - chances are that you'll both discover bits of magic along the way.
Ten point plan
1. Relax into reading
Story-time is when your child can enjoy the magic of fiction. Make the storytelling dramatic so that the books come alive. Point out real-life versions of animals and objects in the books.
2. Talk about the books
Comment on the story as you read, and point out the illustrations. Some pictures can lead to thought-provoking discussions and will encourage children to make up their own stories. Try to make connections between events in the books and your child's life.
3. Choose books together
Make sure you both like the book you're about to read. If the story doesn't interest your child, her attention could wander; and if you're not enjoying it, she might sense it.
4. Handle books together
Encourage your child to turn the pages of the book with you, and point to the words as you read. This will help her to see that stories come from words, and to learn which way up a book is held.
5. Read every day
Even if you can only find 10 minutes at bedtime, or in the doctor's waiting room, try to read with your child each day so that she gets used to books being a regular part of her life.
6. Go for variety
Introduce your child to different types of books; modern and traditional storybooks, information books, poems, songs and nursery rhymes - experts believe rhymes are especially important to help children's language develop.
7. Revisit stories
If your child has favourite books, it's fine to read them over and over again - she'll still notice new things in them. Once she knows a story or rhyme well, she might like to join in with it, retell it in her own words or even dress up and act it out.
8. Look all round
Help your child to relate words in the stores to the words around us, by pointing out words in the supermarket, on the street signs, on billboards and on TV.
9. Write words down
Let your child watch as you write shopping lists, birthday cards and memos and read the words aloud. This will help her understand that the lines on the paper have meaning.
10.Search for letters
Help your child to recognize individual letters by making 'looking for letters' into a game when you're out with her. You could start by asking if she can see the first letter in her name.