Home
/
Achieving Woman
Breaking barriers: From a career in banking to body building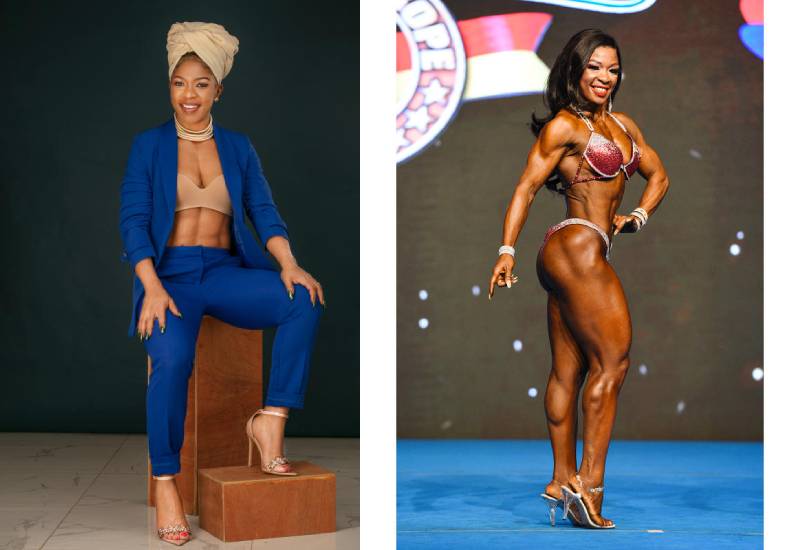 Forget your ordinary beauty pageants where only slim, tall, under 24-year-old models with near perfect dental formulae and flawless skin strut the runway with fake smiles to impress the judges.
Those contests are usually about the tiaras, crowns, bouquets and the prize money coupled with the pride and consequent fame. They will never let you participate if you are or have been married, got tattoos and traditional marking or scars. Being taller than 168cm and bearing a bust size of 32 inches, waist 28 inches and hips 32 inches can be such an art.
They might not be screaming loud about it but the International Federation of Bodybuilding and Fitness (IFBB) has been running a wellness, beauty and fitness sport, an annual pageant of sorts intended for women with slightly bigger body mass in the hips, buttocks and thighs area. Come with your husband and kids if you want. And don't starve yourself to death to attain that javelin perfection. Hit the gym and flex those muscles like the designate queen to the throne.
Wellness bikini athlete world competition and other related body events is what Evelyn Okinyi has been pursuing professionally since 2017. She is a rare beauty to behold, a champion who has been flying Kenya's flag high in international world championships where she is now ranked among world's greats having conquered all continental slots in the categories she participates in.
Jovial and upbeat as they come, on this day, Evelyn has just returned to Nairobi, Kenya, from her international competitions in Europe, with a haul of accolades. Her latest venture has been in Barcelona, Spain, an outing she says has been one of her best.
Newly ranked as the Elite Pro fifth in World Championship 2021, fifth in Arnold (Arnold Schwarzenegger) Classic Europe 2021 and forth in Mr and Miss Universe 2021, Evelyn is a trailblazer in a glamour world unknown to many. She is a woman of many firsts, achievements that have turned her one of the world's desirable and sought after beauty of look and aesthetic, a craft that focuses around physiques that have a developed upper body but a very muscularly developed lower body.
"I have been in Spain and my last championship, Mr and Miss Universe, was this last weekend. I have been doing this for years now and well, there are many factors that why this kind of sport is vital for me including health reasons. It is something that got me quitting my lucrative banking career when I decided enough was enough," rather a sweet soul, Evelyn introduces heartily.
"A wellness bikini athlete has muscle and curves. This is the easiest way to explain it. We remain curvy. My most prestigious placings as an armature are Arnold Classic Africa, World Championship and African Championship. I was third during the IFBB World Cup in 2019 and Top 10 Arnold Championship, Europe. I am top in Africa and needless to say the Kenyan champion since 2018," says the Elite pro level model; a top level worldwide competition that came after her armature participation as a model and trainer.
"I can never emphasise enough the impact of training, nutrition and just having an active lifestyle. I was pleasantly surprised at the number of 70-year-olds and above that I bumped into training while in Barcelona. How we all think we are too old at 50s and retire and go closer to home to resign to life is rather a sorry state of mind. This gets many people sinking into depression as they think of how soon they are dying. This should not be the case. Stay active, groom, look good and purpose to live as you focus on good vibe," she charms expressing her love for the gym.
Just like pageants, the competition involves competitors making their physical presentation before a panel of judges across a number of heats. Each contestant is required to wear an opague two-piece style bikini. The colour, fabric, texture, ornamentation and style of the bikini as well as the colour and style of the high-heels is usually left to the competitor's discretion.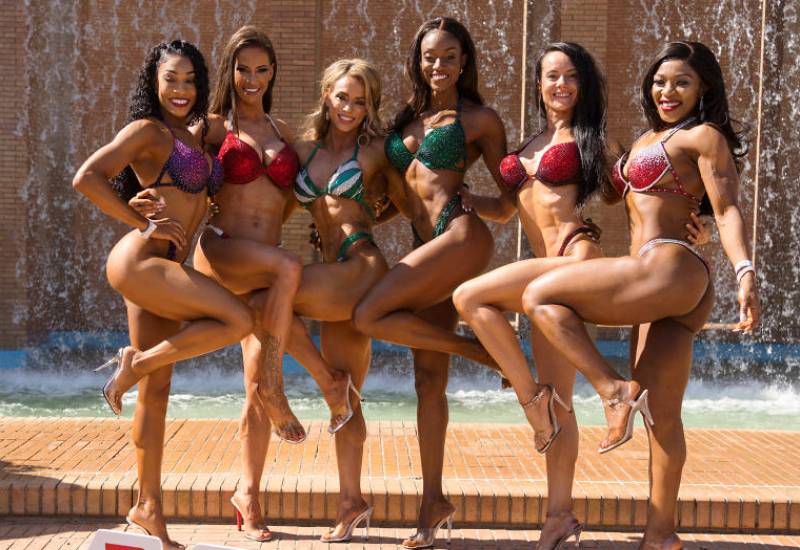 While no platform shoes are allowed, the bikini bottom is required to cover a minimum of one third of the gluteus maximus and all of the frontal area. The bikini must be in good taste. Strings are strictly prohibited.
Contestants' hair can be styled and except for a wedding ring, bracelets and earrings as well as other jewellery are not allowed during the competition. This is a no go zone for women with implants or who have undergone fluid injections to change the natural shape of their body parts. Too, sparkles, glitters, shiny metallic pearls or gold colouring are also prohibited whether applied as part of a tanning lotion and cream or applied separately. Excessive application of oil on the body is strictly prohibited. However, body oils and moisturisers may be used in moderation.
"As a trailblazer, half the time am caught up in explaining how bodybuilding works. Because the sport is not so much developed in Kenya, we only have two categories in which one can compete in. Since I was like the first to try the sport, I didn't have clarity on how to go about it at the start. I attempted figure training but after going for the international competitions, I was advised that my body shape was better suited to the wellness category. That is how I got myself here," Evelyn remarks as she begins to detail how she left the corporate world for a sport she treasures dearly.
"Apparently, I didn't see myself being an athlete. I just knew I wanted to give the world my best in a field I would thrive in. I dreamed more of being a banker than an athlete and for ten years I was doing banking. I totally treasure the experience I got through banking as it makes me think and strategise differently," informs the world beater.
"My CV is literally diverse. I love exploring and experiencing life to my description of its fullest. Whereas there were other personal reasons, I believe the timing was right for me joining this field".
A chronic asthmatic child growing up in Homa Bay County, Evelyn hated everything to do with physical exercise. She liked the feeling of having money with her and it is this vexation that got her to dream of becoming a banker at such an early age. However, after going into banking, she came to the acceptance that the millions she handled daily didn't really belong to her and tired of the fatigue that comes with sitting in an office all day, a decade on she left the banking sector.
Having grown interest in bodybuilding and fitness training, Evelyn opened her workout outlet, both for her own good, her friends and clients who would admire her rigorous workout discipline and tricked regime.
"Starting off, I was doing a lot of weights in the gym during my exercise. I could and still can do 260 kilograms for leg press and 140 kilograms for squats on a day's exercise. At this stage of my career, the focus as more or less shifted towards shaping body muscle and increasing muscle tension something that helps to amplify the muscles in the necessary body parts," she says stressing that it takes a lot of discipline to keep a fitness regime.
To her, fitness industry was a whole new ladder to the next building. As a male dominated field, she discovered that sometimes as a woman, it takes a little more effort to demonstrate that you are good enough, a challenge she likes.
Too, the misconceptions and judgement that comes from the society with people seeing fitness wellness athletes as societal misfits who like to parade themselves naked before the world, is something her and her fellow fitness professionals have to constantly battle. This, she says has seen many would be champions give up the sport – that denying them their desired livelihood.
Sometimes, men get intimidated by ladies who focus on masculinity matters. In a society that observes stereotypes, they would view them as potential husband batterers. This, however, no longer bothers Evelyn.
"It takes me a while to notice anyone intimidated by my presence. I treat it like it is not a me problem. After all, honestly, I have been married for almost 13 years, so (my wellness fitness career) it has nothing to do with love life really. There is someone for everyone. My biggest satisfaction is changing one's lifestyle and that is why we must change the whole perception. If we help other upcoming women, I know for sure they will forever be grateful. This is something very close to my heart," emotionally, she notes.
"I would like to create a clear path for those coming after me and to educate more people about bodybuilding as a sport especially for female athletes. Considering how much the sport has evolved in other continents, I see those tasked with the obligation of creating the future having to work extra hard to catch up. Bodybuilding as a sport in Kenya needs funding. It is unfortunate that one should go for a championship, be celebrated and not be funded. We have to rely on well-wishers and in my case USN Kenya who have been supporting me. Kenya has incredible potential for bodybuilding as a sport but we don't have allocation to assist upcoming athletes," she says adding that her zeal is not driven by the monetary value the sport provides for her but rather passion.
Related Topics