Home
/
Achieving Woman
I was born without a womb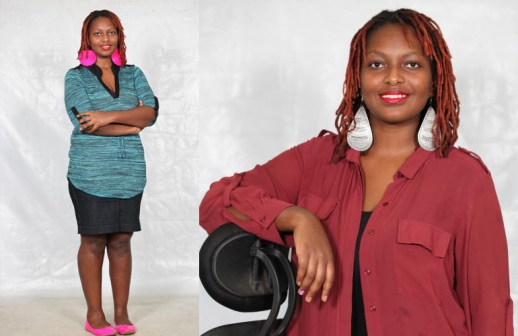 In life, they say, you must always strive to turn a lemon that is handed to you into lemonade. While many people groan and moan about how unfair life is whenever they face problems, others not only turn those challenges into opportunities but choose to offer a ray of hope to others less fortunate.
One such person is Joaneva Wanjiru Mwathi. There is nothing about her that hints at the traumatic experience she has had to endure over the years. She is a picture of happiness and contentment.
Hers is an extraordinary, inspiring story of resilience and courage in the face of physical, emotional and spiritual pain. Born in Nakuru's Free Area estate, Joaneva, 25, grew up as any normal child. And as she moved from one stage of development to another, she looked forward to fulfilling her life long dreams.
"I attended four different primary schools because my parents were going through a tough patch in marriage. I loved the experience of changing schools. I completed my primary school studies at Catholic Parochial Primary School, Holy Family Basilica then joined St Clare Girls High School in Elburgon. I then joined Zetech College to pursue a degree in Finance but dropped out to pursue a different career path in Psychology," explains Joaneva.
Before she decided to drop out from her studies, Joaneva says she had been battling a host of emotional issues. "There were so many things going on in my life. I experienced heat waves and mood swings that affected my interaction with others. I was stressed and depressed but couldn't exactly understand what was going on," she says.
But a visit to her gynaecologist would later reveal what the problem was. She offers: "I went to see my gynaecologist in July 2013 for a check-up because my periods were irregular. He first thought nothing was amiss, but recommended a pelvic ultrasound to rule out any problem.
When the results came out, the first doctor said she couldn't see my uterus. This prompted another much more experienced doctor to attempt a diagnosis. And that is when it was discovered that I had a condition known as Mullerian agenesis or Mayer Rokitansky Kuster Hauser Syndrome (MRKH). Simply put, I was born without a womb and with a short cervical canal. And to cap it all, I was already five years into menopause which explained the mood swings, depression, heat waves and anxiety."
MRKH syndrome is a disorder that occurs in females and mainly affects the reproductive system. This condition causes the vagina and uterus to be underdeveloped or absent. Affected women usually do not have menstrual periods due to the absent uterus.
"That day changed my life. I didn't expect that it was something so complicated. At 23, I had just discovered I was menopausal, barren and had a shorter than normal vaginal canal. The name itself sounded so scary and was difficult for me to pronounce," says Joaneva. "The doctor explained that I would need a lot of support from family since it was a condition that I would live with for the rest of my life."
When she left the doctor's office, Joaneva accompanied by her best friend headed for lunch where she was meeting her aunts. "We sat down and ordered our meals. Then the conversation began. My best friend explained to them my medical results. One of them took the envelope with the results, put it aside and said: 'This is not important for now. What is important is your schooling'. At that moment, I knew I was alone in this and nobody cared."
When she went back home, Joaneva says the news still hadn't sunk in. She kept recalling the doctor's words. "I took my laptop and started to Google about the condition," she says.
Her search led her to a group that called itself Beautiful You MRKH, a support group for women with the same condition.
"Getting to know the support group was one of my best experiences. I realised that I was not alone in this journey. After a few days I met another Kenyan online through a group that called itself Experience Project, where people share life experiences. She also had the MRKH condition. We exchanged contacts and planned to meet. Through her, I met other women with the same condition and ever since I have got sisters who have been supportive," she says.
Together with her new friends, Joaneva created a secret support group on facebook where they discuss issues related to the condition. It was after this that she got the idea of forming a local support organisation. "It has been a long journey. I could not find any organisation that spoke openly about MRKH syndrome in Kenya or Africa, thus the birth of MRKH Africa Foundation which officially kicked off in March last year," she says.
"There have been problems and raising awareness on MRKH has proved difficult. Discussions about sexuality is hard. To even go deeper and talk about abnormalities in someone's sexuality is tough, and explaining the name itself is tougher," explains Joaneva.
"The idea of the foundation did not please many people. I have lost connection with family and friends. I've been called names and at some point saw myself as a failure. But I believe that was the start of a life that would show the immense love God has for me. I am a spiritual person hence every time I went deep into prayer; God renewed my strength to push on."
The organisation which has members from West and South Africa also raises awareness on infertility, adoption, and surrogacy and strives to fight the stigma sometimes associated with these conditions. In the process, Joaneva says she has met women who desire to have children but cannot, those who have been left by their husbands, those who want to get married but cannot, and those who have been shunned by society. Her desire is to connect these women with each other and provide a platform where they can share and encourage one another.
"We are trying to encourage those who can afford to opt for surrogacy or adoption. We are also incorporating the men who either date or are married to these women in our forums. Another strategy is to bring in the parents, who tend to feel they are the cause of their daughter's condition. So far we have done one parent visit and the feedback is amazing. They are now opening up," she says.
As the youngest of two brothers, Joaneva says her close-knit family has been supportive.
"My brothers cheer me up during my low moments. My mum on the other hand has been extremely supportive, though at first it was difficult for her. She has seen my determination and encourages me to push on," she says. Though she has accepted her condition, there are days it takes a toll on her but she has learnt to deal with it.
"Sometimes you think you are strong but when you sit down with friends and family and they talk about their life experiences such as pregnancy, raising a family, you just want to break down," she says. Her greatest source of inspiration, she says, is the vision and passion she has for MRKH Africa Foundation.
"I want to see it grow and make a difference in the lives of women who are suffering from this condition, both in Kenya and beyond. I want them to be confident and know that every problem has a solution, and one must choose to stay on the side of the solution and not focus on the problem," says Joaneva.
And just like any woman, Joaneva says she looks forward to getting married one day and having a family of her own. "I am currently dating and hoping that things turn out well. As for children, I would go the adoption way, if my partner agrees to it," she says.
Related Topics