Home
/
Achieving Woman
I was someone's wife at 16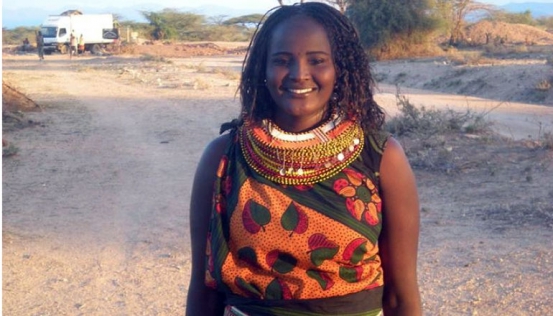 It is said fortune favours the brave. That you won't regret having a go, but you will regret not trying!
Josephine Ekiru, 27, has weathered many storms in her life, including being married off at the tender age of 16, something that prevented her from getting a proper education.
"The marriage did not survive but I hold no regrets. The only thing it did was deny me the right to an education. I fought tears whenever I saw girls my age going to school while I had to remain at home to take care of my husband, a role I had been forced to take up," says Ekiru.
Born in Ngaremara area of Isiolo County, the mother of two knows too well how it feels to be poor.
"I come from a poor background of seven siblings. I am the third born and my parents were pastoralists. We survived mostly on game meat and wild fruits," explains Ekiru. "Life was tough. If we weren't thinking about where our next meal would come from, we had tribal clashes or poaching to deal with, there was not a day we slept at peace knowing all was well," Josephine narrates.
Like all other women, Josephine was married off and expected to take her wifely duties religiously without questioning her husband's decisions. Here women don't give opinions, once you are born a woman, your life takes the course your parents chose and once you are married off, your husband takes over.
Starting a journey
Despite being subjected to her parents' cruel decision of getting her a suitor, Josephine decided to chart her own path. She insisted on attending community meetings that were normally the preserve of men. It is at these meetings that she embarked on her journey of giving women a voice and on the other hand trying to reform poachers who were well known to her.
"Poaching was on the increase as poverty levels went high. Elephants would be killed daily; there were no rhinos and to me meant that my children would never have a chance to see the animals if I just sat back and watched as more men turned into poaching," she says.
With the little knowledge she had, she embarked on a journey many didn't believe in.
"Poaching ignited a fighting spirit in me, made me courageous and served as a wake-up call for me to do something that will have a positive impact on my community," she says.
Drawn by her love and passion for wildlife, Josephine resolved to turn poachers into conservationists. "Whenever I got the opportunity to address a gathering, I would speak on various issues, ranging from wildlife and environmental conservation and the importance of peace in a community. I just wanted the fighting to stop," she says.
After witnessing the devastating impact of frequent conflict on both the region's people and wildlife, she began talking to the women in her community, hearing about their common concern of losing husbands and sons in the conflicts. She also reached out to women of the other major tribe, the Borana, with which the Turkanas were in conflict.
Blessed land
And after years of hard work, Josephine gained trust from both groups. She could now afford a smile. Little by little, all that she had prayed and hoped for was coming into place.
For her efforts, in 2011, she was elected the Chairperson of the Nakuprat-Gotu Conservancy, a remarkable feat in this patriarchal community.
"When elections were held to elect board members, I voted for a man. I didn't know that I could earn the trust of the people for them to elect me as the chairperson," she says.
The conservancy initiative which prides itself on being community-run and working with local people as a way to curb poaching also brings together the Borana and Turkana tribes who have been in constant conflict in the past mainly due to mistrust, cattle rustling, and competition for pasture and water in the ecosystem .
"In my community, we have a saying that goes 'land without wildlife is cursed land. Land with wildlife is blessed land', " she says.
Josephine has been proactive in leading the efforts of reforming poachers turning them into active conservationists. According to her, she has been able to reform about 48 poachers, some of whom have become peace ambassadors in the area.
"My wish is to see the people in my community living together in peace and sharing the available resources rather than inflicting pain on one another, and wildlife protected at the same time," she says.
Despite her achievements, Josephine says she has had to cope with a number of challenges.
"When I was elected chairperson of the conservancy, many men started asking why I was given that post yet I am a woman. They felt that as a woman, I would not be able to carry out the work effectively. But I was out to prove that a woman can also become a good leader in her community hence the importance of investing in women for effective development."
Another challenge that she had to cope with in her line of work is the risk that comes with identifying the poachers and transforming them.
Her dangerous pursuit usually takes her deep into forests or to isolated homesteads in search of poachers. She then fearlessly asks them to abandon the vice.
"Initially, they were not welcoming, and some even threatened to kill me," she says. "This is not an easy job because those who wish to surrender fear they might be jailed after confessing. And since I'm the one who usually approaches them to ask that they stop poaching, I have to make sure I protect them from arrest and help them get jobs," she says.
Josephine is currently the Peace Building Coordinator for the Northern Rangelands Trust. Her work is to bring together communities in constant conflict in the region. This led to her being awarded during the Kenya at 50 celebrations for her outstanding peace efforts.
Through building the conservancy initiative, she has also been able to talk about sensitive issues such as early child marriage and its effects hence creating awareness on the importance of girls staying in school so that they can accomplish their dreams.
Great resource
"In all my campaigns, I sensitise the community on the importance of educating their children and not marrying them off early. Everybody has a right to an education. This is the only way we can have a productive society," she says. "I thank God for the opportunity to go back to school and I have been pursuing different short courses. It is never too late."
Josephine has a dream of ensuring communities live together in peace and harmony and wildlife is protected at the same time.
The best strategy, she says, is to let them understand the importance of wildlife in the promise that for tourism to be sustainable, they all have to conserve the animals and be proud of their heritage.
"Our wildlife are a great heritage. We should all learn to treasure and take care of these great resource that we have been blessed with as a country," says Ekiru.
Related Topics