Home
/
Achieving Woman
To change people's lives is what fuels me to run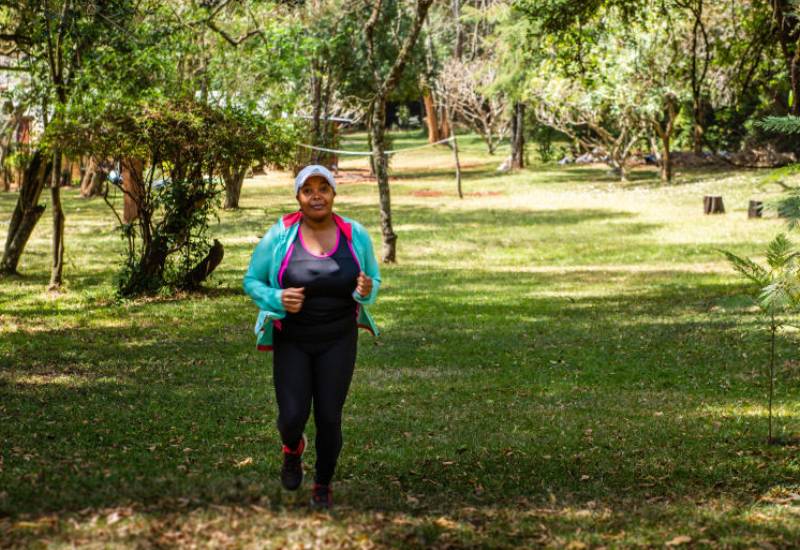 Is this how you envisioned your life? What were your original plans?
I did not see SFC happening. I can only say God planned that path for me. I still work in SFC part-time. My original plan was to venture into the hospitality and travel business.
After setting up the charity organisation, I worked on my original plan and started my hosting and travel business.
In spite of our legendary talent at marathons as Kenyans, ultra-marathons are surprisingly not that well known in Kenya. Could you explain what they are?
An ultramarathon is a long-distance running race longer than 42km. Ultra marathons are popular in recreational running clubs like the urban Swaras but not in elite running clubs.
These two groups love running but for one chase adventures while the other chase winning medals. I belong to the former.
Tell us about the ultra-marathon that you did. Where was it? How long was it? Was it a daunting prospect?
I did the Two Oceans ultra-marathon in Cape Town, South Africa, also dubbed as the most beautiful marathon in the world. An interesting feature of the route is as the name indicates.
It passes both oceans surrounding South Africa's shoreline – the Indian and Atlantic oceans. It is stunning, yet so challenging.
The greatest advantage for Kenyans taking part in Two Oceans is training at high altitudes and running at sea level. The first time doing long distance recreational running, my body was stronger than my mind.
How did you get the idea to get people to sponsor your runs?
I visited my brother in Botswana a few years ago. I used to jog every morning. There was this old woman who needed her house to be rebuilt.
My brother told me casually, "I can sponsor you to run, we can get others onboard and together we can build her a house." We started planning and it became a beautiful event that gave us enough money to build the house.
Tell us how your first and second projects came to be
As mentioned earlier, my first project was fundraising for a baby who needed urgent heart surgery. My second project was helping a young girl who had been raped and got pregnant.
I met her at Jamleck Kamau's, then Kigumo MP, office, where she had gone to ask for food. When I got her full story, I organised a visit to her home, took food and clothes.
I imagined I would only find her, her son and her mum. But seven children got out of a small iron sheet room. That cut deep.
They definitely needed help and I had to be the one to change the situation. I dedicated my Two Oceans run to this cause. My desire was to raise enough money and build them a decent house.
I talked to people and wrote proposals. By the time I was doing my run, I had raised Sh400,000. This included Sh300,000 by Safaricom. The house was built and the family was very happy.
What is the biggest challenge you had to overcome to do what you do today?
Trying to explain to my mum that I was paying to run and not been paid to run! We raised very little from our activities after using a lot of time to organise.
My parents could not understand why I was so crazy with the idea until we sponsored a girl who had been displaced by the 2007/2008 post-election violence.
She lived close to my parents' farm. My mum liked her because she was very disciplined and hardworking.
This was when they realised I had a vision. This girl is now a certified clinical officer, working in a community clinic in Gatanga. Isn't God amazing?
How did people get wind of your work?
Through adventures. We started very small. Our only revenue was through organising small runs and hikes. We used to get very few people attending but we persisted.
We created a Facebook group where we created events and sent out information through Google group emails. People started attending with friends and colleagues.
It soon become a charity hiking group where people came to connect, network, make new friends and explore Kenya. We introduced the Student-Sponsor programme, through which I meet and make friends with people who sign up for the programme.
Although still very slow, it is what has kept us going during this Covid-19 season. These individual sponsors paid fees for the students they sponsor and the rest.
Most of my friends are people I have met through running or hiking. I am so blessed to have friends and family members who believed in my passion and joined hands with me and also went the extra mile to encourage their friends and family to join us.
Our success shines bright through our students' success stories. We are one of the few organisations that walk with beneficiaries from secondary school to university.
How do you get word out now?
Through word of mouth and social media. We are huge on medical social media, where we regularly update our progress and share it with our supporters and friends.
In 2017, we started Kenya Colour Run which later become Plascon Colour Run. As we were searching for sponsors for the event, Mihira Patel who was then the Marketing Manager at Plascon was dreaming of doing a Colour Run. Our two worlds met and together we planned the most colourful event in Kenya.
What does one need in order to join you in what you do?
One can be part of our work by sponsoring a student either one-off, which is an average of Sh50,000 or a full scholarship for four years.
Adventure lovers can dedicate their passion to raise money for our project. We hope to get back to organising adventure trips when enough people get vaccinated.
People can follow us on our social media for updates. Before Covid-19, we organised students' leadership camps with all our students and invited anyone interested to join us and give the students mentorship sessions. We hope to get back to doing this soon.
What have been your biggest achievements?
Our biggest achievement is supporting our students all the way to the university level. Our students are very hardworking and ambitious. We have five students who graduated and are now working.
A civil engineer, a clinical officer, fisheries and aquaculture consultant and two ladies in hospitality and hotel management. Currently, we have eight students in different universities and 50 in secondary schools.
Getting a scholarship for one of our students to study electrical engineering at KIIT University in India was the highlight. That made me so happy.
What are your plans for the future?
My plans are to focus more on raising funds to support more students; to create further awareness on the importance of supporting the education of children from underprivileged backgrounds.
A lot of children need support. We cannot help everyone but everyone can help someone in their own ways. It is so satisfying to witness a change that one is part of.
Related Topics