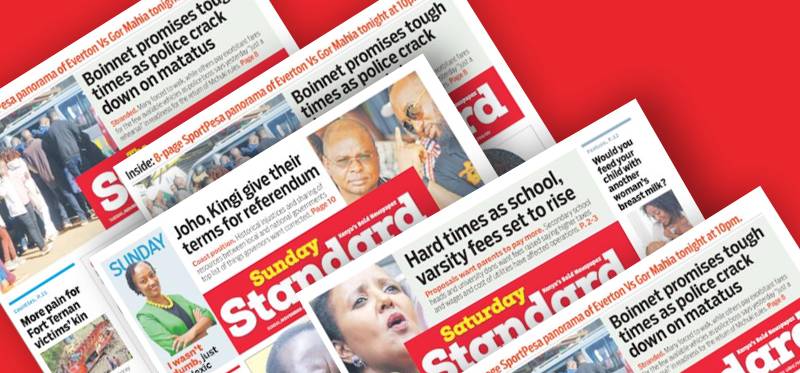 Crazy Monday pullout on The Standard newspaper paved way for My Health, the new kid on the block, a comprehensive weekly health pullout that made its debut this Monday.
The exiting Crazy Monday pullout served readers with crazy stories, pieces of advice for relationships, calling out bad behaviour, bizzare happenings of the week, banter, funny computer graphics and cartoons, sex scandals and village politics and drama.
The new My Health pullout brings a fresh breath of health-based human interest stories, health fact checks, nutrition advice, reproduction, coverage of chronic diseases are some of the areas in and around your health coming your way with the advent of the new weekly health pullout.
The decision to do away with Crazy Monday pullout was informed mainly by the great responses, traction and interaction on matters of health by the consumers of The Standard Group news products. This is according to The Standard's Editor-in-Chief Ochieng' Rapuro.
"Health is personal, a very intimate affair. Its key content for the media in any part of the world. Hence the great interactions we've been receiving was the main reason that informed such a move," Rapuro said.
His sentiments were reiterated by the new pullout's editor Judy Mwobobia.
"We noticed there were so many questions that are health related from our consumers. People want to know so much on how they can avoid certain diseases, nutrition patterns and much more. We'd produce, just small pieces on health that were published on Sunday. Now, with such prevailing need, it only made sense that we curate information in this line but more comprehensively," said Mwobobia.
Another reason that informed the exit of Crazy Monday was its slow traction with the consumers.
"Our data and research showed that Crazy Monday wasn't doing well after all. Given that we had seen potential with the health news, we made a decision to have My Health pullout as an appendage to KTN News' Health Digest. Crazy Monday having been around for over fifteen years, it was only reasonable that we change to a new product that addresses the consumer's needs," an optimistic Rapuro said.
Rapuro also observed that there's need to give information on health policies and primary healthcare.
"This pullout is supposed to address all facets pertaining health, from personal to national issues. For instance, Africa has remained with the disease burden for quite long now, and this has affected production. A person who's not healthy is not economically productive," he said.
Related Topics