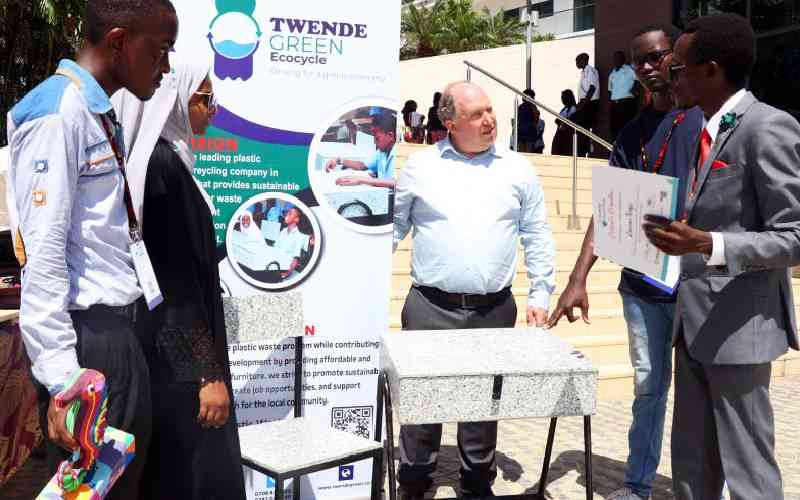 In a clear case of killing two birds with one stone, four youths in Mombasa have invented ways to produce school furniture using plastic waste, thereby saving the marine environment and trees.
The four emerged top in the Mombasa Plastics Prize awards, beating 140 participants in the competition on creating the most innovative ideas to end plastic pollution in the environment and ocean.
Zainab Haidarus, Faraj Ramadhan, Churchill Muriuki and Lawrence Kosgei came up with smoothly furnished desks and chairs that recently scooped an award of Sh3.5 million that was part of Sh7.2 million up for grabs for over 140 participants.
The competition saw 57 finalists out of the 140 participants selected for the awards.
The second runners-up, Eco Redemptors created plastic weaving yarns used to weave baskets, chairs and jewellery. The group went home with Sh2.5 million.
The third runners-up, Oceanian Pace Setters built a plastic boat attached to a plastic interceptor to be used in collecting plastic waste in the beaches around informal sectors. The group received Sh1.2 million reward.
The three winners were part of 14 groups comprising 140 participants engaged in innovative projects to end the plastic menace in Mombasa through a competition organised by Challenge Works dubbed Mombasa Plastic Prize awards MPP and sponsored by the United States Agency for International Development USAID and Global Affairs Canada.
Challenge Work is a United Kingdom-based social enterprise specialising in the design and delivery of innovative competition.
USAID's Programme Manager at Challenge Works, Naomi Whitbourn said that USAID will launch a business incubator for the innovators to have financial and non-financial aid for six months.
Whitbourn, who is also MPP's Programmes Manager, said that in the incubation period, they seek to achieve formalisation of some partnerships between the solutions and teams that have already formed an existing business with government and non-governmental organisations.
She said there is so much potential to consolidate the great works by helping to formalise these partnerships and their sustainability.
"The level of talent and commitment in this room is quite extraordinary, and of course, we have three winning teams. Frankly, all 14 teams are winners in their own ways in what they have achieved in five months," said Whitbourn.
MPP Prize International Development Director Jonathan Slater said the innovators have ideas and prototype technologies that can rely on change and reduce plastic waste and make a change in the informal settlement and the community at large.
"The biggest takeaway is the entrepreneurial innovations generated by the youths, and it is inspiring how everyone came together to make it work," said Mr Slater.
According to Twende Green Eco-cycle leader Zainab Mahmoud, their innovation was inspired by insufficient desks and chairs in schools.
"Our innovation took the plastic recycling into school furniture because we realised there is insufficient desks and sits in schools. As we progress, we shall venture into home and office furniture," said Mahmoud.
She said the project would be both a community and business project to be able to create employment for the youths in Mombasa and positively impact the environment while changing society's mindset and behaviour.
Pauline Kanana, the lead coordinator at Global proportion, said with Mombasa County producing 850,000 metric tons of waste, plastic waste in informal settlements is still a menace that requires a pro-active, multi-sectoral approach to save marine life.
In his address, Mombasa Governor Abdulswamad Nassir pledged his support to the youths' innovations to make the County clean and sustainable.
"We aim to modernise our waste collection fleet and establish a waste-to-energy plant to promote a circular economy," said the governor, who was represented by youths and Geber CEC Ken Ombari.
Related Topics