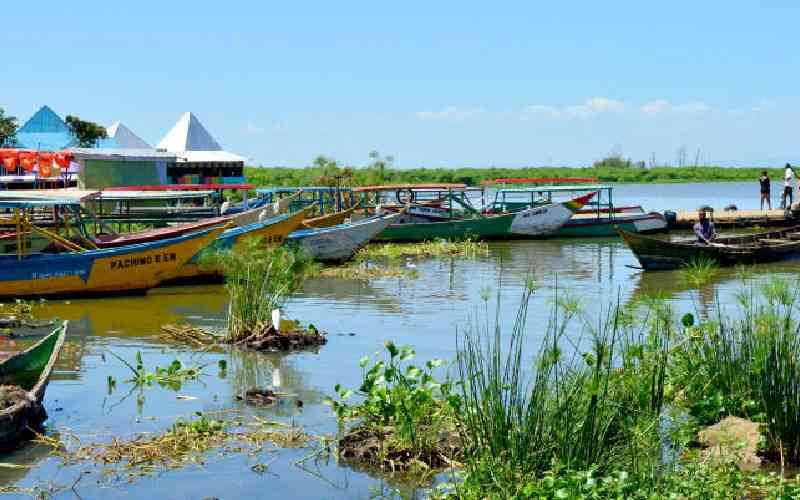 In an inspiring display of youthful ingenuity, three teenagers from Osiepe Sango Kisumu have united their talents to combat the pressing issue of plastic pollution in Lake Victoria.
Jeremy Muchilwa, Head of Technology and Co-founder of the drone, Shabaab Chowdhury, Head Engineer, and Murimi Mushila, Head Navigator, all aged 15, have developed a ground-breaking drone technology that promises to revolutionise the clean-up efforts in one of Africa's largest freshwater bodies.
"Our drone technology is the culmination of our dedication to creating a cleaner environment," said Muchilwa who adds that they developed the drone because they couldn't stand idly by and watch as plastic waste continued to mar the beauty of Lake Victoria.
Chowdhury, the mastermind behind the drone's engineering explained that the drone is equipped with advanced sensors and collection mechanisms that can efficiently retrieve plastic waste from the lake's surface.
"It's the first step towards our broader goal of developing a submerging drone to address submerged plastic debris," he said.
Mushila said the next phase is to design a submerging drone. "The drone will be collecting plastic waste from the lake bed, which will be a game-changer in restoring Lake Victoria," he said.
Backing their innovative project is Michael Muchilwa, a development consultant who believes in teenagers' potential to effect real change.
"These young minds are a testament to the power of innovation and determination. Their commitment to environmental sustainability is commendable, and I'm proud to support their efforts to make a lasting impact," Muchilwa said.
Dr Christopher Aura, Director of the Kenya Marine and Fisheries Research Institute (KMFRI), expressed his interest in partnering with the trio.
"The initiative is truly impressive. KMFRI recognises the importance of addressing plastic pollution in Lake Victoria. We look forward to collaborating and contributing to a cleaner and healthier lake ecosystem," Dr Aura said.
Related Topics