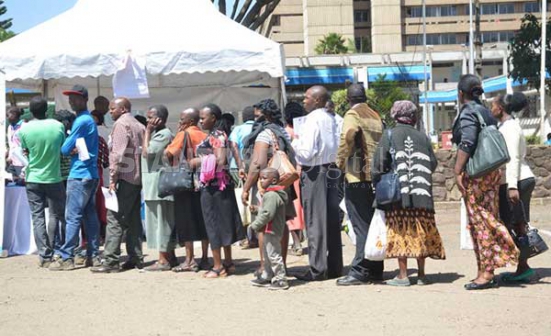 Throat cancer is becoming one of the most commonly diagnosed in Kenya after cervical and breast cancer.
Doctors have linked the rising cases of esophagus cancer to second-generation alcohol and chewing of miraa. Head of the Cancer Treatment Centre at Kenyatta National Hospital (KNH) Eliud Njuguna, said there is a progressive increase in the number of patients with esophagus cancer visiting the facility, especially those from low-income households.
"The chang'aa that some people drink is very potent. Even whiskey that Kenyans love can be very damaging and cause cancer if not diluted well," said Dr Njuguna.
His statement comes barely a year after President Uhuru Kenyatta banned the consumption of illicit brew and ordered a crackdown.
RAPID SPREAD
Richard Opere, a senior oncologist at KNH, blamed smoking of cigarettes and using firewood as other factors that are contributing to rapid spread of esophagus cancer.
"Even children are getting this type of cancer and it could be because they are exposed to polluted environments. The smoke emitted when people burn garbage or someone smoking next to them has adverse effects," said Dr Opere.
Esophagus cancer attacks the long hollow tube that runs from the throat to the stomach.
As we marked World Cancer Day yesterday under the theme: "We can, I can" to reinforce the importance of everyone taking responsibility in controlling cancer, the theme of adopting a healthy lifestyle took centre stage.
Survivors who have battled the disease told their story of rising to control the physical, emotional and financial pain that patients go through.
Margaret Mburu from Kiambu has had recurrent breast cancer and she described her journey as one that required courage in a time of darkness. Diagnosed in 1993, everything quickly became overwhelming. Cancer was rarely spoken of and people regarded it as a death sentence. She recalled the many days when the will to live left her and she was confronted with what she thought would be the cause of her death.
CHILDREN'S CASES
More than 20 years later, her narrative has changed and she has become a 'cancer champion', speaking to people who are diagnosed with cancer and are scared of the possibilities the diseases brings.
"For cancer, you have to fight. The treatments are painful. There will be times when you will feel like everything has paused and it is only you and cancer. You have to fight it," said Ms Mburu, 40. But still, the statistics of those who die from cancer are worrying. This week, Health Cabinet Secretary Cleopa Mailu declared cancer a public health crisis, saying the disease kills an average of 76 people per day.
Esther Munyoro, head of pain and palliative care at the Children's Department in KNH, raised concern over the increasing number of children being diagnosed with cancer.
She said leukemia and cancer of the eye are the most common cancers she encounters when she is working with children. She however, decried the low rates of recovery among children who seek treatment.
"Most of the childhood cancers are curable and 90 per cent of them can be eliminated. In Kenya, the rate is 30 per cent due to late diagnosis," she said.
Related Topics