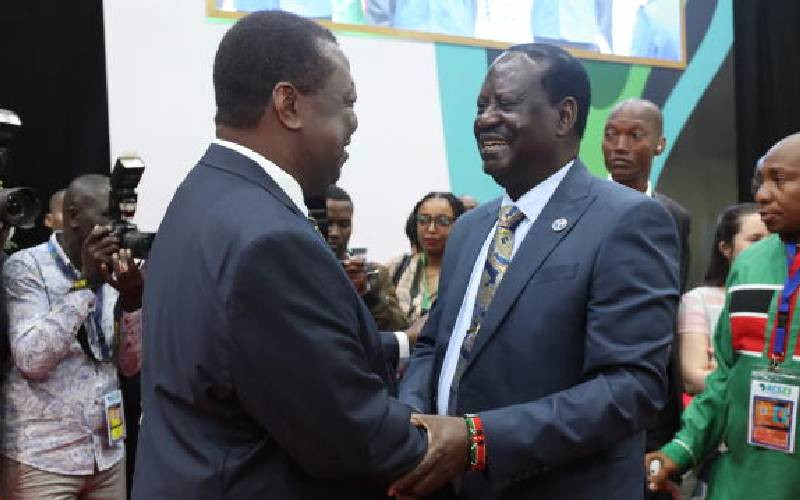 In his political pilgrimage wee hours, Raila Odinga might still determine President William Ruto's main competitor in 2027 election. The way things are, unless there is a significant shift in politics before then, Dr Ruto will be on the ballot to seek his second term.
But isn't it too early to start making predictions? No because the 2027 election campaigns begun immediately Dr Ruto was inaugurated as Kenya's fifth president on Tuesday, September 13, 2022. The next general elections will be held on Tuesday 10, 2027.
Assuming that Ruto will contest in 2027, the strength of his competitor will be determined by Raila. Raila, the enigma of politics, has always been favoured by politics in such a way that when we think he is weak, he is strongest. After the 2017 elections, most political pundits wrote Raila off. This was mostly based on his age. However, no one knew he would pull his strongest ever show during this two-horse presidential race.
We do not know what the political heavens hold for Raila come 2027. However, going by history and his post-2022 election political muscle flexing, he will be the person of interest in building President Ruto's successor come 2032.
Yes, Baba will still count, depending on the decision he makes. There are various options that Raila will have, each of which will define the political moment of 2027.
First, he could choose to be on the ballot by invoking his now clichéd 'last bullet'. In this case, he will surely be alone, abandoned but strong. I will, therefore, not advise him to run in 2027 because this might turn out to be the biggest nightmare of rejection in his political career.
This choice will be a debacle because it will define Kalonzo Musyoka. So, if Raila extends his 'last bullet' theory to 2027 polls, Mr Kalonzo will likely mount a sabotage mission. To achieve this, he will either join Ruto or go it alone to deny Raila the Ukambani vote. If Raila decides to be on the ballot in 2027, there will be a vengeance battle between him and Kalonzo—rightly so for the second position.
What if Raila decides to endorse someone else? That person can either be Kalonzo or another. If he approves Kalonzo, it will only be a way of repaying him for three-line support. Moreover, under this option, Raila will face a dilemma. He will be under pressure from the Luhya nation to endorse one of them.
On this, Raila will have to convince the leaders from the West to buy the Kalonzo idea. If Baba doesn't end up with Kalonzo, Kalonzo will go it alone or join Ruto—remember (Kalonzo and Ruto) are hewn from the same stone.
In both options, if Kalonzo abandons Raila, Kaluki Ngilu and Kivutha Kibwana - assuming that they will influence the lower eastern - will stick with Raila their political 'best' man.
These two are not of Kalonzo's DNA; they resonate well with Raila and other anti-Kanu Young Turks of the 1990s.
The most unlikely option will be for Raila to retire silently and let the political wind blow where it might lead. Indeed, if he chooses to opt out of the 2027 general elections and campaigns, he will have less pressure and political disillusionment.
Nevertheless, this option will be most difficult for him unless his family seizes and hides him on an unknown island starting in 2025. We know that Raila is a political capital for many politicians, especially from Nyanza, Western and coastal regions. Should he choose to retire, his dynasty will fall with many big names.
In conclusion, Raila is not yet out of the political pitch—for those who are irritated by his political activity, they should prepare for longer headaches.
Dr Ndonye is a senior lecturer, Department of Mass Communication, Kabarak University
Related Topics