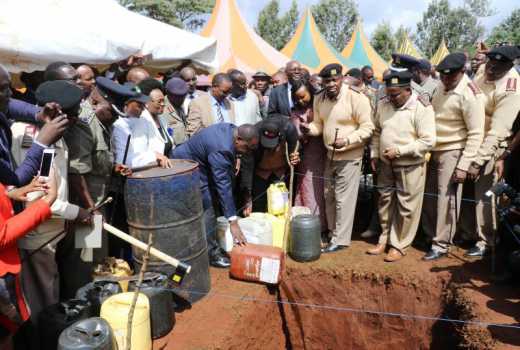 Alcoholism and drug abuse has been blamed for the high prevalence of tuberculosis in Kiambu County.
Dr Andrew Toro, the chief Officer in the department of health, told Saturday Standardthat lack of adequate ventilation in illicit brew dens and bars aids transmission of the disease to patrons.
"Many of the places where these people take the illicit brew are normally poorly ventilated and hidden. This makes them more vulnerable if there is a person among them suffering from the disease," said Dr Toro.
He added that consumption of illicit brew and drug abuse fosters irresponsible sexual behaviour which exposes victims to HIV and Aids, which in turn make them prone to TB.
Kiambu County Women Representative Gathoni wa Muchomba said many constituents confessed spending most of their time in liquor dens and forget to adhere to the treatment for TB.
"They also have a poor diet, so they end up having adverse side effects, making them to stop medication," she said, adding that TB can only be eradicated in Kiambu if drug abuse and alcoholism is dealt with. Everlyn Kimani, the head of programmes in the County, noted that 4,000 cases of TB are registered every year.
Dr Kimani added that there are about 20 patients who have developed drug resistant TB.
An addiction specialist, Dr David Karuri, said most of his patients have TB.
He noted that the recently enacted Kiambu County Alcoholic Drinks Act requires bars and clubs to have ample ventilation and space, and this will go a long way in taming TB spread.
A baseline survey report released in June last year on the status of alcohol and drug abuse in Kiambu County showed that 15 per cent of residents aged 15 to 65 are dependent on alcohol, tobacco and bhang. Another 29 per cent abuse at least one substance.
The report also showed that 21.6 per cent of residents consume alcohol, with Gatundu South leading at 27.6 followed by Kiambu town at 27, Limuru at 25.7 and Kabete 24.5 per cent.
Majority of those who consume alcohol aged between 25-35 are 26.3 per cent followed by those aged between 18-24 (20.4 per cent) and those aged 36 years and above at 19.9 per cent.