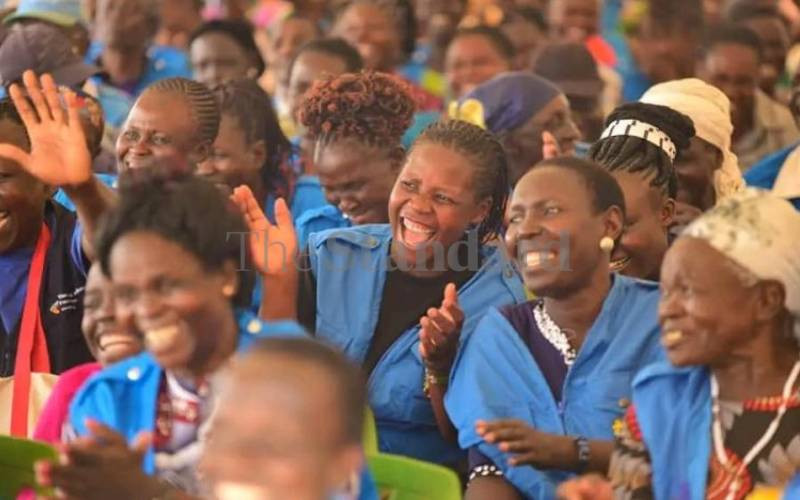 Malaria, diarrhoeal diseases and maternal deaths have declined as Siaya County Government steps up intervention through Community Health Volunteers (CHVs).
The over 2,000 CHVs' roles include promoting healthy living, offering first aid, referring cases to the nearest health facilities and promoting care and compliance with treatment.
Filista Aluoch is a CHV in Hawinga, Alego Usonga constituency. She takes care of Magombe and Simra villages in Hawinga.
On a normal day, Ms Aluoch visits households within the villages under her care to teach them how to prevent malaria and to test and treat those with malaria. She uses Rapid Diagnostic Tests (RDT). She refers severe cases to Hawinga Dispensary for treatment and monitoring.
"We ask people to slash their compounds and dispose of containers appropriately to stop mosquito breeding. We also advise that children under the age of five must sleep under a net to prevent malaria," she says.
Veronica Akinyi is a CHV from Udira Kamrembo in Ugenya. Like Aluoch, she attends to households allocated to her.
Ms Akinyi distributes water treatment commodities that have helped to reduce diarrhoeal diseases in the community.
She also educates villagers on the importance of having pit latrines as well.
She also visits expectant women and advises them on the importance of attending antenatal clinics.
"I not only advise them but ensure they attend antenatal clinics until they are ready to deliver. Our aim is to ensure they give birth in hospital. Almost all households I handle have pit latrines while those who do not have use their neighbours. This has helped to reduce cases of diarrhoea," she says.
George Ayuyo who is in charge of Bar Gangu village in Alego says the area is malaria endemic because of Lake Kanyaboli.
Mr Ayuyo goes door-to-door to create awareness and to educate villagers on malaria prevention and treatment. Ayuyo says in a week, he tests seven to ten children, aged one to 12, for malaria, and treats those who test positive.
Siaya Health Chief Officer Samuel Owino said the CHVs have reduced the burden of disease.
"Look at our immunisation rates and Maternal Child Health Indicators that have improved remarkably over the last one year. This is because the CHVs provide a vital interface between the community and health facilities and also ensure underserved populations access the preventive and promotive health services," says Dr Owino.
The county boasts skilled delivery of 92.4 per cent, fourth antenatal care improved at 64.5 per cent, and fully immunised children increased to 98.2 per cent.
Owino noted that 90 per cent of pregnant women attending the first ANC receive long-lasting insecticide nets. Ninety-nine per cent of suspected malaria cases are tested and another 92 per cent confirmed cases treated with first-line artemisinin Lumefantrine.
He noted that biannual household registration showed a reduction in mortality of children under five and improved sanitation, leading to the declaration of the county as open defecation free.
This was done through the community-led total sanitation model. The CHVs are paid a monthly stipend of Sh3,000 and NHIF.
Related Topics