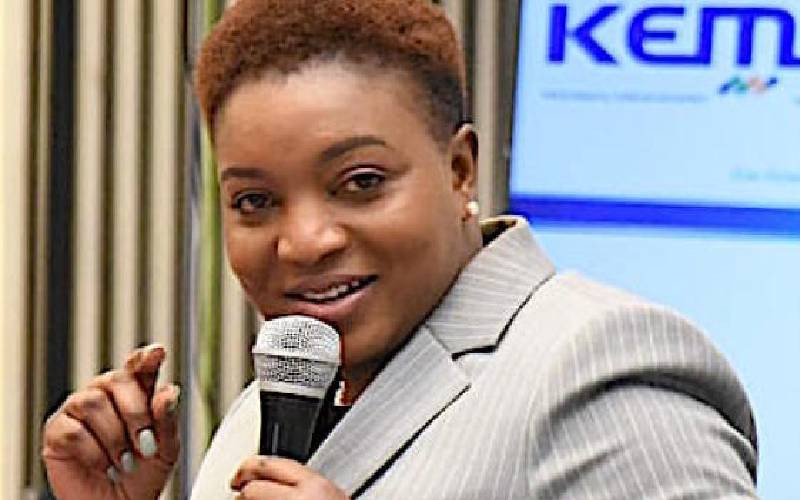 The Kenya Medical Supplies Authority (Kemsa) will receive Sh3 billion to address delays in supply of drugs.
Health Cabinet Secretary Susan Nakhumicha made the announcement yesterday during a meeting in Nairobi.
Ms Nakhumicha said last week that the Ministry of Health had approved a Sh1 billion recapitalisation, in addition to Sh2 billion promised by President William Ruto.
The CS added that she was in talks with her Treasury counterpart Njuguna Ndung'u over the delayed funds.
"Equally, we have plans with the head of state in terms of capitalising Kemsa, and he has promised capitalisation of close to Sh2 billion, and that is at his level, I am waiting for his instructions then we see how to move forward.
The funds coming in should help, especially when focusing on essential and critical items," Ms Nakhumicha said.
Ms Nakhumicha said though the current fill rate at the authority stands at 67 per cent, it is not good to guarantee quality service provision to patients.
"Fill rate of Kemsa is not a good thing, however, it is an improvement because two months ago we were at 30 and 40 per cent. Today, we have moved up to 60 per cent," said the CS.
Fill rate is the capacity of a supplier being able to provide the required commodity without running into stock.
The CS said the order fill rate at Kemsa has been low in the past two years due to failure by vendors/ suppliers to deliver supplies in required quantities.
Failure to supply the quantity and quality of commodities required, she said, requires solutions as it affects critical medical commodities in healthcare facilities.
"Market for Health Products and Technologies (HPT) in Kenya is showing increasing prices, even as global prices have come down. It is worrying that some of the suppliers overprice us, for instance, some sell us a commodity at Sh800, but when I step outside in a private chemist, the same product sells at Sh300," said the CS.
Kemsa Acting Chief Executive Officer Andrew Mulwa echoed Nakhumicha's sentiments, saying the money will be used to buy only vital items, which are commonly used to treat patients.
"We are prioritising suppliers who supply the essential commodities. Once they are available, the other slow-moving, we shall move with them. We expect in the coming two months, we shall move to about 80 per cent," said Dr Mulwa.
Mulwa said some suppliers have not been able to honour the supply of commodities, forcing clients among them county governments to look for alternative suppliers.
"The money will be used to buy essential commodities because when counties come seeking commodities, we do not have them," said the Acting Kemsa CEO.
Mulwa added that to improve order fill rates, counties should pay for commodities on time to ensure a continuous supply.
As a way of smooth service provision, Kemsa has adapted aging policy for efficiency and effective provision of services.
Aging policy is a technology which guarantees the evaluation and identification of suppliers for payment equally to avoid irregularities which has in the past been faced at the authority where a section of suppliers complained of delayed payment.
Previously, suppliers used to receive pay as per whom hey knew at the authority, an issue that has contributed to delayed payments, according to the Acting CEO.
"Previously, payment was done to suppliers as per whom they knew. Aging policy will have suppliers deliver services and wait for pay.
"Do not look for me to influence payment. We want to work in an honest and transparent manner for efficiency," added Mulwa.
Nakhumicha emphasised on the aging policy saying, "In my view, many of suppliers may fall away, but we must do it. We are facing a growing number of diseases, infectious outbreaks, and we all know what outbreaks can do to us.
She added, "My performance will be measured by performance of Kemsa. Kemsa has capacity to ensure delivery of health services."
"To many, Kemsa has been a closed institution, but today we open it up, for the public to see faces of people who supply commodities," said Nakhuicha.
According to the CS, Kemsa is fast-tracking the implementation of Universal Health Coverage and improving primary healthcare services.
Further, the Ministry of Health, Kemsa and suppliers agreed to have contracts at the authority awarded to local manufactures.
But Nakhumicha insisted on quality of products supplied, saying a majority of Kenyans lack trust in goods manufactured locally because of quality issue.
To get tender award at the authority, she said, the pharmacy and poisons board has the responsibility of inspecting and approving products before delivery.
Also, Kemsa has a quality department, and will be expected to collaborate with Meds to check quality of products supplied.
Kemsa chairperson Irungu Nyakera said new Kemsa has embarked on several initiatives to enhance efficiency and transparency.
The initiatives include automation of supplier registration processes, streamlining the onboarding of qualified suppliers while minimising potential risks.
"Automation of supplier registration ensures we onboard a pool of reliable and trusted vendors who can meet our stringent quality standards," said Nyakera.
Nyakera added that recognising the power of technology in driving organisational efficiency, Kemsa has invested in acquisition and implementation of new Enterprise Resource Planning (ERP) system.
The ERP, he said, will improve supply chain management, optimise inventory levels, and provide real-time insights into the status of operations.
Additionally, the board has directed the management to prioritise the procurement of viral supplies, tracer items and class-A products that are fast moving as they are urgently utilised in all public facilities across the country.
"Serving the urgent needs of end users will mitigate delays and slow moving stock and ensure that the organisation remains on solid financial footing on procuring those items that result in quick turnover because they are in demand for our end users," said the chairperson.
Similarly, Kemsa is focused on strengthening internal processes to ensure a seamless and reliable supply chain, which includes improving events and management, optimizing distribution channels and re-engineering.
Nyakera said transformation agenda of Kemsa encompasses governance, reforms of functional systems and structures.
Related Topics