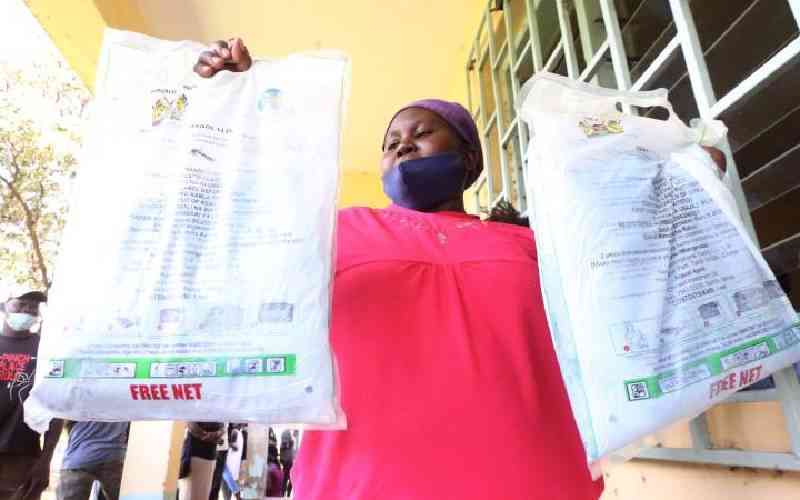 There is a silver lining in the fight against malaria after Kenya was listed alongside 12 other African countries set to receive 18 million doses of the first-ever malaria vaccine in the next two years.
The vaccine has been allocated at a time when malaria is ranked the highest killer disease in Kenya, according to newly-released data from the Kenya Demographic Health Survey (KDHS).
Malaria kills about 10,700 people in Kenya every year, the majority being children under the age of five, with at least 3.5 new clinical cases.
The allocation of the vaccine (RTS, S/AS01) by the World Health Organisation (WHO), Gavi the Vaccine Alliance and UNICEF were determined by the prevalence of need where malaria illness and death is highest among children.
Kenya, Ghana and Malawi are among the African countries that have received the vaccine since 2019.
The vaccine has been administered to more than 1.7 million children in Ghana, Kenya and Malawi since 2019, with the results reported to be effective resulting in a reduction in severe malaria cases and deaths.
Apart from Kenya, Ghana and Malawi, other countries to benefit from the jab include Burkina Faso, Burundi, Cameroon, the Democratic Republic of the Congo, Liberia, Niger, Sierra Leone and Uganda.
"This vaccine has the potential to be very impactful in the fight against malaria, and when broadly deployed alongside other interventions, it can prevent tens of thousands of future deaths every year," said Thabani Maphosa, Managing Director of Country Programmes Delivery at Gavi, the Vaccine Alliance.
The first doses of the vaccine are expected to arrive in countries during the last quarter of 2023, with countries starting to roll them out by early 2024.
Maphosa added, "While we work with manufacturers to help ramp up supply, we need to make sure the doses that we do have are used as effectively as possible, which means applying all the learnings from our pilot programmes as we broaden out to a new total of 12 countries".
Malaria remains one of Africa's deadliest diseases, killing nearly half a million children each year under the age of five, and accounting for approximately 95 per cent of global malaria cases and 96 per cent of deaths in 2021.
"Nearly every minute, a child under 5 years old dies of malaria," said Ephrem T Lemango, UNICEF's Associate Director of Immunisation
"For a long time, these deaths have been preventable and treatable; but the roll-out of this vaccine will give children, especially in Africa, an even better chance at surviving. As supply increases, we hope even more children can benefit from this life-saving advancement," added the UNICEF official.
Dr Kate O'Brien, the WHO Director of Immunisation, Vaccines and Biologicals said the malaria vaccine is a breakthrough to improve child health and child survival.
"Families and communities, rightly, want this vaccine for their children. This first allocation of malaria vaccine doses is prioritised for children at highest risk of dying of malaria," she said.
"The high demand for the vaccine and the strong reach of childhood immunisation will increase equity in access to malaria prevention and save many young lives. We will work tirelessly to increase supply until all children at risk have access," she added.
The malaria vaccine triggers the immune system to defend against the first stages when the Plasmodium falciparum malaria parasite enters the human host's bloodstream through a mosquito bite and infects liver cells.
In addition to the RTS,S/AS01 vaccine, developed and produced by GSK, and in the future supplied by Bharat Biotech, it is expected that a second vaccine, R21/Matrix-M, developed by Oxford University and manufactured by Serum Institute of India (SII), could also be prequalified by WHO soon.
Annual global demand for malaria vaccines is estimated at 40 to 60 million doses by 2026 alone, which is estimated to increase to between 80 and 100 million doses each year by 2030.
The vaccine to be distributed in the 12 countries will be administered in the states through vaccination programmes for the first time.
In Kenya, the Ministry of Health, through the National Vaccines and Immunisation Programme, is leading the phased vaccine introduction in areas of high malaria burden.
Piloted counties are Vihiga, Homa Bay, Kisumu, Migori, Siaya, Busia, Bungoma and Kakamega, counties that have significantly recorded a drop in cases of malaria.
According to the Kenya Malaria indicator survey of 2020, Kenya's national malaria prevalence stands at 5.8 per cent.
The jab significantly reduces malaria and life-threatening severe malaria in young African children, according to WHO.
In Kenya, apart from the vaccine, the use of mosquito nets is an alternative to preventing malaria cases and deaths in Kenya.
According to 2022 KDHS, at least 54 per cent of households own one insecticide-treated net (ITN) while 37 per cent own at least one ITN for every two persons.
Of the mosquito nets, 72 per cent come from mass distribution campaigns, whereas 10 per cent are from Antenatal Clinic (ANC) visits.
A section of the KDHS data reads, "51 per cent of children under age 5 slept under an ITN in the night."
However, Acting Director General of the Ministry of Health Dr Patrick Amoth said despite interventions, malaria remains a challenge, "contributing to under-five deaths."
"At least 24 million people have nets, but we are pleading with them to use the nets properly for protection against acquiring malaria, more so in paediatrics," said Dr Amoth during the release of the survey.
Related Topics