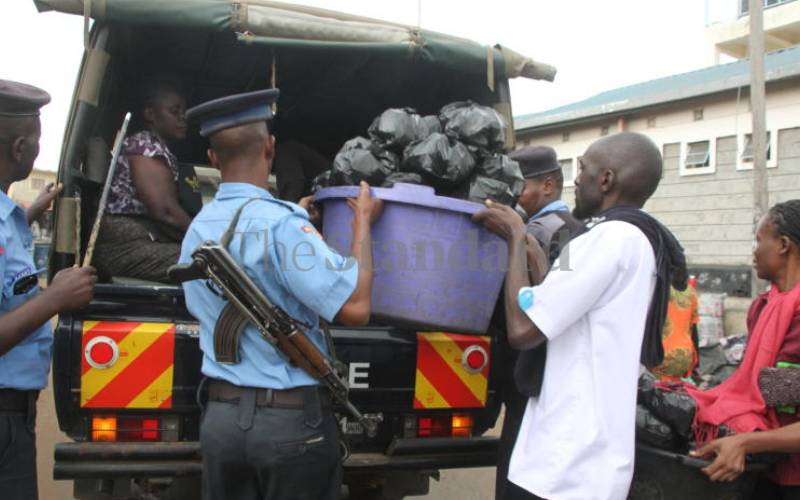 In a setback to Kenya's efforts to combat plastic pollution, the porous borders with Uganda and Tanzania have emerged as weak links. This allows unscrupulous traders to smuggle banned plastic bags into the country.
Authorities in Migori are mulling ways to eradicate an influx of banned plastic bags in the county. Rogue traders have been taking advantage of the porous Tanzanian border to smuggle plastic bags into Migori markets.
Alarmed by the continued use of the bags, National Environment Management Authority (Nema) and Governor Ochilo Ayacko's administration have embarked on a crackdown to address the problem.
Migori County Director of Environment Tom Togo said they are keen to end the menace and will rein in traders smuggling the bags. He acknowledged that there has been significant progress but challenges still persist as rogue traders continue with smuggling of the banned bags.
According to Togo, despite making arrests, they still see small plastic bags being used. He urged residents to take responsibility and not allow traders to package their goods using single-use plastic bags.
"We want to declare all our markets plastic-free zones so that it becomes the responsibility of the county enforcement officers to arrest anyone with plastics," Togo said.
Environment CEC Rahab Robi echoed Togo's sentiments saying that they are going to work in partnership with all the stakeholders to see a new Migori.
"Let us say no to plastic bag use. Let us prevent cancer. Let us work together to eliminate plastics and plastic bags," Ms Robi said.
Migori already has county committees in place and county environment committees that are going to be gazetted within the month.
The Devolution and Climate Change Adaptation (DaCCA) official Nancy Ng'ong'a said the government started well by introducing plastic bags ban, but expressed concern about laxity in enforcement.
"It is time we end plastic pollution in the county and country at large. It is everyone's responsibility to ensure that this happens," Ms Ng'ong'a said.
Suna West Deputy County Commissioner Mbela Mutua said they were going to ensure that enforcement is done and that the few plastic bag carriers that are in the market are impounded.
Last year In Kisumu, the National Environment Management Authority (NEMA) took action, arresting 25 individuals in possession of banned plastic bags.
However, only 24 of them were prosecuted, and their fines ranged from Sh2,000 to 5,000.
The majority of those arrested admitted to obtaining the plastic bags from neighbouring countries, highlighting cross-border smuggling's role.
Nairobi residents have been identified as the leading culprits in noncompliance with the ban, with over 100 individuals arrested for possessing banned plastics sinceJanuary. The blocked drainage systems within the city and the sight of scattered fleecy plastic papers blown by the wind, shows the urgent need for stricter enforcement measures.
In Mombasa, NEMA has observed a surge in the number of plastic bag manufacturers, and investigations are underway to apprehend them. Last month, one manufacturer was arrested and brought before the court.
Despite the arrests, Togo expressed disappointment that the suspects were not charged, as a mere warning from the court is insufficient to deter them from continuing their illegal activities.
NEMA plans to engage with the judiciary to establish stronger measures to deal with this offense effectively and ensure that the culprits do not go unpunished.
Despite the challenges, NEMA has recorded an 80 per cent success rate in reducing plastic litter and promoting environmental conservation since the ban's implementation.
Togo said the enforcement team aims to eliminate their use by 20 per cent in the current financial year.
Related Topics