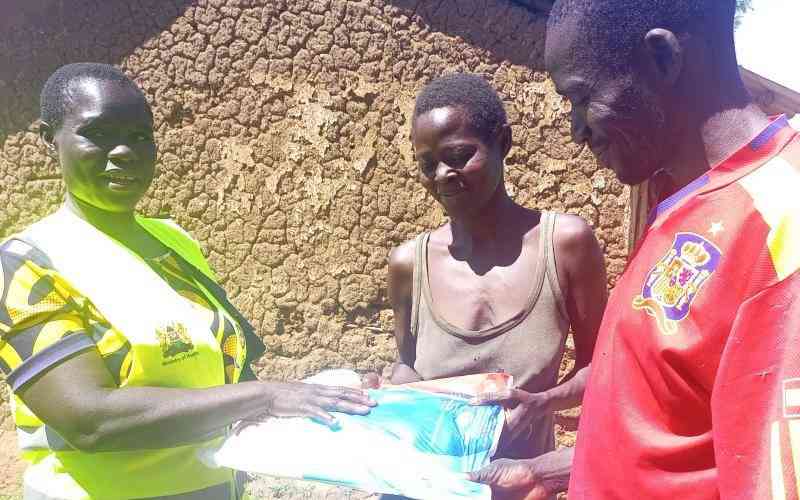 It is 7am in Mageta Island, a former colonial detention camp about 20 kilometres from Usenge town and neighbouring Uganda.
Millicent Anyango flashes a smile and waves at her neighbour as she prepares to embark on a 20-kilometre walk around the island, a journey she makes almost every day and that she always looks forward to.
Residents of the isolated island call her nurse or sister. However, her only qualification is the passion to serve her people. She is not a trained nurse but a Community Health Volunteer (CHV), also known as 'Nyamrerwa'.
Anyango attends to at least 100 families in the village by giving first aid to patients. Sometimes, she guides nursing mothers on how to feed and take care of themselves and their children.
Anyango is the first call for any emergency in Mageta. Residents view her as a saviour, something which has earned her respect across the island.
The island does not have roads or a reliable means of transport, save for a few boda boda operators. Thus, Anyango carries out all her activities on foot.
"What drives me is passion and resilience as I take care of my patients in the village," she says.
Although the island has a small health centre, understaffing means that residents rely mostly on CHVs and a few volunteers during medical emergencies. For ten years now, Anyango has been working under the county government with a monthly stipend of Sh2,000.
But she is not alone. She is among several uncelebrated heroes who have dedicated their lives to transforming lives despite being subjected to meagre pay and frequent payment delays from the government.
While some work on the islands and are the local heroes that are treated with great respect by residents, others operate on the mainland.
Interviews with several CHVs and residents in the region have confirmed the crucial role the level-one healthcare providers play in the efforts to educate residents on malaria.
Some are crucial in referring patients to hospital and conducting contact tracing for drug defaulters, especially for HIV and TB patients.
Filista Aluoch, a CHV in Hawinga in Alego Usonga, says she has been the champion against malaria in Magombe and Simra villages.
Aluoch visits households within the villages to teach residents how to prevent malaria. In some cases, she tests and treats those found with malaria. Aluoch uses Rapid Diagnostic Tests (RDT) and refers patients to Hawinga dispensary, which is the nearest facility, for further treatment and monitoring.
"We ask our people to slash their compounds to stop malaria spread and to dump containers appropriately to stop mosquito breeding. We also advise that children of ages 0-5 must sleep under a mosquito net regardless of where they sleep," she says.
"Sometimes, the medication is not enough because I have a lot of people suffering from malaria from my target households. The moment I announce I have the drugs, most residents come for tests, and a majority end up positive," she adds.
Aluoch says Magombe Dam in Hawinga is a breeding site for mosquitoes, leading to malaria cases. In nearby Bur Gangu village, Lake Kanyaboli is also a major breeding site.
The CHVs now want the county government to fumigate the villages surrounding the water bodies to reduce the breeding problem.
David Otieno, a nurse in charge at Hawinga health dispensary, says most of those brought to the facility for malaria treatment are children.
Records at the facility show about 494 suspected malaria cases involved young children aged between zero to five years. 361 cases turned positive.
In February, 219 suspected cases were tested at the facility, and 144 turned positive after tests. In March, 94 out of 174 tested positive.
Moses Oluoch, a CHV in Alego-Usonga sub-county, says things have not been good despite having hopes after the health sector was devolved.
Responding to the plight of CHVs, Siaya Governor James Orengo said the county has embarked on a programme to formally hire its 2,128 CHVs to improve health indicators, seeing as Siaya has one of the worst health burdens in the country.
"In my manifesto, I promised to elevate the status of CHVs since they are the first line in delivering health services in remote areas. They have also significantly aided our health staff at health facilities," he said.
The governor, who has been meeting CHVs in all the six sub-counties, said his government intends to mainstream the CHVs and improve their remuneration.
"We want to mainstream our CHVs by establishing relevant legislations," he added.
Siaya County Executive for Health, Dr Martin K'Onyango, said through the engagement of CHVs, pregnant women completing ante-natal clinic attendance improved from 17 per cent to 70 per cent, and skilled births increased from 31 per cent to 94 per cent for the last ten years.
"We have 221 community health units supplementing the provision of primary healthcare services and are supported by our CHVs," he said.
Rose Waringa of the Rotary club of Siaya said they are currently engaging CHVs to help with distribution of mosquito nets, a project that will run for six months to help reduce cases of malaria in the villages around Hawinga, which are among the worst hit.
Eunice Oreri, the malaria coordinator in Siaya County, said the county is still among those with the highest malaria burden in the country, with a prevalence of 29 per cent.
She said CHVs play a crucial role in containing the disease and are at the forefront in the fight to reduce malaria infections.
Related Topics