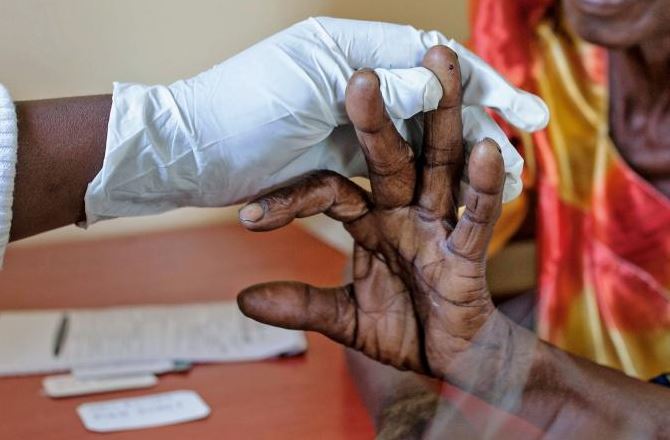 One-year-old Blessing Achieng cries uncontrollably while getting a shot of the malaria vaccine at the Yala sub-county hospital. Her mother, Mary Atieno, is one among 10 women waiting for their babies to be vaccinated. For Atieno, it is the third dose which she says has kept her baby safe from malaria for the past year. Other babies are receiving either first or second dose.
Atieno, from the malaria-endemic Siaya County, says her baby developed a swelling at the injection site during her two previous jabs and "she later had a mild fever which was managed at home".
The vaccination is part of a pilot programme using the RTS,S protein-based malaria vaccine, which began in September 2019. Besides Kenya, Ghana and Malawi are the other African countries rolling out the vaccination for six month-old children in malaria prone areas.
The Ministry of Health picked eight counties with the highest burden of malaria - Kakamega, Vihiga, Bungoma, Busia, Kisumu, Homa Bay, Migori and Siaya - all at about 20 per cent.
Data from the Siaya County Department of Health indicates that 80 per cent of children have received a third dose of the vaccine from the target of 39,000 children.
In clinical trials, the RTS,S vaccine reduces malaria cases by 39 per cent and severe cases by 29 per cent, but it can be less effective if children don't receive all four doses. Other interventions, including insecticide spraying, bed nets, and anti-malarial drugs, are also key in fighting malaria.
Siaya County Malaria Coordinator, Eunice Akinyi, attributes the uptake to community health education and support from community health volunteers (CHVs).
However, a number of mothers miss out on a dose and "for children to benefit from the vaccine they need to get four dozes," Akinyi said, adding that they are setting up structures to trace such cases.
The fourth dose is given at 24 months and "unless we remind mothers, they may not turn up for the vaccine," she said, adding that vaccine supply has been seamless, with stock-outs not lasting more than two weeks.
The pilot programme faced challenges, including myths and misconceptions on side-effects, which have been debunked by health information and plans are underway to upscale the programme across the county as only three sub-counties - Ugenya, Rarieda and Gem - are vaccinating.
As an endemic zone, the county has a 27 per cent prevalence rate, with an incidence of around 550 cases per 1,000 population, which vary across six sub-counties.
Statistics show some sub-counties have as low as 200 cases per 1,000 population while others have as high as 600 cases per 1,000 population.
The variations are determined by different factors, including climatic conditions. Regions on the higher grounds have low incidences compared to those on lower grounds.
Last year, a study carried out by the vector surveillance unit at the department indicated the tolerance around Lake Victoria does not allow mosquitoes to survive, which explains the low malaria incidences.
The county has 2,148 community health volunteers who help in malaria case management and distribution of treated mosquito nets to pregnant mothers and children under five.
Children who do not get vaccinated in target counties suffer. Like two-year-old Robin Wekesa who was admitted to Makunga hospital in Kakamega County.
Her mother, Sabina Naliaka, laments that Wekesa "has never received a vaccine and anytime he is down with malaria, I fear for his life".
Tatuli Simwa, a clinician, said Wekesa was admitted with severe malaria and will only be discharged once stable.
Makunga hospital records an average of 150 suspected malaria cases in a day. About 450 cases of children below five were diagnosed and treated last month. Last year, about 1.5 million suspected malaria cases were tested in Kakamega of which over 523,000 were confirmed.
Kakamega has reduced its malaria prevalence from 38 per cent in 2016 to 27 per cent in 2020 when incidences recorded were 219 per 1,000 population compared to previous years where the numbers stood at 500 per 1,000 population.
The Deputy Director of Expanded Programme on Immunisation Dorothy Binayo said the uptake has since been good in the six sub-counties of Butere, Khwisero, Malava, Navaholo, Mumias West and Ikolomani.
In 2020, the county targeted to vaccinate 4,957 children but only achieved 39 per cent after a strike by medics hampered the process. This year, the county targets to vaccinate 5,100 every month and the uptake currently stands at 20 per cent.
Officials from both Kakamega and Siaya counties said CHVs have been critical in the management and reduction of hospital admission and treatment of malaria.
Related Topics