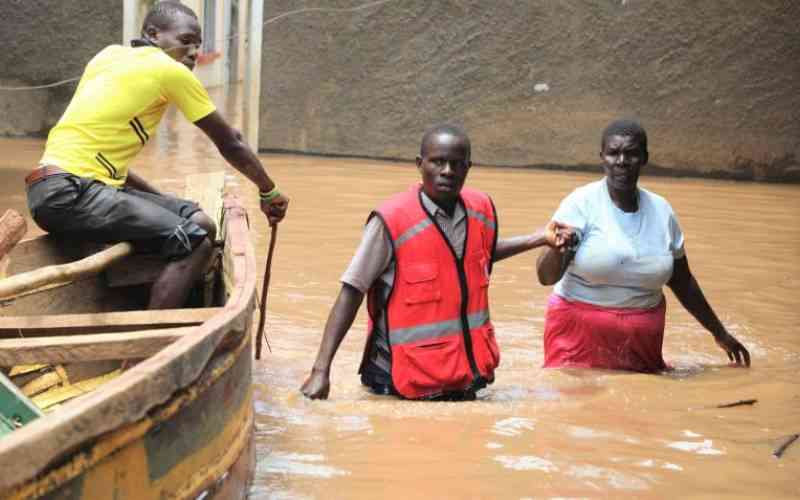 It's a bleak scene unfolding at Nyamasao camp in Ombaka, Nyando sub-County, Kisumu.
It's a chilly morning and a group of children, some with no shoes and barely dressed, are sprawled out trying to catch fainty rays.
The women, exhausted and anxious, sit outside their tiny tents with their chins in their hands, wondering where the next meal will come from.
But the hardship doesn't end there. The men and older children have left the camp in search of food from well-wishers, leaving behind the most vulnerable.
With their homes submerged in floodwaters and the backflow of Lake Victoria wreaking havoc, life has become a desperate scramble for survival.
The camp is now home to more than 1,500 villagers seeking refuge, including 10 pregnant women and two new mothers with week-old babies. The elderly, frail and sickly, are also among those seeking shelter. But food and non-food items are in short supply, making the situation a dire humanitarian crisis.
Bunde Health Centre is 10 kilometres away from the camp and roads are almost impassable, forcing women to give birth in the camp while the sick resort to self-medication.
Each tent is occupied by a family regardless of its size, as others try to be absorbed in homes on higher grounds.
In the congested camps are sleeping mats for those who did not manage to salvage any property from their flooded homes.
The disaster committee in the area has reported a malaria outbreak.
Three weeks ago, hundreds of residents from 12 villages in Kakola Ombaka sub-location were rendered homeless after their houses were submerged.
More than 800 households in Kanyipola, Kasambura, Tura, Kaloo, and Kasiwindi villages were hit by flash floods after River Nyando burst its banks, following heavy rains and backflow of Lake Victoria.
Jane Achieng holds her one-year-old daughter. Her baby is malnourished.
"All was well until the floods destroyed all we had... We have camped here for a few weeks but the situation is getting worse each day," Achieng says.
Ann Akinyi, a mother of five, says the tents are wearing out.
"The makeshift tents are too small for me and my family. Nights are cold and many a time my children get sick," Akinyi says.
Mary Nyamondo, the disaster committee chair at Kakola Ombaka, says since the onset of the floods "we have experienced a serious humanitarian crisis due to a lack of food."
She acknowledges to have received donations from a number of agencies but they have not been enough.
Nyamondo appeals that the construction of the dyke is hastened to help mitigate the raging waters.
"Many children are malnourished. They need food," she says.
Those in the camp are suffering from various diseases such as malaria. They live in perpetual fear of invasion by snakes.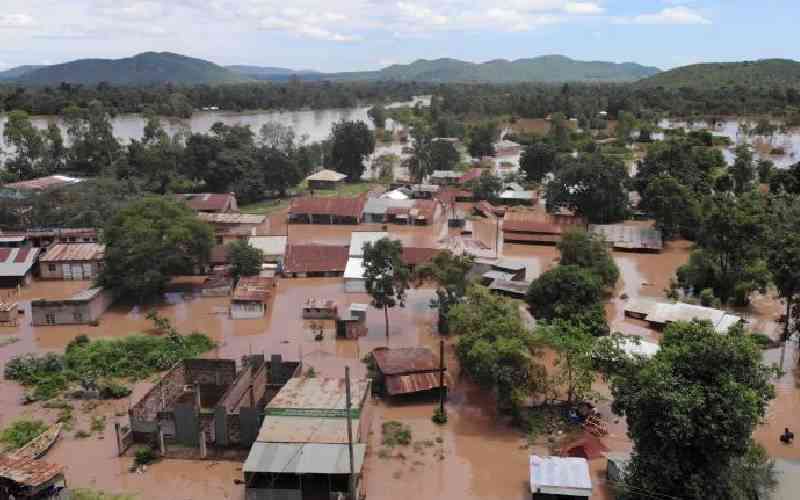 Nyamondo wants the national and Kisumu County governments to allocate a piece of land on higher grounds to resettle the flood victims.
There is one toilet at the camp, which is filling up due to increased water levels, a situation that has contributed to the cases of diarrhoea.
"Inside the camp, there are a few nets, blankets, and mattresses and with freezing cold at night, people's health has been deteriorating," says Nyamondo.
Data from County Disaster Management Committee shows over 12,500 people from 2,400 families have been displaced by floods in Kisumu County, with residents in Nyando, Muhoroni, Nyakach, Kisumu East and Seme sub-counties the hardest hit.
Governor Anyang' Nyong'o is urging well-wishers to help those affected by providing both food and non-food items.
"We are doing everything possible to ensure that the affected families receive the necessary assistance they need during these trying times and we are therefore calling for support from well-wishers to contribute both food and non-food items to help the affected households," Nyong'o said.
The Kisumu County Government has been evacuating families to safer grounds, including makeshift camps."
The makeshift shelters are crowded with people of all ages. Despite the dire circumstances, there is a sense of community that prevails. Volunteers and aid workers are tirelessly working to provide relief to the flood victims, distributing food, water, and blankets.
Related Topics