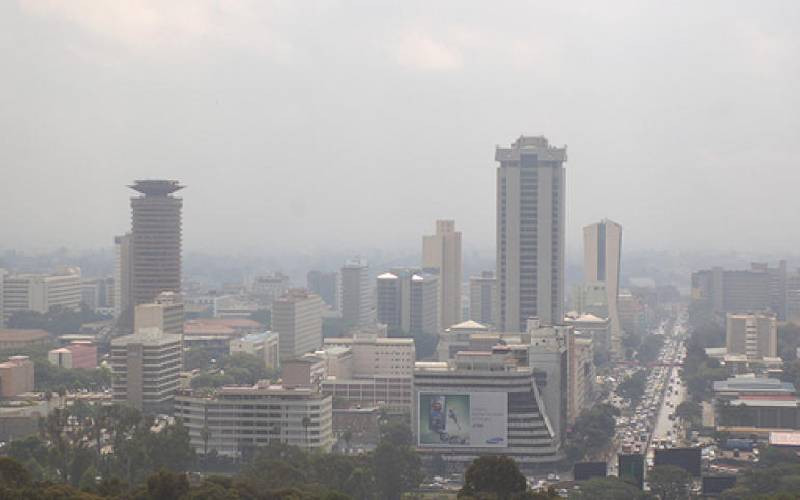 The air is thick with smoke as Peter Owino rides his motorbike through the bustling streets of Kisumu.
Like many residents, Owino relies on his motorbike as a primary mode of transportation. It is quick, convenient, and affordable - but at what cost?
"I know that my bike is contributing to the pollution in this city," Owino said, "but I don't have any other option. Public transportation isunreliable."
According to a recent report, the transportation sector is the leading contributor to greenhouse gas emissions in Kenya. Motorbikes and vehicles make up a significant portion of these emissions, and the consequences are dire.
The Kisumu County Climate Baseline Emission Inventory and Access to Energy Assessment Report 2022 shows stationary energy comes second and constitutes manufacturing industries, commercial and institutional and residential buildings. Wastes and agriculture take third and fourth positions.
Indeed, Kenya has experienced a significant increase in transport emissions, which have become a major contributor to air pollution in the country.
"Transport emissions are one of the key contributors to air pollution in Kenya," said Fredrick Oluoch, Director of Public Health and Sanitation in Kisumu County.
According to a study conducted by the World Health Organization, air pollution is responsible for an estimated 21,000 premature deaths annually in Kenya, with transport emissions being a major source.
"Air pollution is a serious public health issue in Kenya, and it's important that we take action to address it," Oluoch said.
The WHO study further revealed that Kenya's urban areas are the worst affected by transport emissions, with Nairobi being the most polluted city in the country.
"Nairobi's heavy traffic and high concentration of vehicles are the main culprits behind the high levels of air pollution," said Oluoch said.
To address this issue, the government has implemented a number of initiatives aimed at reducing transport emissions. For instance, last week, transport Cabinet Secretary Kipchumba Murkomen announced plans to reduce the cost of electric vehicles as a way to attract motorists.
"We need to provide incentives as a country. The initial cost of buying electric vehicles is higher than diesel vehicles. We are looking for tax incentives and other financial support to be provided to the private sector to ensure e-mobility is a success," Murkomen stated to members of the press.
He said electric vehicles offer several advantages, including reduced respiratory diseases, saving on foreign exchange, and environmental protection. "We want to be the leading country in low carbon emissions. This can be achieved through the adoption of mobility," Murkomen said.
However, according to Patrick Odhiambo, an ecologist at Ecology Without Borders, more needs to be done to tackle the problem of transport emissions in Kenya.
"We need to do more to enforce emission standards and encourage the adoption of cleaner technologies," said Mr Odhiambo. "At the same time, we need to educate the public on the importance of reducing their carbon footprint and adopting sustainable modes of transport."
The Baseline survey was done to guide Kisumu County and local authorities on which priority measures they should take to reduce greenhouse gas emissions.
The county is also moving toward electric motorbikes and vehicles. The report shows that trucks are the leading cause of emission at 20.1 per cent followed by matatus at 19.5 per cent and saloon cars at 14.5 per cent.
Currently, fisher folk are being trained on replacing diesel and petrol-powered boats with electric ones. Besides being more environmentally friendly, electric boats are more cost-effective, according to Joseph Oganga, Kisumu County Chief Officer, Energy and Industrialisation.
"Reducing emissions from driving is a big challenge," said Prof Raphael Kapiyo, an environmental scientist at Maseno University, who led the project of mapping out carbon dioxide point sources in Kisumu. Kapiyo says he observed that the Covid-19 pandemic caused a dip in greenhouse gas emissions due to lockdowns and curfews. Transport has the highest reliance on fossil fuels of any sector and accounts for 37 per cent of CO2 emissions from end‐use sectors.
Intergovernmental Panel on Climate Change (IPCC) research suggests the world needs to reduce global greenhouse gas emissions by 45 per cent by 2030, and net-zero emissions by 2050 to avert the worst impacts of climate change.
But the transport sector has posed challenges despite the vital role it plays in mobility, global trade and development.
The IPCC report notes that the pandemic-induced shutdowns led to rapid declines in transportation emissions, as people stopped commuting and traveling and many businesses were forced to close. In areas with tight lockdowns, road transport saw declines as high as 50-75 per cent.
As Owino continues to ride his motorbike through the streets of Kisumu, he knows that the road ahead will be long and challenging. But for the sake of his health and the health of his community, he is willing to make the necessary changes, one ride at a time.
Related Topics