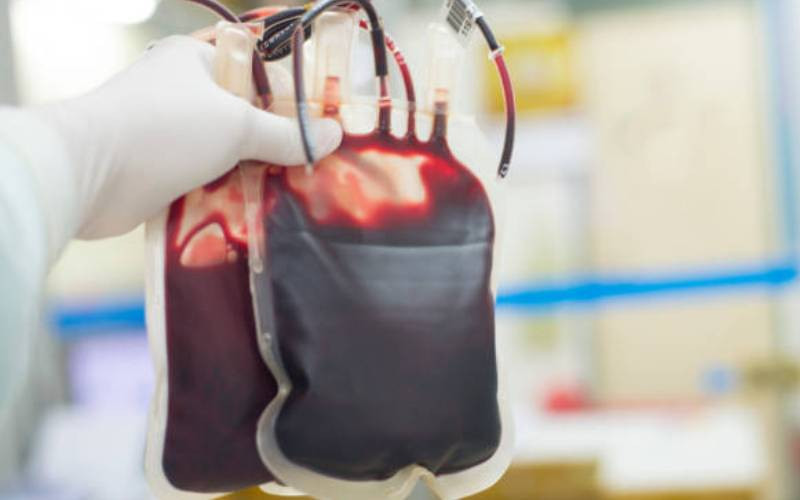 Emmanuel Kibet, a university student from Mt Elgon in Bungoma County watched helplessly as a fellow villager died after a road accident.
Kibet feels the villager's life could have been saved if there was a prompt blood transfusion.
"The doctors had done their work of saving my neighbour from the jaws of death. If there was blood at the hospital, the medics were willing to have him transfused. His family members came forth to donate, but the blood groups were not compatible with his," said Kibet.
"An appeal for blood donation was made but no one in the village was willing to come forward and donate blood due to outdated cultural beliefs."
Against the backdrop, the country is facing an acute shortage of blood supplies across all health facilities, putting patients' lives at risk.
This has forced friends and relatives of patients in need of blood to put out calls for people to donate blood.
Kibet says after the accident victim was buried, he started reflecting on how he would help mobilise the youth to donate blood to prevent the many deaths that occur in the country due to insufficient blood for transfusion.
As a member of the Seventh Day Adventist Church (SDA), he joined Global Youth Day (GYD), a global movement where youths are mobilised within the church to do community service.
Blood donation
It is in this group that they conduct monthly blood donation drives, and after the exercise, they take it to the national blood bank and a third of it to the Nairobi Adventist Hospital, owned by the SDA church.
"Being my first time, I was anxious about donating blood, but I can testify that it is not a bad experience as I have done it today. If Jesus Christ died, we also need to give or bless others in need," Kibet said, adding that if you are healthy, it's good to donate blood to save a life.
Dr Edward Mwaniki, the Nairobi Adventist Hospital Chief Executive Officer (CEO), told The Standard that the facility admits several cases with various cancer conditions, who usually need blood after chemotherapy.
"We do a lot of surgeries, and most of these patients need blood after surgical procedures. We also have lots of maternity cases that require blood after delivery," said Dr Mwaniki.
"Every year, we rely on blood donated by the youth of SDA churches. We started the initiative after discovering that we received many patients who need a blood transfusion. Before we could wait for two to three days after requesting blood from the national blood bank, and it was not forthcoming, putting the patient's life at risk."
Related Topics