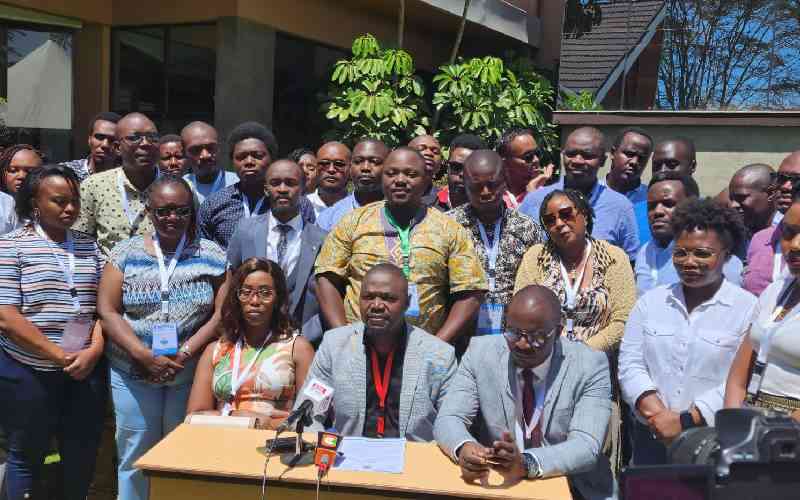 The Kenya Medical Practitioners, Pharmacists and Dentists Union (KMPDU) says its members are ready to abandon hospitals if the Salaries and Remuneration Commission (SRC) abolish their Non-Practice Allowance.
A Non-Practice Allowance is compensated for the loss of earnings medics forego while actively practising in the medical facilities.
SRC had advised the counties and national government to abolish doctors' contractual earnings and remuneration.
But speaking during a press briefing on Saturday in Naivasha, KMPDU Secretary General Davji Atella said it was unethical and colonial in nature for SRC to review remunerations backwards.
"We are warning SRC that removing the allowances that were negotiated for the doctors will not go down well. We will not give a notice but if they try, we will just leave the hospitals for them to offer the services," said Atella.
He added; "These allowances were negotiated and are part of the Collective Bargaining Agreement (CBA) document. This is not a threat but a warning that SRC should not touch any of the negotiated agreements."
Additionally, the union says that abolishing the allowances is a breach of employment contracts.
"It is also paramount to note that it is a national and global practice and
procedure never to review remunerations backwards. It is unethical and colonial in nature," said Atella.
About 120 doctors from all the 47 counties across the country are meeting at the Lake Naivasha Resort to deliberate on the health sector working environment.
The meeting took place just days after the doctors called off an industrial strike scheduled for today, Friday, January 6, and gave the government 60 days to act on the 2017-2022 Collective Bargaining Agreement (CBA).
Some of the doctors' grievances are; basic salary adjustments, creation of call rooms, posting of 800 medical interns, employment of more doctors and provision of working tools.
Related Topics