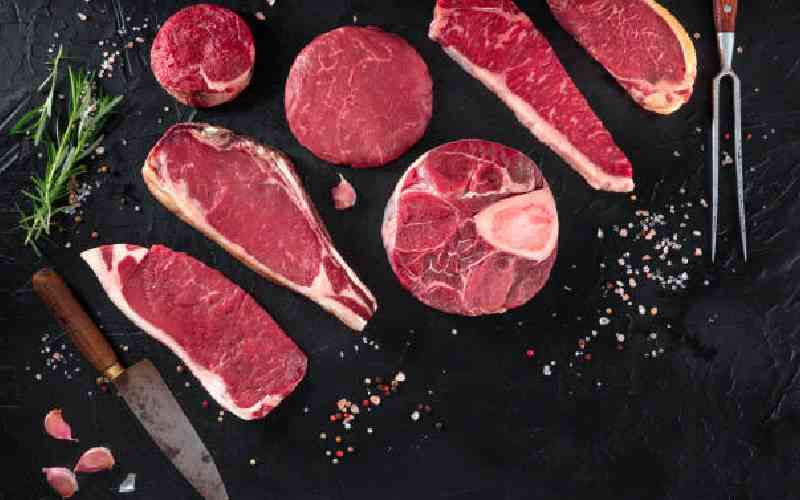 Production of livestock around the world is linked to increased greenhouse gases in the atmosphere, which contributes to climate change.
Animal production for meat contributes twice as much to global warming as the production of plant-based food, according to scientific reports.
Data from the Food and Agriculture Organisation of the United Nations (FAO) indicates that meat accounts for nearly 60 per cent of all greenhouse gases from food production.
According to FAO global meat consumption has increased significantly in recent decades, with per capita consumption almost doubling since the early 1960s.
The agency indicates that while an average of 23.1 kilograms (50.8 pounds) of meat per person was consumed annually in the '60s, the figure had risen to 43.2 kilograms in 2019.
Studies show that wealthy countries tend to consume more meat. Projections show that per capita meat consumption in industrialised nations is projected to climb to 69.5 kilograms in 2022 — the projected figure for the developing world is just 27.6 kilograms.
The Farming Campaigns Manager at World Animal Protection, Dr Victor Yamo, attests that large-scale meat production has led to the clearing of forests to grow crops that get into the animal production system.
"We deal with ruminant systems. Manure itself has ammonia, which is part of greenhouse gases. Because of intensive farming and livestock production systems, we have too many animals in a small space," sayd Dr Yamo.
According to FAO, the entire system of food production, such as the use of farming machinery, spraying of fertiliser and transportation of products, emits 17.3 billion tonnes of greenhouse gases a year.
The research, titled 'Global greenhouse gas emissions from animal-based foods are twice those of plant-based foods', shows that enormous release of gases that fuel the climate crisis is more than double the entire emissions of the US and represents 35 per cent of all global emissions.
"This study shows the entire cycle of the food production system, and policymakers may want to use the results to think about how to control greenhouse gas emissions," reads the report.
The raising and culling of animals for food is far worse for the climate than growing and processing fruits and vegetables for people to eat, the research found, confirming previous findings on the outsized impact that meat production, particularly beef, has on the environment.
Yamo explains that even a large number of chickens in one place produces greenhouse gases, and all of the animals produce gases differently depending on their size.
"Our food systems are not only causing problems for human and animal health, but they also contribute to climate change," he says.
A modelling study by the World Animal Protection on the impacts of excessive meat consumption on climate change compared findings from FAO data across the world mainly in Europe, the US, Thailand and Australia where chicken and beef are consumed in large quantities.
The study established that continuous consumption of meat at current levels is equivalent to having about 29 million vehicles on the road.
"We need to relook at that system; however, we do not have data on meat consumption in Africa but there are efforts to establish the current situation in Africa," says the study.
According to the study, meat consumption needs to be reduced by 50 per cent by 2040 and meat that is consumed needs to come from high-welfare production systems. If this is implemented by 2040, it will lead to the elimination of about 210 million tonnes of greenhouse gases. This is equivalent to 45 million cars taken off the road.
In order to promote this initiative, the organisation is part of the Eat Less Meat global campaign that is running from 2021 to 2030
Nutritionists state that the average person is supposed to consume 0.8 grams per kilogram of meat but not on a daily basis.
"However, most people rush to restaurants and eat 0.5 kilos of chicken and more than 200 grams of beef," says Winnie Alando, a nutritionist in Kisumu East.
"It's advised to eat other sources of proteins, not only meat, since meat consumption has been linked to gout, a rise in cholesterol levels, which can cause heart diseases," she says.
Alando advises that a person should consume the minimum amount of meat thrice in a week.
Yamo says the less meat we consume the less is produced, leading to less destruction of the environment and reduced pollution.
In partnership with government agencies, the World Animal Protection has developed a system to ensure food producers like restaurants and fast-food establishments follow certain standards.
These are industry-specific standards called Farm Animals Responsible Minimum Standards (FARMS). This production system ensures there is proper stocking density and that animal welfare is well catered for.
According to FAO the use of cows, pigs and other animals for food, as well as livestock feed, is responsible for 57 per cent of all food production emissions.
Related Topics